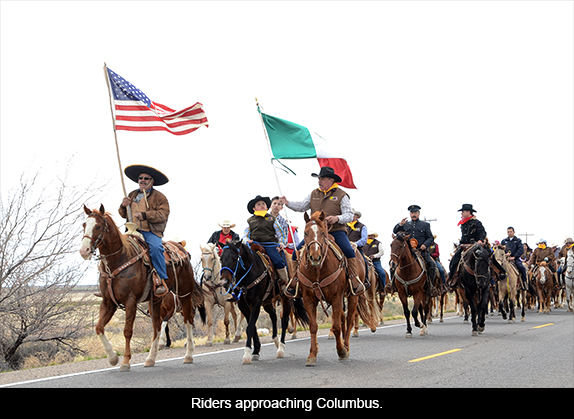 All photos by Morgan Smith
"We're tired from the dancing, not the cabalgata," one of the horsemen says. It's Saturday morning, March 7 and I'm in the stockyards in Palomas, Mexico where dozens of Mexican riders—men, women and kids—are saddling their horses and preparing to cross the border, join American riders and parade into Columbus, New Mexico.
This is the sixteenth annual Cabalgata Binaciónal Villista or Binational Villa Cavalcade, a very different experience than that day ninety nine years ago (March 9, 1916 actually) when General Pancho Villa's troops attacked members of the US Third Cavalry Regiment, burned Columbus and took some 100 horses and mules as well as other supplies. This was followed by President Wilson sending thousands of troops after him under the command of General John F. "Black Jack" Pershing who later commanded the American Expeditionary Force in World War I. His aide was, then First Lieutenant, George S. Patton.
The image of Pancho Villa is now being used in a much different way—as a way to unite our frontiers. This is critically important because so much of our border discussion is bound up in an ugly immigration debate that seems to have no positive end in sight. In fact, the only positive border initiatives that I'm aware of are local ones—this Cabalgata and the Mimbres-Paquimé Connection which I wrote about on February 25. And as I was to see during this Cabalgata, three key leaders are involved in both efforts, Mayor Philip Skinner of Columbus who, together with his wife, Diana organized the welcoming reception in Columbus and Presidentes Muncipales Humberto Baca of Casas Grandes, Mexico and Rubén Parra of Janos, Mexico, who both crossed over on their horses.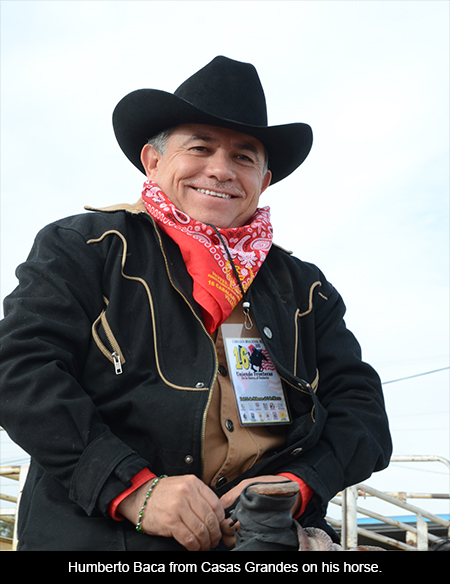 Sixteen years ago, Mexicans and Americans initiated this Cabalgata Binaciónal Villista or Binational Villa Cavalcade as a way to unite rather than divide our border. At a time when the topic of immigration is so toxic and when we have invested (very wastefully, I believe) billions in "border security," this effort is essential. The idea, as I mentioned in last year's article, is to ride north to Palomas, have a Friday night fiesta there and then cross the border on horseback Saturday morning to join up with riders from the US and parade into Columbus.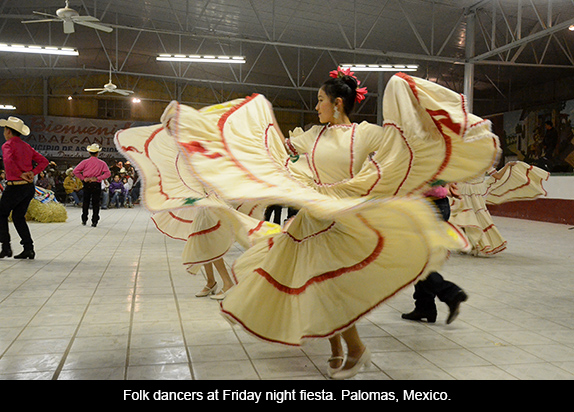 The fiesta in the Terraza San Vicente that Friday night is almost worth a trip in itself. Hundreds gather to enjoy a number of extraordinary dance groups from as far away as the states of Colima and Baja California. Midway through the evening, "reconocimientos" or certificates of appreciation are given out to representatives from all the communities that sent riders. To everyone's surprise, one of the recipients was Benny Acuña who had come all the way from Gillette, Wyoming with his wife, Becky. Apparently, they had traveled down into Mexico to find him a horse that he could ride back to the border.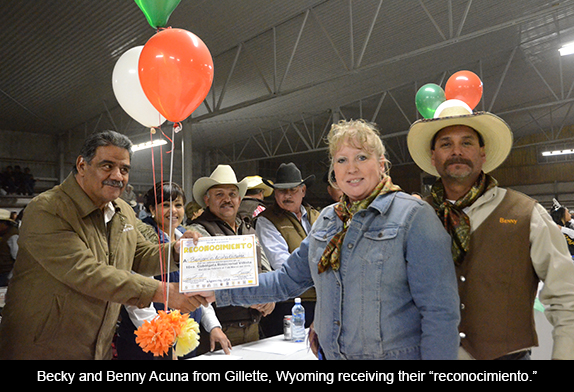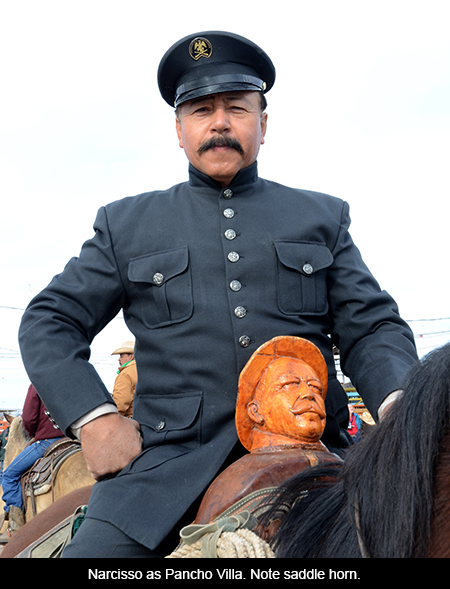 A key figure is a genial man named Narciso Martinez Alvarado from Durango, Mexico who calls himself the International Ambassador of Villismo and dresses as Pancho Villa. He has several military hats from the Villa era and his saddle horn is shaped like the head of Villa.
That Friday evening, Palomas' main street was jammed with cars and trucks cruising up and down, and flocks of kids were at the carnival area located in the central park. It was more life and vitality than I've seen in this tiny town for years and hopefully a signal that some prosperity and security are returning after a long period of violence. I stayed at the comfortable and inexpensive Hotel Karina Fierro, went to bed at about 11 PM but it sounded like others were partying until dawn.
Early Saturday morning, however, riders were at the corrals and registering in order to cross into the United States. One small group was Raul Estrada, his wife, Maria Antonia (Tonia) and their daughter, Mariela. They lived in Taos, have recently moved to Eagle, Colorado but also have a small ranch 20 kilometers south of Cuauhtémoc, Mexico near a town named San Bernabé. They had traveled down to the ranch and then spent two weeks riding hundreds of miles back to Palomas for this Saturday morning border crossing.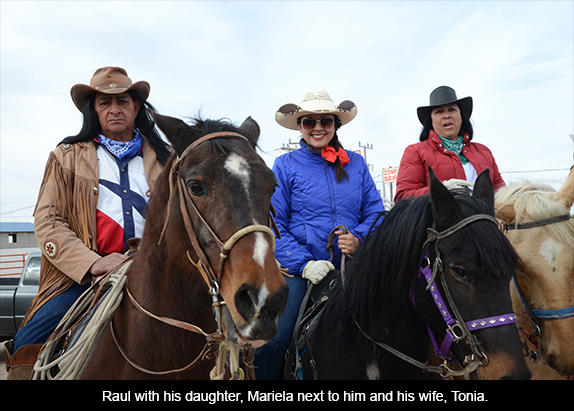 By 8:20 AM, the Mexican riders were saddled up, moving through US customs and forming a column on the US side with American riders led by Nayeli Vazquez, Miss Columbus. The whole procession then headed back to Columbus where spectators lined the streets and where Columbus' Mayor Skinner and his wife, Diana had organized a special reception. It was a day of dances and a community meal that focused on friendship and respect, something that is much needed on the border. Later the Mexican riders would cross back over the border, load their horses in trucks and head for home.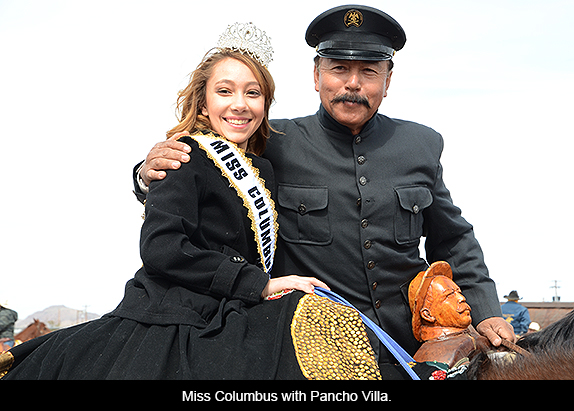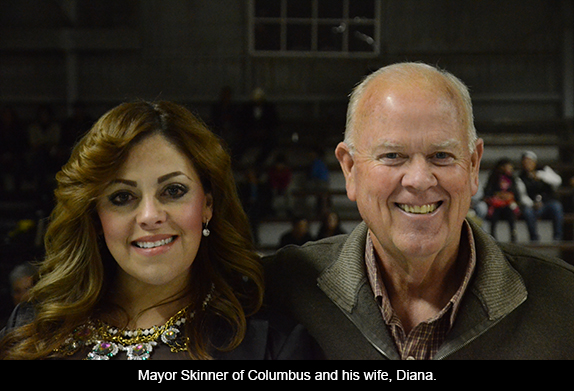 Ninety nine years ago Pancho Villa's men invaded the United States, dozens were killed and an eleven month chase initiated, involving thousands of soldiers. This day, however, was about friendship. Unlike almost everything else that you read concerning the border, this event, this Cabalgata Binaciónal Villista, aims to "unir fronteras" or unite frontiers rather than continuing to divide them. For that reason, it is very special.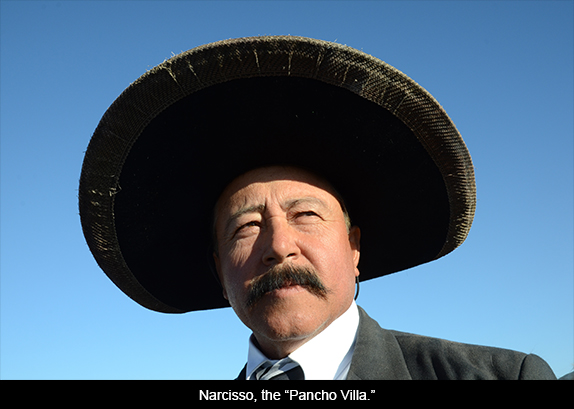 Next year—the one hundredth anniversary—will be even more important. I plan to be there and to encourage as many friends as possible to join me.