We're gathered in a cramped trailer in Palomas, Mexico just across the border from Columbus, New Mexico, waiting nervously as a couple of bored-looking Mexican officials thumb through our passports. We have to get visas, then go to another trailer to get permits for our cars. The visa is free but must be turned in when we return. The 6 month vehicle permit that'll allow us to drive all the way south to Nuevo Casas Grandes will cost $60.00 but the official charges our credit cards $400.00. That's what the actual cost will be if we don't turn in the permit before the end of the 6 month period.
A hassle!
I'm with a group of officials and participants in the cross-border economic development project started by Mayor Philip Skinner of Columbus, New Mexico. The first meeting took place in Columbus on September 13, 2014 and I wrote about it in the article "Rebuilding Economies on the Border." I missed the second meeting but attended the one in Deming on December 6, a meeting that was much more heavily attended than the first and included a number of private sector representatives like the Deming-Luna County Chamber of Commerce, the Deming Visitor's Center and managers of Deming hotels. The superintendents of both the Gila Cliff Dwellings National Monument and the Chamizal National Memorial also attended and explained that their numbers of visitors had been declining and they wanted to be part of an effort to attract more tourists.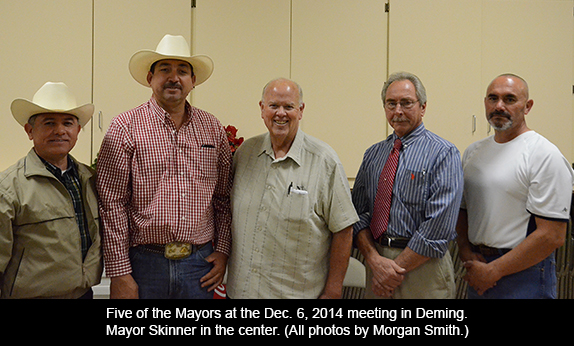 This upcoming meeting in Nuevo Casas Grandes will be the fourth meeting. So this economic development idea that seemed a little bit like a pipe dream when Mayor Skinner first explained it to me last May is now becoming a reality.
Our plan is to drive to Nuevo Casas Grandes for the meeting, a town of about 60,000 people located a little more than two hours south of the border. I hadn't driven that far south before and had no idea until that morning that this visa and vehicle permit would be necessary. Getting the documents is a complicated and confusing process as well as one that is not applied equally along the Mexican border. For example, you don't need these documents if you go to Baja California or to Puerto Peñasco ( Rocky Point) in the state of Sonora. Perhaps this is because officials in those states realize that it's a big impediment to tourism and have gotten exemptions.
The project has now moved from a general effort to promote regional economic development in the corridor from Silver City in the north to Nuevo Casas Grandes in the south (about 260 miles) to a more specific focus on tourism. This effort was first proposed by former US Senator Jeff Bingaman more than ten years ago. Having grown up in Silver City, he envisioned what he called "the Mimbres-Paquimé Connection – a driving loop highlighting the natural wonders, ancient ruins and architecture of the southwestern part of our state and northwestern Mexico." His original plan was for a loop that would even include Lordsburg to the west. The project never really got going, in part because of the subsequent upsurge in violence. Now Mayor Skinner and the other leaders are bringing it back to life but in a simplified and shorter form that doesn't include the western loop to Lordsburg.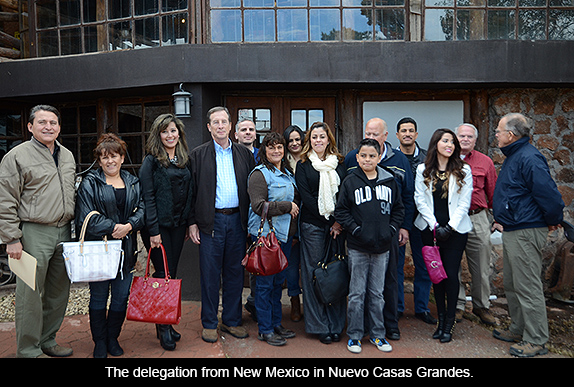 Despite intermittent rain, the drive south to Nuevo Casa Grandes is stunningly beautiful—rolling hills, good cattle country, cotton fields and prosperous looking agriculture as well as little roadside stands selling the very popular Mennonite cheese. However, we did have one surprise as we entered Janos (pop. 11,000). The checkpoint was closed. All this hassle of getting the visa and vehicle permit was unnecessary!
At Nuevo Casas Grandes, a large crowd awaited, by far the largest of any of the meetings I've attended. After introductions, Dr. Rafael Cruz, an archaeologist, gave us a presentation of a new site (discovered in 2000) close to Paquimé called Casas de Fuego, another opportunity for the tourism we hope to encourage. Paquimé itself has already been designated a UNESCO World Heritage site. It, plus the pottery center of Mata Ortiz, local cave paintings, and the work of the famed potter, Juan Quezada make a strong foundation for tourism.
One of the passengers in my car was Bob Pelham who owns Pinos Altos Cabins near Silver City. He now takes tours to Peru but used to do so in this area of Mexico. While in Nuevo Casas Grandes, he worked on arrangements to bring tours here once again, perhaps as early as this fall. So business is already beginning to develop.
After the archaeological presentation, Mayor Skinner made his pitch about the need to resolve this bureaucratic issue of the visas and vehicle permits. His plan, therefore, is to support a petition to the Mexican government in Mexico City by getting letters from all the local Mayors, New Mexico's Congressional delegation and leading state officials. The local Mexican officials will then take the lead in presenting this in Mexico City.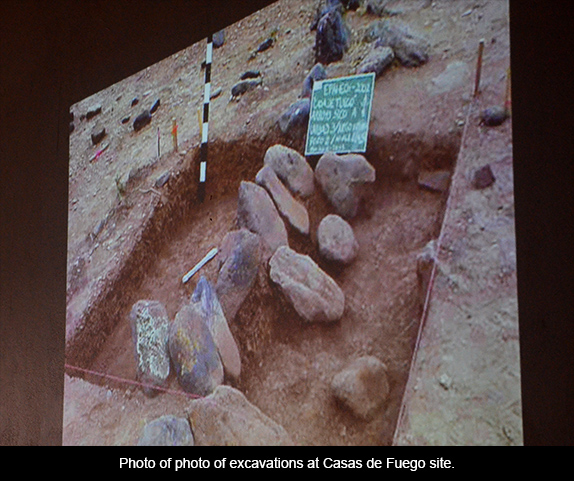 For a project that only got its start last September and involves some eleven communities in two countries, enormous progress has been made. Most of the credit goes to Mayor Philip Skinner. He's showing that a tiny town like Columbus in one of the state's poorest counties can still take the lead in promoting its own future.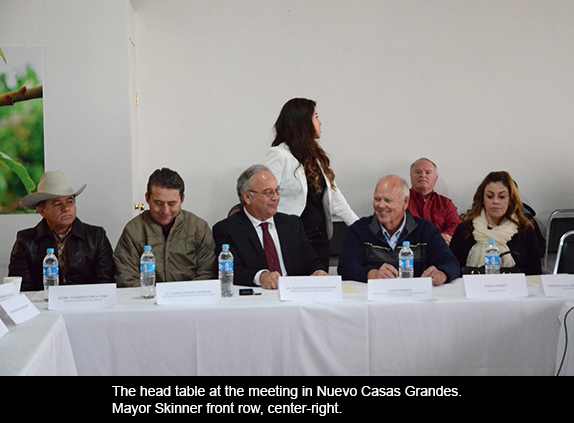 As a side note, I stopped in the Pink Store on February, 13th to observe a celebration that Ivonne and Sergio Romero, the owners, were having to thank their friends and customers. To my astonishment, hundreds of people—mostly Americans—were there, shopping, enjoying food and drinks and watching local dancers. It was clear evidence that Palomas, the gateway to towns to the south like Nuevo Casas Grandes is once again open for business.