Bonnie has been on my mind lately. I've been thinking about those who get a house they can afford and turn it into the house they want. Bonnie was the master of that. Her approach to houses, to all material goods, changed the way I thought.
She was 41 when we met in 1967 on one of those perfect nights that compensate for summer days in New Mexico. I had arrived at a party on a brand-new Yamaha with the man I was about to marry; Bonnie walked out of the shadows asking for a ride. She wore a home-permanent Afro, a hennaed halo around her broad face. Her smile revealed a gap between her front teeth large enough for a #2 pencil. Bonnie took her ride and returned to the party, sweeping into the room like the department store model she had once been. She invited us over. I went with my husband, and then more often alone.
She lived in a 19th century gambrel-roofed house with boxwood hedges in a then unfashionable neighborhood threatened by urban renewal. I sometimes called ahead, "Are you receiving?" I would ask, "Are you at home?" Often I would simply ring her doorbell, knowing that she could see who had come to call, knowing that if she didn't wish to visit, she didn't answer the door. And in those days before answering machines and voice mail, if she didn't wish to talk on the phone, she let it ring.
Not everyone accepted Bonnie's selections. One friend, convinced of her presence (the car in the drive, the dog in the yard) rang the bell repeatedly, pounded on the back door, telephoned from the corner. Bonnie was amazed at such behavior. I did not insist. I stood on the top step outside the screen door and rang once or twice, waiting for the inner door to swing open and hear Bonnie's greeting as she stepped, smiling, into view. Always smiling, because if she chose to receive you she felt she owed you a certain cheerfulness.
Hers was the most comfortable of houses. If you sat in a chair there was always a place to put up your feet, a good lamp. Within reach was a table with an ashtray, room for a drink and something interesting to read. Classical music was usually playing, often opera. But on a first visit it was not the comfort of the house that struck most people.
It looked best at night, its mustard walls and whiskey-colored carpeting a warm backdrop for polished woods and reflecting surfaces. A medieval tapestry covered one wall and against another stood a Directoire table supported by curving fish rather than ordinary legs. There were matched mahogany sleigh beds upstairs, a long Korean cabinet with hidden compartments, a fruitwood armoire, a birds-eye maple buffet, a magnificent black silk screen embroidered with a grove of pale bamboo and a Rembrandt etching. And also toy cars and advertising posters and old linoleum: a mix of fine and common objects arranged with her good eye for proportion, color and texture. There was too much to take in at a glance, which was her intent. She liked a room that took time to see, that held surprises.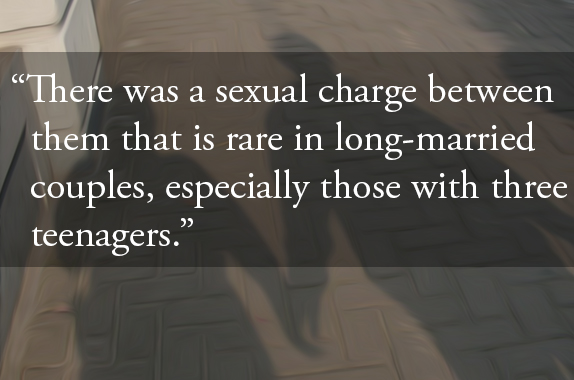 The house cost $10,000 for 14 rooms. The house and everything in it had been paid for out of her husband's wages. Steve was the son of Greek immigrants, a skilled machinist. Some of what he fashioned went to the moon. Steve was also a musician and singer and an attentive father. He had a Greek's proximal sense: he came close when he spoke, his eyes warm, his voice low. His daughter's friends found him as attractive as his wife's. Female city planners who attended the neighborhood meetings identified him simply as, "that handsome man."
There was a sexual charge between them that is rare in long-married couples, especially those with three teenagers. They displayed a combination of civility and banter that brought to mind old Hollywood movies. Their younger daughter was sorting photos and showed me one taken at the time of their marriage, the two of them standing on the steps of a courthouse. Steve looked like a bit of a punk, too thin in the face and sporting a high pompadour, but Bonnie had great good looks in the style of the early 1950s: tall, broad-shouldered, curvaceous, with masses of red hair. Bonnie glanced at the picture in passing and commented matter-of-factly, "Built like a brick shithouse."
When I visited we had long talks over cups of tea or Greek coffee, a high-caffeine sludge of freshly ground beans and boiling water from her dented copper kettle. She would warm our cups one at a time in the top of the kettle, her eyes half-closed from the smoke rising from the cigarette she held loosely in her mouth. I would stop for twenty minutes and leave three hours later. We would eat our way through a still-warm loaf of Zinn's rye spread with sweet butter or a tin of her rich kourebeides cookies, each impaled with a clove. We talked about food and books and sex and madness and politics. And about our lives. Her father had been a union organizer who left her mother with four children during the Depression. Bonnie learned early how to make money go a long way and how to have a good time without it. In addition to department store modeling, she had worked in a mental hospital and as a waitress. She came to Albuquerque to visit a sickly aunt, and like so many others she stayed, taken with the dramatic forms and subtle colors of the high desert.
After she and Steve married, they bought a small house in the Heights and nearly lost it when they went broke. She was the frugal one. In order to right their finances, they moved to California for several years, living in a one-bedroom apartment where she and Steve slept in the living room. Wages were higher there. She would gather wild grasses to decorate the house, concoct entertainments with her neighbors and pack picnics for family outings. Her serious junking began there, I think. She would offer to put a quarter down on something she liked and pay weekly until it was hers. When they returned to Albuquerque, they lived within their means, on a cash basis.
I tended to visit on days that were particularly good or bad. She took delight in the successes of her friends, marveling at their talents, seemingly free of any underlayment of envy. And if I chose to share my troubles, she would offer an unexpected point of view. Others advocated hard work, Bonnie thought the right work would not seem hard. Failures were evidence that you were in the wrong place. If you offered a conventional point of view or standard solution to a problem, she's counter, "Why do you think that?" or, her favorite rejoinder, "Get creative."
A slender mutual friend went on about her lack of interest in a brilliant, but stout, suitor. Bonnie asked, "Ever make love to a fat man?" Our friend's protestations of horror were met with Bonnie's sidelong glance and a quiet, "Pity. It ain't bad."
When Bonnie asked me about my mother, it was clear I considered her less than admirable in that role. "She let you live," said Bonnie. "It's easy to kill a baby."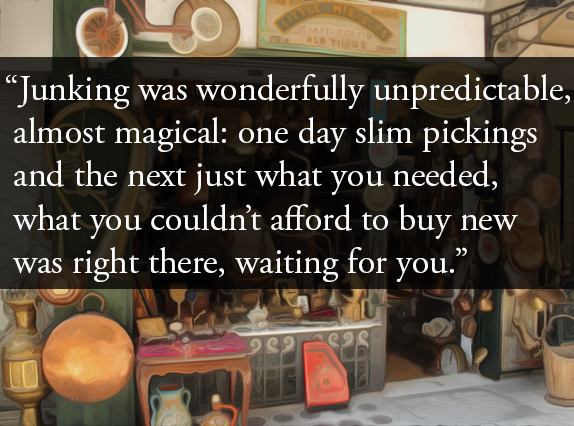 In the early years of our friendship, my husband and I lived in a furnished apartment. When we moved to a house I began to junk in earnest. She took me to some of her favorite places. One shop was owned by a Corsica-born woman who gave us fava beans with our change. There I bought a half-dozen bentwood chairs for $6 each, a wicker library table for $35 and a French market basket for $4. Bonnie took me to the Salvation Army Store where the expensive men's shops dumped their unsold merchandise. I bought Yves St. Laurent ties for 25 cents a piece, and beautifully tailored Ralph Lauren wool trousers, with tags, for a dollar a pair. On my own I found a primitive pine chest for $15, a $30 1928 Magic Chef (on long legs, all cream and green enamel, with a fire-brick-lined oven that made for superb baking).
Junking was wonderfully unpredictable, almost magical: one day slim pickings and the next just what you needed, what you couldn't afford to buy new was right there, waiting for you. We paid with our time, but this was pleasurable work, a treasure hunt, an exercise in recycling, a social event for sellers and buyers.
One shop owner offered a taste of his minestrone along with his left-wing political views, another recalled events in the Barelas barrio over a cup of tea in her kitchen, where the blue and white Morel lard cans were filled with red geraniums. Bonnie's old friend Polly offered a basket of lemon muffins and a recollection of hard times after her husband left her. She slept in the narrow room behind her second-hand store and vowed she would confound him by surviving. When Polly lost out on some item she wanted, she would smile and say, "I'll get me one better."
I recall one day when my ebullient friend Linda joined Bonnie and me for an expedition through the low-rent sections of the South Valley. We moved from shops to garage sales to junkyards, finding an Ansel Adams book of photographic prints, a zinc-topped milk table perfect for plants and a brass cracker tin made to be a bread box. We each scored that day and returned to Bonnie's to sort out our booty. Bonnie and Linda started up the walk and then stopped, took each other by the right hand and danced a minuet, while our laughter filled the quiet street.
Junking fostered a different way of thinking about goods. Bonnie knew how to junk up a great place to live, stylish clothes, good food. It was a matter of finding out what had value that someone else didn't appreciate. She sewed her clothing out of remnants of good cloth; made her own jewelry out of semi-precious stones. It all took time of course, especially the food. She bought bread at an outlet store, carved up chuck into steaks and stewing meat, made kim-chee out of hot peppers and marked-down cabbage; scrapple out of pork trimmings. Liquor and wine came from a discount store, and, when possible, fresh produce from truck farms and u-pick-it orchards.
Bonnie and Steve figured out what she might earn at a job versus what she saved staying home and decided she should stay home. She had opened a shop when the children were young. Bonnie said Steve wanted a pretty place with antiques, while she wanted a junk store. And, she said, none of her family wanted to give up the care and attention to which they had become accustomed. There was another problem: Bonnie could buy at great prices, but she couldn't sell, she couldn't let her stuff go. Gradually, the carriage house in the rear garden filled up with junk, as did the basement.
When people at parties asked, "What do you do?" Bonnie replied, "Whatever I like." She volunteered weekly at the mental health association and was good enough that they offered her a job assisting in group therapy. Her family and friends urged her to take it, but she declined, citing the cost of panty hose.
When my husband's work took him to the northwest corner of New Mexico, I left my job and followed. In the springtime asparagus grew wild along the irrigation ditches, and thousand year-old pottery shards were common underfoot. There was a well-stocked supermarket where the oil gasification workers spent their money, and a good public library decorated with orchids raised in the kitchen of the chief librarian. But nearly everyone with any smarts had left town as soon as they had a high school diploma and a tank of gas. The Saturday morning flea market on the highway between Farmington and Aztec was the highlight of my week. I would get there by 7:30 am and walk around listening to the crows and inhaling the smell of Navajo fry bread and mutton stew. I could go with a quarter in my pocket and find graniteware pie tins for a dime a piece.
Bonnie read between the lines of my letters and asked a friend of mine to join her on an overnight trip. They arrived with a picnic basket filled with good cheese, Greek pastries and cognac. In the morning my friend and I were sitting in the living room when Bonnie appeared in the doorway wearing a white sweatshirt, white panty girdle and white crew sox.
"I had to share this with you," she said. She swiveled to the right, raising in her hands imaginary poms-poms. "Rah, rah, rah," she said, and swiveled to the left. "Rah, rah, rah."
I got my only photograph of Bonnie that day, at the Aztec Ruins: she's leaning on an elbow and looking intently at the rock walls left behind by the vanished Anasazi. Bonnie didn't like to have her picture taken, perhaps bothered by the difference between the knock-out she had been and the attractive middle-aged woman she had become.
In the fall, my husband and I moved back to Albuquerque. We had rented out our house, but I found me one better, an adobe with pale blue irises against the south wall and a 30-foot long living room with maple floors. We discovered the room had great acoustics when friends gathered to play the guitar and sing.
Some months later, I stepped into Bonnie's front parlor and saw that an enormous standing mirror was missing from its carved frame. I asked what had happened and Bonnie told me she had been sitting in the parlor, sorting stones on a tray when Steve reached under the tray and hit it, scattering the stones. Without hesitation, Bonnie had picked up a heavy bronze and thrown it at the mirror. It was like her. She had told me that once, years earlier, Steve had been miffed that she was too busy with the children to sit down to dinner with him. He had taken his bowl of beautiful avgolemeno soup to the sink and dropped it, breaking the bowl and wasting the soup. Bonnie had grabbed a stack of plates and begun throwing them, one by one, down the hall.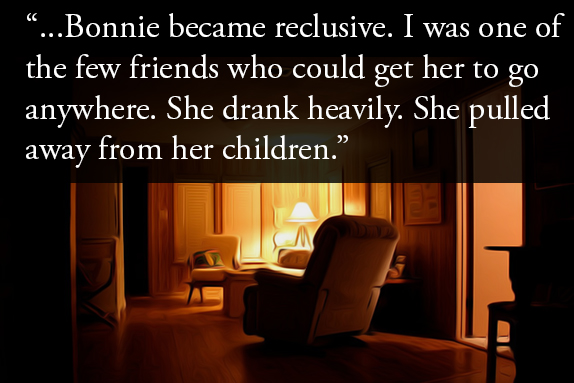 Bonnie called one night and asked to stay at our house. She arrived dressed in a 1950s negligee and satin robe. She and Steve had had a terrible and final argument. They divorced. He hadn't valued the life she had created for them. "It was the wrong coin," she would say, "the wrong coin."
To the amazement of all who knew her, Bonnie became reclusive. I was one of the few friends who could get her to go anywhere. She drank heavily. She pulled away from her children. They tried an intervention and she threw them out of the house. Her voice on the phone changed. Once she had answered as if expecting to be amused, to be invited to a wonderful party. Now, she sounded hesitant, even fearful.
My husband took a job in Tulsa and I followed. I came back to visit a year later and went to Bonnie's. As she dressed to go junking she put her underpants on over her slacks, then laughed at her mistake. She went to unlock her car door and hesitated. "You drive," she said. A first.
A few months later, a mutual acquaintance called me. Bonnie had been in an auto accident and couldn't answer the police officer's questions clearly. The policeman took her to the hospital, where doctors found she had an inoperable brain tumor. "Where's my out pill?," Bonnie asked. She went home and stopped eating, subsisting on Scotch and soda.
I went back to help care for her for a week and to say good-bye. She couldn't talk much by then, but would say, "Such friends, such friends." When I bathed her, she posed like The Naked Maja. She turned a walk to the toilet into a tango.
At her children's request, I contacted an undertaker about cremation. I said that Bonnie had many antiques and asked about furnishing a container. I was thinking of a decorated jar to hold her ashes. The undertaker misunderstood my intent and said, "Something large?" I imagined men wrestling one of Bonnie's armoires out the front door. I laughed long and hard. That night I reported my conversation to her children and Polly and they laughed as well. Polly then recounted the first time Bonnie came into her shop, smiling broadly and smartly dressed in a double-breasted sweater with brass buttons. Polly said she always thought of her friends as flowers. Bonnie was a jonquil, "so jaunty and gay."
Suddenly, Bonnie was at the door to the parlor, one arm hanging limply, her face angry. She came in and sat down. We were guests in her home, said her face, and we should behave accordingly. She wasn't dead yet. We were chastened.
It was a hard week, but I felt privileged to be there, privileged to have known her. When I left, I said to her what I felt, however irrationally,
"We'll meet again…"
And Bonnie sang, from that deep place in the brain where music is stored,
"…don't know where, don't know when…"
We laughed and kissed good-bye. Her breath smelled of ketosis, a body metabolizing itself.
I walked out the front door and looked at Bonnie's house, then got in my car and drove away, knowing I would never go inside again. She died on Good Friday in 1979. Her younger daughter asked what I would like to have and I requested the copper kettle.
In the years that followed, I divorced and remarried and moved to New York City. When my second husband and I moved back to Albuquerque, we bought a small house near Mountain Road. It came with hi-gloss white walls throughout and 11 tons of gravel in the yard, but also with lots of daylight and 1920s charm. I am junking again. I've junked up a potting bench, a wheelbarrow, a porch swing that fits perfectly in the old hooks. In warm weather, we have breakfast on the porch every morning. I pour water from Bonnie's copper kettle into a press pot and carry the coffee outside. I look at the trees we've planted and think about how to redo our kitchen on the cheap, and recall the lessons I learned from the Queen of Junk.