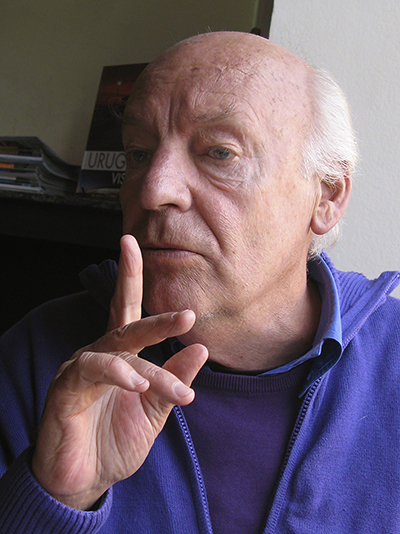 Brilliant thinker and writer Eduardo Galeano died of lung cancer yesterday (Monday, April 13, 2015) in his native Uruguay. He was 74. Throughout Latin America his books defined generations. Here he may best be remembered for having written The Open Veins of Latin America, the book that Venezuelan president Hugo Chávez stepped forward and placed in Barack Obama's hands during the latter's first meeting with the continent's presidents in 2009.
Over the years, Galeano was a frequent visitor to New Mexico. Salt of the Earth Books brought him to town on several occasions. On one of these, and anticipating a crowd much larger than what the bookstore could hold, the reading was held at The Lobo Theater. The marquee advertised Pulp Fiction at the time, and below the name of the film was Galeano's. I remember what a laugh Eduardo got from the juxtaposition. The Lannan Foundation also featured him at The Lensic in Santa Fe.
A series of books followed The Open Veins of Latin America, most importantly the trilogy Memory of Fire. In those three volumes the writer traced the history of Latin America, not from the viewpoint of removed historians but from that of its protagonists. The Book of Embraces and Mirrors are other of his works that have been widely read in English and many other languages.
As was the case with most Latin American writers who lived through the terrifying years of that continent's Dirty Wars (1970s and '80s), Galeano was forced into exile on a number of occasions. At one point, having escaped Uruguay for Argentina, he edited Crisis, a Left cultural magazine of the era. Upon receiving a menacing telephone call, he responded to the voice on the other end of the wire with these words: "I only accept death threats from 9 to 5." Despite the quip, avoiding disappearance, torture or worse was serious business during those years. Galeano would take refuge in Spain, Venezuela, and Cuba. When democracy was reinstated in his native Uruguay, he returned there to live.
Latin America, and North America as well, have produced dozens of great writers and artists in the second half of the twentieth century. None were more beloved or will be remembered with more gratitude than Eduardo Galeano. His work teaches and illuminates us still.
(Photo by Margaret Randall)