I started thinking about syncretism on a recent trip to Cholula, near Puebla, Mexico. It's not that I hadn't thought of it before. In New Mexico all one has to do is visit a church at any of our Indian pueblos and one is moved to consider how the Spanish conquest imposed itself upon tribal culture and belief—and how our indigenous peoples resisted. The word syncretism generally describes a blending of two disparate, often antagonistic, elements. One dominates, but sensitive observation easily unearths the other. The conquered culture remains, often in powerful ways.
Random House's College Dictionary defines syncretism as: "1. The attempted reconciliation or union of different or opposing principles, practices or parties, as in philosophy or religion." Attempted is probably the key word in this definition. What is put down or overpowered at one historic moment may rear its defiant head decades or centuries later, with unexpected results. Don Juan de Oñate believed he had conquered Acoma Pueblo in 1599, but the people of Acoma renew themselves with every passing year.
In Mexico, I saw vibrant evidence of a similar defiance and resistance to cultural destruction. The Great Pyramid of Cholula is the largest archaeological site of a pyramid in the New Word. It stands 180 feet above the surrounding plain, and in its final iteration measured 1,300 by 1,300 feet at its base. With its enormous base, height of 217 feet, and total volume of 4.45 million cubic meters, it is in fact the largest monument ever constructed anywhere in the world (the Great Pyramid of Giza, in Egypt, is only 2.5 million cubic meters in volume, although it is taller by more than 200 feet). Tradition has it that Cholula's pyramid was conceived and built as a temple dedicated to the Aztec god Quatzalcoatl. Today one is hard-put to imagine the original structure. What one sees, instead, is the Iglesia de Nuestra Señora de los Remedios built by the Spanish in 1594 atop the great structure. Bits of the original pyramid can still be seen along the base, and there has been some restoration work to preserve what Spain could not entirely obliterate.
When I asked my 11-year-old grandson, who lives in the shadow of the pyramid and its church, what he thinks of the place, his response came in a single word: disrespect. "It's the same everywhere," he told me, "the Spanish often built their churches on top of Indian pyramids and temples because they wanted to destroy indigenous religion."
On this trip I also saw fascinating examples of a more complex sort of syncretism. Santa María Tonantzintla is one of several dozen extraordinary churches in Cholula and its environs. San Francisco Acatepec is another, its façade entirely covered in Talavera tile. We were visiting just after Easter, and these churches still bore evidence of the season's festivities: elaborate archways once painstakingly woven of flowers are now fashioned from no less elaborate paper and plastic. Streamers of little flags sail from bell towers. But Santa María Tonantzintla caught our attention in a very special way. The syncretism in that church is astonishing.
Franciscan Fathers supported the church's construction over a period of 300 years, although local Indians did the work—from the actual building to the confection of the hundreds, perhaps, thousands, of baroque figures in deep relief. The whole is a fusion of colonial architecture with pre-Hispanic design principles, and most of the numerous angels, saints, and other religious figures bear indigenous features. There is an entire archway of naked women—all pregnant. The cupola alone contains 260 heads. No one has counted how many exist in the church overall. In the midst of all this ornate Christian iconography, we were surprised and delighted to find the likeness of the Aztec rain god Tlaloc. Beneath his bulging eyes and nose, native fruits can be seen emerging from his mouth.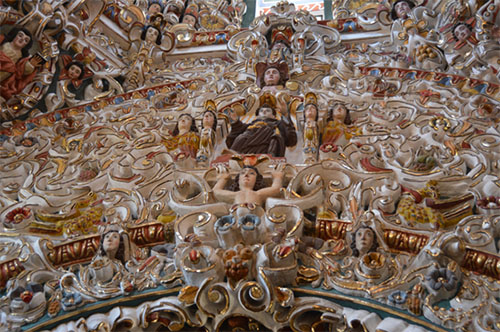 Our experience at Santa María Tonantzintla was made particularly interesting when we asked a young woman sitting in a corner of the church if there was anyone around who might tell us something about the place. She offered to do so herself. After townspeople discovered the Franciscans selling off some of their most valuable statuary, they kicked them out and took over. The community now owns and runs the place. Elena's pride was palpable as she pointed out every example of indigenous/Spanish syncretism. She seemed especially eager to show us the preponderance of female figures.
Mexico was full of surprises on this visit. One day we drove to the newly opened ruins of Cantona, on the border of Veracruz about an hour and a half from Puebla. Probably built by Olmec-Xicalanca groups, for centuries what is thought to be the largest pre-Hispanic city in Mesoamerica lay dormant beneath desert growth. In 1980, archaeologist Diana López Molina raised enough money to take aerial photos, but it wasn't until 1992 that excavations at the site began. It finally opened to the public in 1994. Experts believe the largely residential layout covers an area 15 by 15 square kilometers. There are 24 ball courts and a few pyramids. Only about 1% has been excavated.
Cantona displays housing unit after housing unit, linked by beautiful avenues that snake between raised walls. Builders here used native stone in a variety of colors, and their architectural design sported the mixing and matching of stones of different hues. Among Cantona's many interesting features is the fact that its avenues are rarely laid out in straight lines. This may have represented a syncretism we can no longer interpret.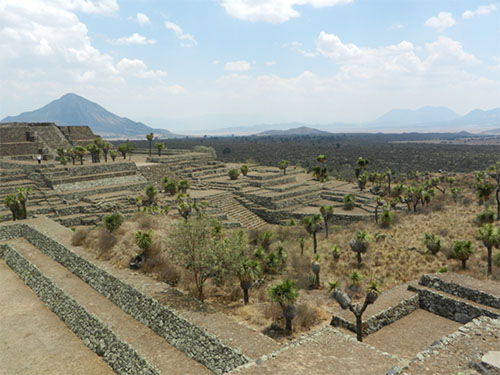 Being in these places and pondering the ways in which power has changed the faces of so many cultures, yet how those cultures retain a hidden strength, enabling them to blossom again, made me think of what we face today right here. The heroic efforts individuals make to deal with drought or save energy when powerful corporations and governments continue to ignore the perilous problem of climate change. The everyday kindnesses we engage in and witness, in the face of an increasingly violent war-mongering culture. The small banks of native seed some people preserve in the face of the takeover of genetic modification.
In Cholula I made a photograph of eight ears of corn, all different colors. They seemed a symbol to me, a message about syncretism when it can be made to work for human need.