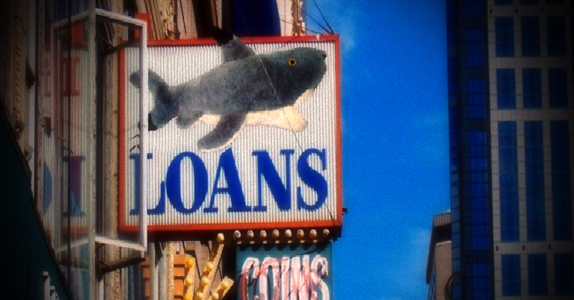 Two weeks ago, the New Mexico House Regulation and Public Affairs Committee tabled popular 36% interest cap bills designed to protect borrowers from triple digit interest loans that lock them in poverty.
The committee dismissed testimony in favor of 36% caps from a broad range of financial counseling, social service, tribal, religious, senior citizen and other groups. It preferred to consider an industry proposal for consumer protections that lenders promised was forthcoming. Once the loan sharks were handed the keys to the bait tank, advocates of loan reform were skeptical that meaningful proposals were in the offing.
Loan industry drafted "consumer protection" legislation introduced over the past week proves the skepticism was well founded. SB 579 and HB 425 allow finance charges of up to 450% APR on six-month loans under $2,500. They provide no interest limitations whatever on loans over $2,500.
The bills propose an imposing array of allowable fees that would confuse an experienced accountant. The unsophisticated clientele typically ensnared by these loan products will seldom understand what processing, handling, check, insurance and delinquency fees really mean to the cost of their loans. No legal remedies for borrowers, and no provisions to enable meaningful enforcement by the state are specified in the proposals.
In a stunning display of industry arrogance, the legislation goes so far as to ban cities and counties from enacting any local loan regulations by "ordinance, resolution, or otherwise." Cities and Counties throughout New Mexico have already passed resolutions asking for loan interest and fee caps of 36% or less. Lenders clearly do not want those voices to be heard.
Separate industry drafted legislation covering Tax Refund Anticipation loans (HB 356 and SB 527) provides for fees that can dwarf the 417% APR currently allowed to payday lenders. These bills pave the way for expansion of a loan product that is being restricted or banned most everywhere else. Unfortunately, this proposal has already passed the House Public Affairs Committee.
Storefront lending in New Mexico has become a one-for-two proposition. State statistics from 2013 show that for each dollar borrowed, customers paid back nearly two dollars over the next six to eight months.
While lenders claim this kind of credit is a lifesaver for low income borrowers, the only knowledgeable people who pretend to believe that are lobbyists, consultants and "researchers" on the industry dole. A library of independent research shows high cost loans are a lifesaver made of lead, dragging borrowers ever deeper under water. Over 160,000 New Mexicans were ripped off by these scams in 2013.
The loan industry's proposed legislation does not protect consumers. It legitimizes the one-for-two formula by emblazoning it in statute. It specifies that consumers can be charged up to $2.10 for each dollar borrowed over a period of six months.
The lesson in this is simple. Loan sharks who make a living by deceiving cashed strapped borrowers are just as comfortable deceiving the legislature. They promised consumer protection legislation, but instead delivered an army of lobbyists pushing proposals to expand their hunting grounds.
Legislators need to refocus on real solutions. Thirty six percent interest caps are generous enough to serve any legitimate lending model. Yes, interest caps will shut down many lenders who have adopted business models that need outrageous finance charges to survive. But that is a good thing. States that have enacted interest caps have seen more efficient lower cost lending models take their place. Borrowers have benefited.
Laws to protect consumers from sellers of tainted food and dangerous patent medicines were enacted long ago. It's time to enact laws protecting consumers from an explosion of tainted and dangerous financial products as well. The legislature needs to stop swimming with storefront loan sharks and start listening to everyone else.
Ona Porter and Steve Fischmann
Co-Chairs, New Mexico Fair Lending Coalition

Ona Porter is Executive Director of Prosperity Works, a non-profit dedicated to helping people achieve financial independence.

Steve Fischmann was a financial and general management executive at Levi Strauss for 20 years before serving in the NM Senate from 2008 to 2012.