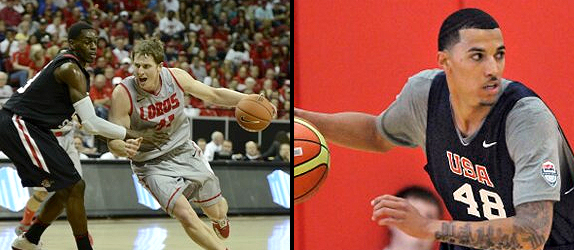 The Pit will fill Wednesday night to honor seniors Kendall Williams and Cameron Bairstow. With both players as candidates for Conference Player of the Year, their distinct journeys have converged this season.
Growing up as a UCLA fan, Williams committed to the Bruins as a sophomore in high school, but UCLA rescinded the scholarship offer in July before his senior year. Less than four months later, Steve Alford signed Williams, and he made an instant impact starting as a freshman. His 11.6 points per game during the 2010-11 season were topped only by a mentor, senior Dairese Gary, and a UCLA transfer, junior Drew Gordon. As Williams left-arm tattoo received additions, his Lobo mystique increased. He helped lead the Lobos to NCAA appearances his sophomore and junior years, and, last season, Williams stood out on one of the best Lobo teams of all time. A 46-point performance in Fort Collins and his 360 jam to seal the Mountain West Tournament Championship highlight his Player of the Year season. This year, Williams continues to take his play to the next level, averaging 17.1 points, 4.9 assists, 3.6 rebounds, and 1.7 steals--all career highs.
While I will remember Kendall for draining impossible three-pointers, beating his chest with a trademark smile, and looking into Section L for his family, he has etched his name among the top 8 Lobos of all time in career scoring, top 6 in career steals, and top 3 in career assists. He is the only Lobo ever to post 1,500 points, 500 assists, and 150 steals. Thanks for the memories, Kendall.
Bairstow's journey to senior night started in Brisbane, Australia where he worked on defensive slides and footwork in his backyard. A growth spurt around age 17 put him on the national basketball scene, and, after high school, he accepted a scholarship to the Australian Institute of Sport. While training there, he visited Middle Tennessee State, Cal State Bakersfield, and UNM. Bairstow said he liked what the other schools had to offer, but he told PickandRoll.com, "For me it was not a matter of playing right away, it was more of where I was going to be by the end of my college career."
Backing up Drew Gordon and A.J. Hardeman his first two seasons, Bairstow's production was limited, averaging 2.6 and 3.7 points respectively. He reminded me of David Chiotti, and his junior effort had me believing my comparison. His relentless effort earned him 9.7 points and 5.9 rebounds per game, but Bairstow played as a compliment to fellow post, Alex Kirk. This season, Bairstow shattered my Chiotti comparison, and he doesn't play in anyone's shadow. Coach Neal has repeatedly called him the best power forward in the country, and I haven't heard many argue otherwise. Others refer to him as the most improved player in college basketball, and some Lobo fans just call him Beast Mode Bairstow.
While Cameron will not reach the career milestones of Williams, his season is one for Lobo lore. He leads the Conference in points per game (20.5 ppg) and field goal percentage (56.2%). When his 20-foot jumper drops, Cameron can drive by seemingly anyone. His spin, fade-away jumper in the paint remains unstopped, and, if you're a coach, get a video of his drop step. It's textbook. While his hair doesn't look as good as his game, it may be giving him superpowers. Don't mess with what works, I guess. Thanks, Cam. We will miss you.
Williams, Bairstow, and Chris Perez will leave The Pit on Wednesday as three of the eight Lobos to reach 100 career wins, but, in the worst-case scenario, we will be unknowingly saying goodbye to more than just the seniors. If we learned anything from last year's departures, it is to make sure we don't take anything for granted.
This season, the Lobos returned two juniors, Kirk and Greenwood. While neither is being discussed as a 2014 NBA draft pick, both possess options beyond returning to the Lobos next season.
When Alford left for UCLA, Kirk reportedly said if Neal was not promoted to head coach he would transfer to UCLA. If Kirk transfers without penalty after graduating, he would have the opportunity to play in a power conference. This move may garner him more national attention and, in turn, increase his NBA stock. Between playing for the national team this summer and his connections at UCLA, Kirk has plenty of opportunity to explore this option.
Greenwood, an NBA long shot, will play professional basketball abroad. At Lobo talk this week, Coach Neal revealed that he spent two weeks this summer re-recruiting Bairstow to return to UNM as he was considering going professional in Australia. I suspect Neal convinced Bairstow that another college season would give him a chance to play in the NBA--and Neal was right. This leverage, however, will not exist with Greenwood if he considers turning pro Down Under.
Playing in The Pit next season has positives for them too. As seniors, they will be the leaders. Kirk will be the Lobos' main man inside, and it is not a stretch to think he would lead next year's team in points, rebounds, and blocks. With multiple Lobo players going to the NBA recently, there may be all the exposure in Albuquerque he needs, and, as a native New Mexican, Kirk may want to finish his college career where it all began. Next season, Greenwood will be thrust into a scoring role as the Lobos graduate nearly forty points of offensive production. He is a fan favorite, and, with few places in the world like The Pit, Greenwood may want to ride out his amateur career here. His sister, Josie, is a freshman on the Lobo basketball team, so another year in Albuquerque may seem right. But, if either Kirk or Greenwood decides to leave, the other will be less likely to return to what begins to look like a rebuilding year.
Beyond the starting lineup, Nick Banyard is the most likely candidate for transferring. During non-conference play, Banyard averaged 12.4 minutes per game, but, during conference play, his average dropped to 6.5 minutes per game. While it is normal for bench players' minutes to decrease as the season goes on, Banyard has not played in the last five games. We've seen Neal pull him out for ill-advised shots, missed dunks, and not boxing out, and, off the court, Neal and Banyard have screamed at each other. Banyard is an athletic player with a soft shooting touch, and, with more development, he can be an integral Lobo during future seasons. I just don't know how patient the coaching staff will be with Banyard, or how resilient he will be on the bench.
These are thoughts, not predictions. After last year though, we must consider the possibilities for next season. I don't think any of the Lobos--Neal, Kirk, Greenwood, or Banyard--know at this time what will happen next year, but I suspect Neal will again be doing some re-recruiting during the offseason. While the 2014-15 roster has the potential to look many different ways, no matter what happens, let's enjoy Wednesday night because it will be the last time this Lobo team puts on a show in The Pit.
Go Lobos!
Yours in Section K
P.S. On Friday, Mark Cuban, the Dallas Mavericks owner, told ESPN Dallas "there's no reason for the NCAA to exist. None." He argued that high-school graduates who have the goal of playing in the NBA should go straight to the D-League where they can focus on developing their basketball skills. Then, at the age of 19, these players can enter the NBA draft. Cuban said the D-League can be designed to avoid the NCAA's stupid rules and truly support young people, even helping them pursue a college education. European sports clubs use a similar system to train professional athletes. While I don't know the future of the D-League, Mark Cuban is on to something--and it shouldn't be a surprise that it's money.
An audited financial statement from the 2012 fiscal year showed the NCAA had recorded a 71 million dollar surplus that year. It was also reported that athletics at the University of Texas brought in a profit of 25 million dollars in 2012. With intercollegiate organizations and universities making millions organizing amateur sports' competitions, there is plenty of room in the market for competition. During the next decade, college athletic associations will need to lead a shift in how they do business, or Mark Cuban will be right: there will be no reason for the NCAA