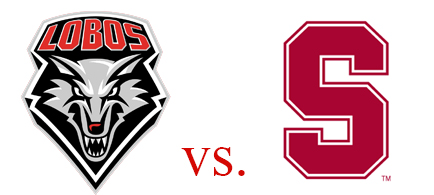 Dear Lobo Fans,
With a lot to discuss--how the Lobos won in Vegas, why they received a seven seed, and if this team will make the historic run to the Sweet 16--we need to focus on the obvious goal: sending Stanford home and advancing to the next round.
After last year, I doubt many Lobo fans will dismiss this game as a guaranteed win, but Stanford's 10-8 conference record and sixth seed in the Pac 12 Tournament are not all that impressive. If the Cardinal had lost one more conference game, we would not be talking about them. A 9-9 conference record and seventh-place finish in the PAC 12 would have elicited a coaching change, not a ticket to the NCAA tournament.
On the other hand, if Stanford had improved their conference record with one more win, we would be talking about how this team is a post-season contender, finishing conference play behind only Arizona and UCLA, two top-25 teams. This year, Lobo fans will err believing Stanford is a formidable opponent--and it's for good reason.
Stanford is a veteran-laden team starting two seniors and three juniors. They are hungry for a post-season run. While the Cardinal has not been in the NCAA Tournament since 2008, these players are not strangers to post-season success. Stanford starts four players who had key roles on the 2012 NIT championship team. Winning the NIT may sound silly, but it matters. Stanford knows the post season and, more importantly, knows how to win in it. Don't expect them to be rattled by the big stage.
Unlike most teams, Stanford will match up well with the Lobos' size. They start a tall frontcourt with 6'11" center Stefan Nastic and 6'10" forward Dwight Powell. John Gage, a 6'10" presence, will come off the bench to join them. The Lobos will be able to defend Stanford in the paint. Powell is an athletic forward scoring 14.7 points per game. He is quicker than SDSU's forwards, but lacks their strength. He will hurt UNM most by getting the Lobo posts in foul trouble. The Lobo posts will have to play smart, moving their feet and keeping their arms straight up. Stanford's other long posts are not significant scorers. If the Lobos prevent offensive rebounds, the secondary posts will not score. The Cardinal also starts 6'7" forward Josh Huestis. He is strong and likes to finish with the dunk. The Lobos don't give up a lot of points in the paint, but, as the Lobos commit to help defense, they will have to track Huestis near the rim to prevent easy jams.
Defensively, you can expect Stanford to play a lot of 2-3 zone in an attempt to limit the Lobos' inside production. The Stanford zone has been a work-in-progress all season, but the strategy revealed its fruits in late February when Stanford upset UCLA. Many think the Lobos struggle against the zone, but this conclusion lacks important factors. The Lobos dominated zones multiple times this season, but they consistently struggled against zones with longer defenders. Stanford has the longer defenders to limit the Lobos' interior passing and production in the paint. Another key component to the Lobos' struggles against the zone occurs in where the Lobos start their offense. SDSU's Dwayne Polee and his 6'7" frame pushed the Lobos to initiate their offense near half court, and the Lobos struggled to get any offensive rhythm starting there. Stanford has been more content to play the zone inside the three-point line, but we will have to wait to see if Stanford Coach Johnny Dawkins makes any adjustments. Early in the game, don't expect the Lobo frontcourt to be overpowering against the zone.
Stanford's best player is 6'2" Chasson Randle. A three year starter, the junior averages 18.7 points a game, and this season he is shooting a stellar 48.5% from the floor. He scored 33 points twice this season, once in a loss to BYU and again in a win at Washington. His best performance this season, however, came during the win against UCLA when he shot 7 for 10 from three point range. Randle will be a difficult match up for the Lobos. In the last three games, the high scorer for Lobos' opponent has been a guard of 6'3" or shorter. Don't expect that trend to be any different on Friday, but the Lobos should be able to keep Randle under his average.
Stanford's clear weakness is a lack of depth. Four Cardinal players average over 32 minutes per game, and these same four players--Randle, Powell, Huestis, and Anthony Brown--all average over 11 points per game. In the last four losses, Stanford has had one or more of these players in foul trouble. If Lobos get Randle or Powell in foul trouble, the game is over.
For the Lobos, a victory starts with defense. It sounds simple, but UNM can't give up easy points--dunks, layups, and free throws. Stanford will try to score when mismatches occur and when UNM commits to help on defense. If the Lobos protect the rim and keep Stanford off the line, the Cardinal must hit jumpers--something they can do, but not their first option or greatest strength. The Lobos will consider Randle the highest individual priority. Look for UNM to deny him the ball, be in his face the whole game, and make him work for every point--the Lobos used a similar strategy successfully against SDSU's Xavier Thames. The Lobos will also have to keep track of the other starting guard, Brown. He shoots 44% from three-point range, and he may be ready for a big night if the Lobos leave him open.
Offensively, the Lobos' success will be congruent with their ability to break Stanford's zone. The Lobos will get open looks beyond the three-point line, but this strategy cannot be UNM's first and only option to beat the zone. The best way to beat the zone is to prevent it from setting up. The Lobos are great in transition, and they should look to push the ball after a steal, defensive rebound, or Stanford bucket. If the zone sets up, the Lobos will use multiple offensive sets to get the ball inside to a post or find an open guard on the perimeter. To add another dimension, the Lobos must penetrate the zone on the dribble. They should seek to challenge Randle and Powell by driving right at them. If their best players make defensive stops, so be it, but I expect the Lobos to get easy buckets or points from the free throw line--also putting Randle and Powell in foul trouble.
The Lobos will be locked in a tough game against Stanford until the end, but UNM will prevail. Until then, we won't consider what happens beyond the Stanford game.
Go Lobos!
Yours in Section K
P.S. Picking your NCAA Tournament bracket can be as fun as it is frustrating, but websites provide interfaces to help you choose which team you think will win and lose. Slate offers 15 categories to guide predictions, and I found "Coach's Salary" and "Tuition" the most interesting. If you choose either of these categories, Duke will be predicted as the national champion. The school both pays its head basketball coach the highest salary in the country and requires the highest tuition to attend as any school in the NCAA Tournament.
While we can say whatever we want about Duke and its basketball program--I have plenty to say--many schools, public and private, are guilty of these trends. Last year, Deadspin published an article showing which position in each state has the highest-paid public employee, and, in 39 states, either a basketball coach or a football coach was being paid the most. As for tuition, in the last five years, college tuition has increased 27 percent at public universities and 14 percent at private colleges. It seems ridiculous that a cent of these increases has gone to a coach's salary, but you know it has.
Last week, the AP released a story regarding the increase of food pantries on college campuses for students. The College and University Food Bank Alliance currently supports 50 member food banks at different universities, and it estimates that another 50 schools, including UNM, have food banks, but have not joined the Alliance. It is again hard to reconcile our love for college athletics with our social values. Exorbitant tuition costs, among other factors, keep students from buying enough food to eat, but institutions, many that are public, find money to pay coaches who win. Enjoy munching during the games.