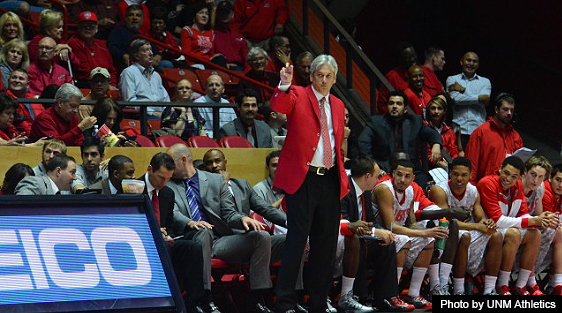 Dear Lobo Fans,
After a devastating end to the basketball season, the last thing we need is another emotional roller coaster, but here we are.
On Thursday, CBS Sports columnist Gary Parrish reported that Craig Neal had emerged as a "legitimate target of South Florida's ongoing coaching search." While only citing "multiple sources" as evidence, Parrish connected the dots: USF's new athletic director, Mark Harlan, was hired this March from UCLA where he was the associate athletic director; Harlan's interest in hiring Neal comes from Steve Alford's recommendation.
I was at peace with Alford's move to UCLA until I read he may be the impetus in another all-too-soon coaching change. And Coach Neal, I expected some players to consider their options beyond UNM next season, but I didn't think you would--to be fair, I really just didn't consider you viable candidate for a job you would be interested in.
The CBS Sports report stopped driving the roller coaster when UNLV coach Dave Rice became the leading candidate for the USF job. I immediately thought Rice would take the job. He makes $700,000 at UNLV, and USF reportedly offered him upwards of a $1 million salary. In Vegas, Rice has high expectations, and some even said he was on the hot seat after this sub-par season. But on Saturday, Rice bowed out of the coaching search, opting to remain at his alma mater. I guess money isn't everything.
On Sunday morning after reading Journal Sports editor Randy Harrison's "If Neal wants to go, Krebs should let him," I felt like everything was aligning for Neal's departure. The Journal headline says it all, but for a recap: Harrison argues if USF offers Neal a position, UNM should not make any counteroffers, take the $1 million buyout on his contract, and start a national search for a new coach.
I disagree with Harrison's haughty, black-and-white argument. If USF makes an offer, UNM should see what Neal wants to remain a Lobo. If Neal wants a $1 million contract--a $250,000 increase on his current contract--then Harrison is right; UNM can wish Neal well in his future endeavors. But, UNLV kept Rice by promising to extend his contract--not increasing his salary. It would be reckless of Paul Krebs to avoid a conversation with Neal regarding what would keep him at UNM because three coaches in three years is detrimental to the program's continuity and credibility. And, while the transition to Neal was smoother than some optimistic predictions, another coaching transition this year wouldn't necessarily work out the same way.
By Sunday afternoon, Jordan Hunter, a 2015 Lobo recruit from Texas, tweeted, "'I'm not going anywhere Jordan' - Craig Neal #GoLobos"
I assume from the tweet that Neal called Hunter and told him he was staying to coach at UNM, but we may want to wait and see what happens before we take anything for granted. I will gently remind you of how we were reassured last year of Alford's return with the announcement of his contract extension. Regardless, I am going to try and take a deep breath and step off the roller coaster of fandom.
Go Lobos!
Yours in Section K
P.S. While many Lobo fans, including myself, are concerned with a coaching change's effect on the competitive nature of the program, we need to consider the larger context of this situation. Coaches' salaries and big-time sports are massive burdens on universities.
In October 2013, Moody's Investor Service released a report stating that athletic departments are growing credit risks for universities. According to Moody's, 90% of athletic programs are not self-sustaining; they require subsidies that divert funds away from university operations. Reinforcing these findings, USA Today reported that just 23 of the 228 athletic departments at Division I public universities cover their own costs. All 23 self-sufficient schools come from BCS conference because that's where the money is. People often write about the "business of college athletics," but I can't name an industry where 90% of the entities are not self-sustaining.
UNM finds itself in the trend. Student fees for athletics doubled during the two previous academic years. For the 2013-14 academic year, full-time students paid $165.20 to the athletic department, and the athletic department is slated to receive $4 million via student fees, compared to a little over $3 million last year.
Some may consider eliminating all sports at UNM to promote its academic mission. While unthinkable to many Lobo fans, it's an option. We cannot overlook UNM's duty to provide an accessible education to citizens.
Before we shut down the athletic department, I propose UNM eliminates its football program to develop the basketball program. It makes business sense. According to a 2013 study, Mountain West schools spent $74,264 per athlete in 2010. Division I schools without football spent $39,201 per athlete. With over 100 players on the 2013 Lobo Football roster and a $35,000 savings per player, you can do the math.