Editors Note: Provincial Matters is a weekly collection of appreciations of Albuquerque and New Mexico. It first ran in Century magazine from l980 to l983. It will be a weekly feature of the New Mexico Mercury.

Frogs and Toads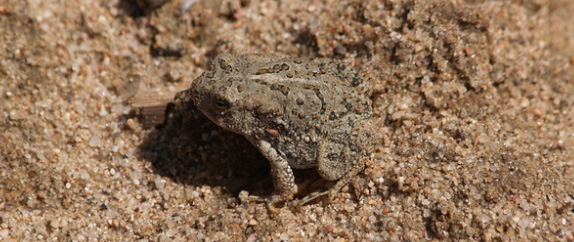 Shutting off the ditch water in Albuquerque has put juvenile green frogs and a new crop of what are probably Woodhouse's Toads into tough times. The Duranes Lateral is dry now except for puddles around the checks and little bridges. Some crayfish and green frogs are finding refuge there. The tiny toads are so small they seem like hopping dirt clods along the trail.
A decade or so ago, the Duranes was home to so many newborn Woodhouse's Toads you could hardly walk without stepping on them in the hatching season. The mysterious plague that's hit the world's amphibians seemed to have put an end to that profusion. Even the big granddaddy toads in our dill patch and tomato gardens disappeared.
So now in 2013, in the middle of an horrendous drought, to see many little gray hoppers looking for weed shade and cottonwood suckers with big leaves to hide under brings great joy to those of us who've walked and run the Duranes for decades. Great joy and worried sadness.
As the ditch puddles begin to dry, the little green frogs have already started to burrow into the mud for the cool. The big green bull frogs are nowhere to be seen. Some crayfish have found a home in those puddles too, but many are dying as the water evaporates.
I write this July 9th, at least three months before the normal shut off of water in the irrigation ditches. This is, I guess, an example of what climate change does to micro environments here and, in one way or another, all over the world
The lizards, however, seem unphased. And a flock of 15 or so snow white Egrets seemed to find enough to eat in the still green alfalfa fields. Maybe the little toads will find enough liquid and nourishment in the sowbugs, ants, insect larvae and spiders that they like to eat. And maybe the weeds and big tree debris will keep giving them the shade they'll need to survive this heat.
David Cargo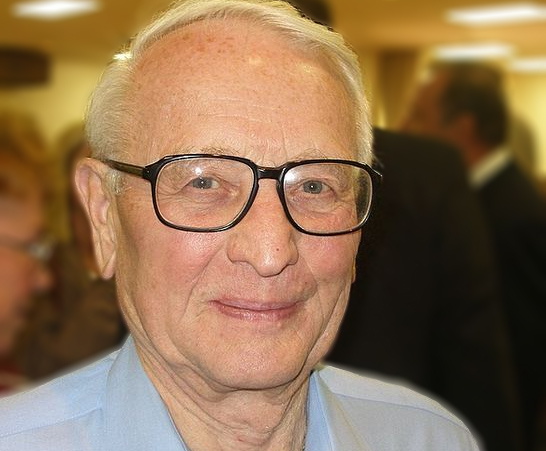 Governor Cargo seemed to relish confounding folks who thought they had him pegged. Was he a Republican? Was he a liberal? What did those words mean when it came to Lonesome Dave?
I first met Cargo when I was a young reporter in l966 and he had just been elected the youngest governor in New Mexico's history at age 37. I voted for him because he said he wanted to abolish the death penalty and raise the minimum wage, and had heavy union support. He's the only Republican I've ever voted for. And I did it twice.
Someone asked me last week if Cargo had died. I said I didn't think so, we'd have heard about it. The next day we did. He was 84.
Like many New Mexicans my memories of the governor are quirky and sometimes downright odd.
I remember him taking me to a polling place near downtown Albuquerque during an off season election and showing me a bag man with his wad of five dollar "inducements." Cargo wasn't trying to make a partisan point. He just wanted to wake me up as young reporter and have some fun doing it. "See he makes it looks like he has a bottle of booze in the bag. Doesn't fool anyone," I remember the governor saying.
He told me he got his name Lonesome Dave from a member of the southeastern New Mexico Republican elite who wouldn't have anything to do with him and figured all upstanding members of the GOP would shun him too. He later wrote that a sheepherder gave him the moniker. Who knows? But I like the first version better.
He won his elections in Albuquerque and in what are now considered Democratic bastions in Northern New Mexico where he had many friends. He made friends. I'm sure he made some in North Korea where he, quite unaccountably, visited and consulted several times.
He was at a governor's conference in Michigan in 1967 when Reies Lopez Tijerina and other Alianza members made their famous raid on the Courthouse at Tierra Amarilla. While flying low over I-25 on his way home the next day, Cargo told me he saw a caravan of tanks and National Guard vehicles moving north from Albuquerque. He said everyone looked armed to the teeth, even his Lt. Governor leading the way in a jeep. He got that bemused, puckish look he was famous for and said something like, "When I hit the ground I high-tailed it to head them off at the pass." The tanks got there before he did.
My fondest memory of him, though, was watching him pack one of his personal automobiles with books to take north to the public library in Mora that bears his name. He took books all over the state to little communities that were blessed with readers as well as voters. "Everyone needs books," he'd say.
Dave Cargo lost a lot of elections in his later years. It wasn't that the world had passed him by. He'd just stayed put, winsome, funny, humane as ever, with old ideas he continued to explore and a basic kindness that never deserted him.
Corrales Comment

If you've been reading the pages of The Corrales Comment since the 1980s you've been as appalled as I have by the political intrigue surrounding Intel and the health of Corrales residents who live downwind of its massive factory on a bluff above the southern part of the village. The trials and travails read like a nightmare entwined with a mystery.
It becomes all the more real and desperate when you know downwinders in Corrales who've been suffering for years with headaches, dizziness, breathing problems, exhaustion, and a range of other ills they associate with emissions from Intel, an accusation Intel vehemently, and expensively, denies.
The downwinders have not fared well at all in this decades long controversy. The graphic and tragic evidence of their health problems, and the testimony of their expert witnesses who are respected scientists in their fields, have impressed few public officials. Air quality tests have been rigged, delayed, and obfuscated. The Intel PR machine has been relentless. But through all of this, Intel hasn't been able to sweep the issue out the door, though sufferers still suffer and frustration is fierce.
The Corrales Comment has kept it all in the public eye while major news outlets in the state dumped it and ignored it. The Comment does some of the best reporting in New Mexico. Edited and largely written by Jeff Radford since l982, it's been doing, in my estimation, Pulitzer Prize winning work for three decades on the health impact of Intel operations and other matters important to the residents and rural culture of Corrales.
Radford has an honorable sense of duty and dedication summed up by the Comment's motto: "News Reporting as if Democracy Matters." You can read more about the Comment at its website, corralescomment.com.
If you'd like to learn more about the health issues in Corrales, I'd recommend Barbara Rockwell's book "Boiling Frogs: Intel vs. the Village."
Best Huevos Rancheros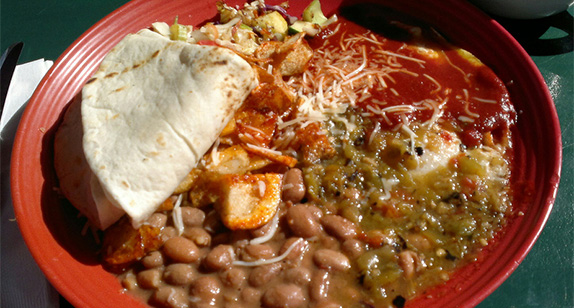 In the spirit of what Century magazine used to call "Provincial Matters," the New Mexico Mercury is opening its search for the absolutely best Huevos Rancheros anywhere in the state. Please send us your nominations with comments that we might publish.
Huevos are a passion to many of us here. But chain restaurants and hotels in our state don't really get them. One big hotel by the airport, many years ago, even had on its menu Huevos de Rancheros, which roughly translated means something anatomically embarrassing and unintended, given what huevos means in popular slang.
For New Mexicans, however, tracking down the best Huevos Rancheros becomes nothing short of a quest. Our two sons, Jody and Keir, long deprived of their daily dose of Huevos, living far away from the source, waste no time in mounting up and following the quest every time they're in the state
The dish is served with two eggs on a tortilla with beans, potatoes, cheese, and lots of red or green chile or both. It's such a simple formula, it's amazing how many places don't get it right. It all has to do with the chile. Well, and the beans, and the potatoes, and yes, with the tortilla.
In the old days of the New Mexico Independent, Marc and Mary Beth Acuff dispensed Hongos to their favorite eateries and often gave the winners a New Mexico Undevelopment Commission tee shirt.
These days, I think a pair of Mercurial ankle wings, that shall be known as Flying Dusters, are in order.
My quest has lead me to giving a multiple Flying Duster awards to: Mannies in Nob Hill, the Western View Café on Central half way up Nine Mile Hill, to Precilianos in Cuba, to the Rio Grande Diner in Belen, and to Mik's Chile fix in Albuquerque on Candelaria, the Range on Menaul and the Flying Star on Rio Grande.
The Flying Duster for the biggest plate, with creamy green chile, goes to Mik's. The meatiest chile, red or green, is to be had at Precilianos and the Rio Grande Diner. A lot of Mercury business gets done at the Range on Menaul, at Mannies on Girard, and at the Flying Star on Rio Grande.
There's so much great chile around that it's hard to image how some folks can get it wrong. Ah, but we all know they do.
Tinkertown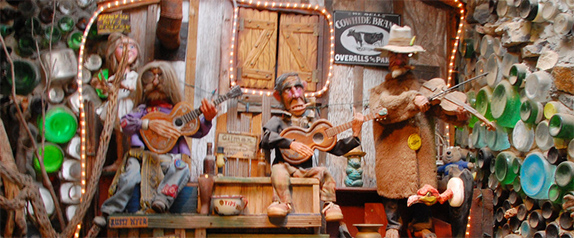 At Tinkertown, nothing good was ever wasted – be it quotations from Einstein, a set of lead soldiers, photographs of circus sideshow stars, music boxes, fortune telling machines, dolls, toy stage coaches, little trains, or virtually anything else you can imagine all arranged in dioramas and tableaus of enormous complexity, humor, and a dazzling, down home kind of beauty. It was the genius of Ross Ward that created this quintessential New Mexican place in Sandia Park, a forty minute, or so, drive from Albuquerque.
What makes Tinkertown so New Mexican? – especially since it was built by a kid from South Dakota. It's has to do with its astonishing surprises, its hardscrabble, eccentric, hands-on perfection, its downright one of kind, out of the blue beauty. Tinkertown can take your breath away. It's every bit as enthralling as an endless vista or a mountain of storm clouds. Although Ross Ward was a force of nature, this is his personal creative obsession, all collected and hand made by him.
As he liked to say, "I did all this while you were watching TV." In a publication called The Tinkertown Story, the subtitle reads "Or Life as the Pursuit of Happiness."
And happiness is what Tinkertown is bursting with. It's next to impossible to describe the probably tens of thousands of toys and carved characters that Ward created and assembled in his tableaus of Boot Hill, wild west street scenes, a three ring circus, and many more. It brings out the kid in you. It's a place to lose your troubles in.
There was an element of the teacher in Ross Ward. That's a major happiness for me. All over Tinkertown are quotations. From Albert Einstein we get "Great spirits have always encountered violent opposition from mediocre minds." From E.B. White we read "I get up every morning determined both to change the world and to have one hell of a good time. Sometimes that makes planning the day difficult."
An anonymous source sums up our feelings at the end of some weeks at the Mercury : "We have done so much for so long with so little we are now qualified to do anything for nothing."
And I like this line is from Ross Ward himself: "If you can dream it, you can build it and Tinkertown is my proof."
(Feature Image of original Provincial Matters drawing by Rini Price. Creative Commons images via Flickr: Frog by Lostinfog, Huevos Rancheros by believekevin, Tinkertown by Jim Legans, Jr. Creative Commons image of Dave Cargo via Wikipedia by Steve Terrell.)