This Thursday, Outpost Performance Space kicks off their 18th Annual Summer Thursday Jazz Nights Series. The series shocases New Mexico-based artists, featuring two bands every Thursday night from June 20 - August 15th. They've chosen one of the state's most dynamic bands for opening night. Pray For Brain fuses a medley of South Asian and Middle Eastern influences into a world sound that incorporates a number of distinctly American twists.
Below is one song from the talented bunch.
We caught up with guitarist Mustafa Stefan Dill to discuss what's behind his band's unique sound.
New Mexico Mercury: One of the most distinguishing things about the sound of Pray For Brain is that it is almost immediately indistinguishable. Its fusion is at once familiar and yet foreign and exotic.

Mustafa Stefan Dill: That's a great way to put it, thanks! That meld comes by naturally, very organically. Jefferson and I are very conversant with the Indian Classical Music methodology, how improvisation is approached and developed. We both bring various forms of jazz into it, I bring some Middle Eastern elements and some classic and prog rock, Jefferson and Christine both have a lot of African music chops.
At the same time, it's not about trying to be an Indian Classical Musician or some other kind of 'genre" based musician. I love it, respect it immensely, learn it, learn from it -- but I also respect it too much to pretend to do it.
Somehow, what I'm hearing musically calls for certain kind of cultural articulations to complete it. That cultural articulation isn't just limited to the music, either, as I'm driven to be engrossed in many aspects of it - learning the languages (Hindi and Bengali), cooking, absorbing dance, film, reading history and current trends, etc. There's so much more I need to immerse in still, to make the music work. Yet this is the life process.
But again, while I'm connected to Indian culture, that land in this very broad and deep way -- The Middle East, too, there's a family connection there -- Cecil Taylor, Coltrane, Led Zeppelin, Rush, Sly and the Family Stone , Johnny Cash are all just as much a part of me and the music I make. To sell any of these traditions short is dishonest to myself and dishonest to every legacy involved.
I think this is a point that misses some world music projects I run into -- some try so hard to be perfectly authentic, to seek that validation, they lose sight of the rest of themselves. You have to respect all of your inner truth, not just the truth of some music you've bonded with or heritage you have. You can't be a dilletante -- you have to know what youre doing -- but you can't disinherit yourself either.

Music is music, it's the sum of all of who you are, what you're made of. All the love that life feeds you gets processed and we just try to give it back in the most honest way we can.
Someone told me the other day they thought Pray For Brain was making the most truly genuine American music they've ever heard, because of how we meld things. I was flattered and humbled by that.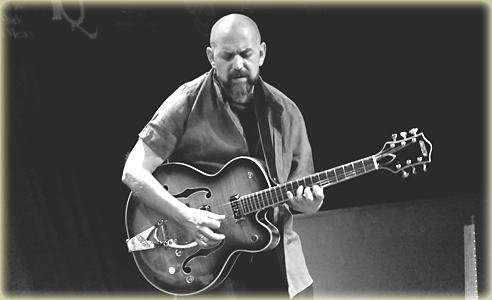 Mustafa Stefan Dill: Guitar and Oud for Pray For Brain
NMM: How do you deal with labeling or categorizing it for audiences and for booking purposes?
MSD: We have a couple of tag lines we use: there's "a Led Zeppelin-Coltrane-Atkins-Isaac Hayes-Bollywood-MidEast mashup" and there's also a more detailed varation of it as "Think 70s era Miles Davis, Chet Atkins and late Coltrane playing with the White Stripes and Isaac Hayes on a Calcutta rooftop with a bird's eye view to Morocco. Johnny Cash takes a stab at dhrupad and Bengali icon Rabrindranath Tagore may sit in, too."

We 've been devising one -word genre tags as well: Arabilly, Indofunk, sufisurf, countryeastern. That last one has been thought up before us, but it fits this group well.

NMM: As I listened to many of your songs, "consciousness voyage" came to mind. I had flashbacks of a Phish concert where the music morphed into a living consciousness within the audience. Everyone knew they were part of the ride. With Pray For Brain, that voyage, to me, seems more spiritual. Is that intended and if so how much does faith play into your musical expression?
MSD: The golden thread in most every faith is the realization that there is something larger than ourselves at play here -- call it love, call it God, (for me, love is the reflection and manifesation of God in my book, fyi ) we're responsible for none of it. We're only the vessels. That said, when you acknowledge that Larger-Than-Self divinity as the source of whatever capacity you have, it carries a duty to put that love back in service, help people feel better, transport them. We feel very honored and humbled when we're able to make that happen. That's our job.
The beauty of this band is we're all on this very same page in our own way. This is the most egoless band I've ever been in. No one's in the way of the music, and that makes the work such a joy to be a part of. I love my bandmates dearly.
NMM: You played for over 8 years with drummer Jefferson Voorhees as Sama Duo. How did you guys come together?
MSD: We've known each other since the 90s, when we were sidemen in a few projects together. On one of those projects during a rehearsal break, we jammed a little , and instantly knew we had something together worth developing.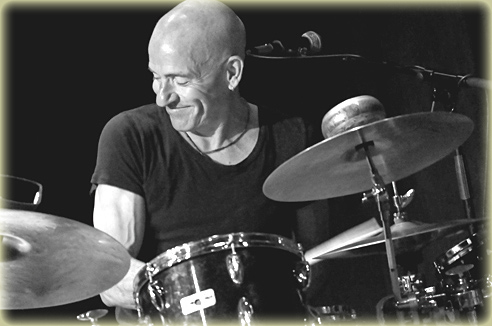 Jefferson Voorhees: Drums
NMM: What's it been like incorporating bassist Christine Nelson into the mix? How did you guys meet her?

MSD: Ah, the Game Changer? Oh my God, she's a gem!
Similar to how Jefferson and I met, actually -- they were both on an ad-hoc pickup gig... Jefferson obviously saw what was there.
He called me the next day and said, "Would you be open to have her come by on a Duo rehearsal session, just to see what happens?" OK, I'm in, I say, sure.
So a couple of days later we convene...She had great intuition from day one, though according to her she hadn't done a whole lot of improvising . But her instinct, how she surrendered to what we do, the heart she put into each note, how she forged her way, her openess to learn our language -- even on that first night she came over on a lark to sit in with us -- all of that was so clear, so, so remarkable.
Blew me out.
After she left that first night, I turned to Jefferson and said, "We've been waiting eight years for this moment. All our work was merely a preparation for this."
And it was immediately clear that it wasnt going to be Sama Duo with a bass player, it was a whole new level, a whole new thing, even from that first night.
She changed our lives with what she brings. And part of what she brings, what made that first night so epic, is this shared value we all hold very intensely -- that music has to have a sense of fearlessness, of absolute conviction and integrity, an undying, unyielding connection to its own truth. It can be dense or spare, high energy or quiet, simple or elaborate , deep or unassuming, fun -- but the one thing music can never be for us is lazy or complacent. Play every note like it was both the first and last of your precious divine all-too-short life on this plane.
She holds that, too -- and that conviction rang on her first note.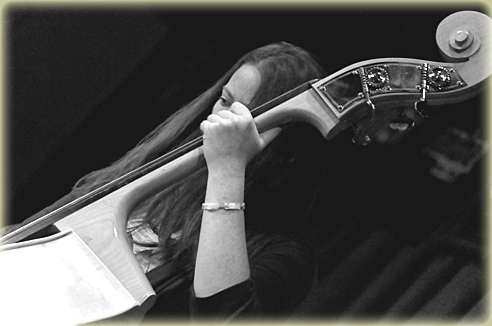 Christine Nelson: Bass
NMM: You and Jefferson seem to have a telepathic language going on where the direction of the spaceship is being decided moment to moment during a live performance. How has Christine adapted to your guys' historical synergy during a show?
MSD: She more than holds her own on the improvising with us by now. We've trained her well, (laughing) though in truth, she was so musically strong out of the gate, as I said. Considering she had eight years of syntax to decipher, eight years of telepathy to wrap her head and heart in, she went from holding on to following us to being with us, fully present, in a very short order of time.
It's a very solid, stable tripod -- she is definitely on the telepathic wavelength with all of us at this stage. She'll initiate things, change the course of an improv. We're all on par: great trio conversations, duo conversations, all they way 'round. She and I have been improvising some great melodic things together lately, fantastic stuff.
NMM: For a band that has such an emphasis on live performance and improvisation, how hard is it to recreate that energy when you go into a studio to track songs.
MSD: The studio setting can be tough mentally, but we just approach it as we do a live show or rehearsal -- everything is played live, no separate tracking ( one tune did need separate tracking on top of the live track since it used the oud), with the idea to make as many magic moments happen as possible. It's definitely harder to summon in the studio, but we track at Third Eye Studios in Tijeras, and they've been wonderful -- they get it, the room is great, and we're able to make it happen.

NMM: Can you give us a glimpse into the composition process for songs that seem so subject to live experimentation?
MSD: Every song is going to have some open sections, that's pretty much a mandate. There's the bulk of one piece we have that's entirely through -written, no improv, but I resist it a little -- and I'm actually the one who brought that main part in.
We rehearse about two or three a times a week. Sometimes we work on existing tunes, sometimes we do a completely open improv. Often in the course of those open improvs, something will happen that we all love and we'll start developing a structure around that (we record every rehearsal so we can go back and refer to something if we need to). Usually, there's some writing homework: if we stumble on a great groove, then I need to come up with a good melody for it, or maybe that all happens in the moment, but to flesh it out it needs another part or section.
Sometimes someone brings an idea from outside of rehearsal, a little line or progression or groove: "hey mates, what could we do with this?" and then it gets developed communally.
NMM: How has the New Mexican music scene been treating you guys? Do you find different NM cities more open to promoting gigs that are hard to classify?
MSD: For the club scene, Albuquerque's been a little tough. Concert settings here have been very supportive, however. we did the Kimo live and local series as Sama Duo two years ago, and the Outpost, of course has been great -- so looking forward to being asked to kick off their summer series!
Clubwise, we do better up north , they're a bit more open. We've gone over very well at the Cowgirl in Santa Fe, the Adobe Bar in Taos. Albuquerque seems a little less willing to open up. But we'd love to share what we do a little more around town.
The interesting thing is, when clubs have opened up to us, it's worked -- crowd response is always very good. Not for me to say how badass or awesome we are or aren't ----people can make their own assessment -- but I can honestly say that nobody who's heard us has disliked what we do.

NMM: What's on the plate for the near future? I know you guys play this week at the Outpost's kickoff for their Summer Jazz Night Series and that you just completed a successful Kickstarter campaign. Can you tell us what you plan on doing with those funds and if guys plan to go on tour anytime soon?

MSD: The Kickstarter was done to finish out the CD, which should be out in August. We tracked most of it last year, but when we went to revisit the project as a whole, the band had evolved so much. So we tracked three new tunes, and retracked two of the old ones to reflect how we're playing them now.
We'd love to get out more here in town, of course, and especially tour, get back to Europe - I toured there as a soloist in the 90s, so I'd love to go back over with this band. We're talking with some people in India right now for distribution and some concerts there --that's very exciting for all of us, and I'd love to get back there again as well.
It's interesting , we have around 10K Facebook followers but they are about 4K each in Pakistan and Bangladesh (there's a strong Bengali element in the Indian side of what we do) , then the rest spread through India, Middle East, and Europe. So we'll go wherever this music connects with people.

Activating hearts is what it's about, and we hope to activate as many as we can.
Check out Pray For Brain this Thursday at 7:30pm at the Outpost Performance Space in Albuquerque.