Poetry festivals are common throughout Europe and Latin America. They take place much less frequently in the United States. Albuquerque, Santa Fe and Taos all have vibrant poetry communities, with more excellent readings than any one person can attend. Yet poetry-lovers here would have been astonished at the 9th annual Festival internacional de Poesía in Granada, Nicaragua that took place from February 17 through 24 of this year. Against the beautiful colonial backdrop of that lakeside city, 160 poets from 60 countries read to nightly crowds numbering in the thousands.
Along with Jerome Rothenberg and Chrystal Williams, I was honored to be one of the three US poets invited this time around. Another Albuquerque poet, Demetria Martinez, participated several years ago. Each year this festival, one of the continent's largest and best attended, is dedicated to an important Nicaraguan poet. This year the honor went to Ernesto Cardenal, the Catholic priest who incurred the Vatican's wrath when he associated himself with Nicaragua's Sandinista revolution in 1979. He served as that country's first Minister of Culture, and one of his most successful projects was to establish poetry workshops in neighborhoods, factories, farm communities, schools and offices. Everyone was encouraged to express him or herself poetically. What that effort did for a war-ravaged population may be compared with what Cardenal's oeuvre has done for Latin American literature.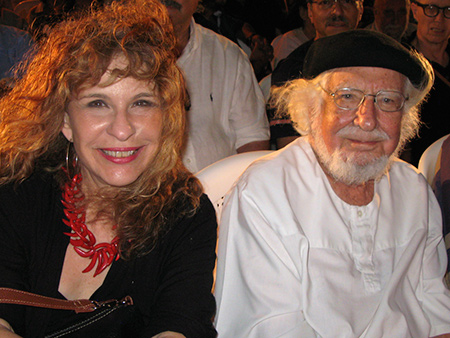 (Gioconda Belli and Ernesto Cardenal. Photo by Margaret Randall)
Cardenal himself is 88. Life-weary and slightly stooped, when he rose to the outdoor lectern and began to read some of his best-known poems the years seemed to fall from his shoulders. His voice was powerful, rousing. Many of the ordinary men and women filling Granada's central plaza behind the last row of outdoor seating could recite lines from his work from memory. Such is the power of poetry in a country that appreciates poets.
Another old-timer revered at this event was Salvadoran/Nicaraguan poet Claribel Alegría. The 2012 festival had been dedicated to her. Also pushing 90, Claribel too rose to fill the air with her stunning voice. Albuquerque's own West End Press will soon be bringing out a bilingual edition of Alegría's Otredad. One afternoon at this festival's event I witnessed an extraordinary moment involving Claribel and Slovenian poet Taja Kramberger. We were sitting out on the hotel verandah, sipping drinks in the balmy air. Taja began to unpack what looked like a very large briefcase. As she took from it an immense white tablecloth hand-embroidered with lines from one of Claribel's poems in Spanish and Slovenian, she explained that every couple of years a group of her country's persecuted women poets present a special award to a female poet somewhere in the world whose life and work have inspired them. It's called the KOMS award, and it's decided and given in utmost secrecy. This year's KOMS went to Claribel.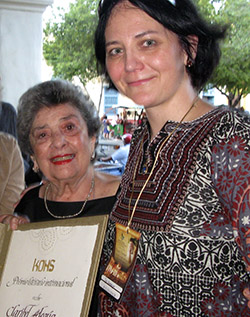 (Claribel Alegria and Taja Kramberger at the KOMS awards. Photo by Margaret Randall.)
Concurrent with the poetry festival, Granada hosts a book fair and crafts show. One of the week's highlights is a festive funeral procession at which Arrogance and Insensitivity are buried; groups of dancers and musicians accompany the coffin from the city's main plaza to the lake. All the major readings take place in the evening cool, while an open mic runs daily for younger or newer poets. For me, one of the most exciting aspects of the week was the opportunity to hear dozens of languages—from Bengali and Japanese to Norwegian Sami, Arabic, Hebrew, and others. Poets usually read in their own tongues, and either read the Spanish translation themselves or let one of the excellent "readers" render it for them.
Among the 160 poets it's difficult to list those I found most interesting; the danger of leaving someone out is pretty great. But I will mention Chilean Raul Zurita, Rei Berroa of the Dominican Republic, Nicaragua's Gioconda Belli, Ghana's Kwame Dawes, England's Grevel Lindop, Mexico's Alí Calderón, Cuba's Alpidio Alonso Grau, Javier Alvarado from Panama, María Luz Albuja from Ecuador, Taja Kramberger from Slovenia, and Guadalupe Grande from Spain.
Granada's stages most often had as their backdrops the beautiful facades of 17th century churches. The city's main plaza was also the nightly scene of great performances by some of Nicaragua's best-known musical groups. But, just as this festival is careful to make room for new poetic talent, it also makes an effort to bring world-renown poets to small villages and towns. We divided into groups of eight or ten to take our work to communities that rarely receive international talent but are nonetheless excited by the opportunity to host it. I went to the cattle-growing town of Masatepe, where I joined a welcoming parade headed by the mayor and then read my poems to an enthusiastic audience, including some 300 middle schoolers. In his speech, Masatepe's mayor implored those students: "If you have imagination, please consider becoming poets. We need more poets!"
Nicaragua is a small, impoverished country. Despite the Sandinista promise of the 1980s, its current government is revolutionary in name only. The memory of years of costly war, high unemployment, inadequate health care and education, endemic malaria and other ills are rampant. Powerful poetry is woven into the national fabric. Poetry helps a people live.
For this poet from the metropolis, participating in this year's International Poetry Festival was eye-opening and inspiring. Listening to the linguistic rhythms of so many great poets from around the world reminded me that humanity does not live "from bread alone."