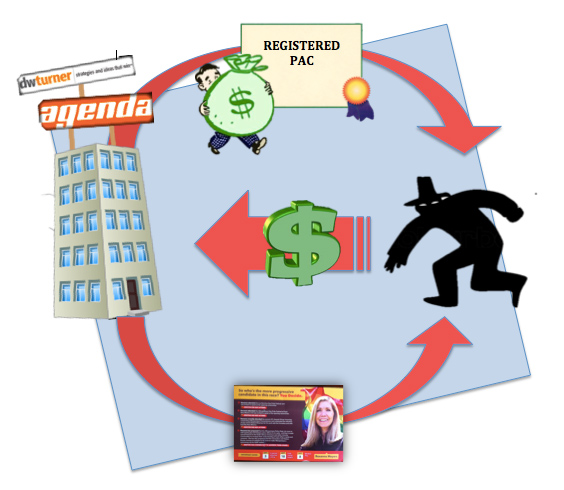 What happens when you get caught hiding a Republican political-hack firm inside your non-partisan global public relations firm? Albuquerque's DW Turner/Agenda Communications is about to find out.
Weeks ago we started asking questions about big money donor Jerry Ginsburg who gave $40,000 to start a special interest PAC attacking progressive City Councilor Isaac Benton.
That PAC reported using Ginsburg's money to hire a shadowy California business to run the campaign. Yesterday, Benton's campaign shed some light on the shadowy group supporting his Republican opponent.
The California firm the PAC hired, the Barbarossa Social Club Inc., isn't really a club and it's not really in California either. It's a company run by former GOP gubernatorial candidate Doug Turner's brother, Adam, and its California address is really just a mailing address that forwards to the offices of Republican Doug Turner's non-partisan PR firm, formerly DW Turner now called Agenda.
We dug further and found that DW Turner/Agenda's staff signed the paperwork to start Ginsburg's PAC and that PAC hired Barbarossa for "consulting" "mailing" and "design." Barbarossa turned around and hired DW Turner/Agenda to design the negative attack mail coming out of the campaign, all without Republican fingerprints on it. Pretty slick, huh?
So, who's really in charge?
Hard to tell, so we unpacked this PAC to find out. Here's how their shadowy system works:
1. DW Turner/Agenda staff started the PAC to support Republican Roxanna Meyers.
2. Jerry Ginsburg gave the group $40,000
3. The PAC, headed by DW Turner/Agenda staff, hired the "California" company down the hall (and run by Turner's brother) to design and manage the attack mail pieces.
4. The "California" company turned around and hired DW Turner/Agenda to design the attack mailers they were hired by the DW Turner/Agenda staff-led PAC to produce.
5. DW Turner/Agenda gives the "California" company the completed designs and a bill, keeping their name and involvement out of public finance reports which would show them working for the Republican attack group.
6. The "California" company sends the mailers for the PAC and claims on public finance forms that it was paid for design and mail services.
Until now, no one knew the whole thing was being orchestrated from inside DW Turner/Agenda's penthouse floor offices in downtown Albuquerque.
What are they hiding?
If you are a successful public relations firm working for big clients like Walmart, AT&T, Indian tribes and oil & gas companies you don't want anyone to know you are picking sides in political battles -- especially if you are lobbying a politician's your office is campaigning to defeat. (Remember when Republican lobbyist Pat Rogers was forced to resign after we exposed his racist "General Custer" comments about Native American tribes his clients did business with?)
What else?
There is no evidence that the Barbarossa Social Club ever registered as a business with the State's Public Regulation Commission or Secretary of State. They don't even have an Albuquerque business license. But we found years of records totaling more than $24,000 for "consulting" and "advertising" services Barbarossa provided to Republican candidates like Janice Arnold-Jones' failed congressional campaign, State Sen. Mark Moores and senate hopeful Aubrey Dunn. Barbarossa worked for them all, but using a southeast Albuquerque PO Box that masked their connection to the offices of DW Turner/Agenda.
Politics is a game best played in the sunshine and Republicans are doing their best to take it back to the shadows. In the final days of Albuquerque's city elections, voters deserve to know who's agenda is really working to attack candidates on the ballot.
This is an important story every voter should hear. If you are mad, you should be.
Click here to send a letter to the Albuquerque Journal telling city voters you're not letting a shadowy Republican group buy a seat on our city council and demand the City's Ethics Board launch an investigation.