On a Saturday evening in January, a lively crowd stood in a line that wrapped around the block—not waiting, as one might think, to get into a concert, but to enter 516 ARTS for the exhibition From the Ground Up. The crowd flowed into Richard Levy Gallery next door, and several other arts venues in the area buzzed with excited chatter. Earlier that day, Visualizing Albuquerque and All Over the Map: The Ongoing Dialogue of Public Art opened at the Albuquerque Museum. Together, all of these events kicked off the citywide project On the Map: Unfolding Albuquerque Art + Design, which runs through June.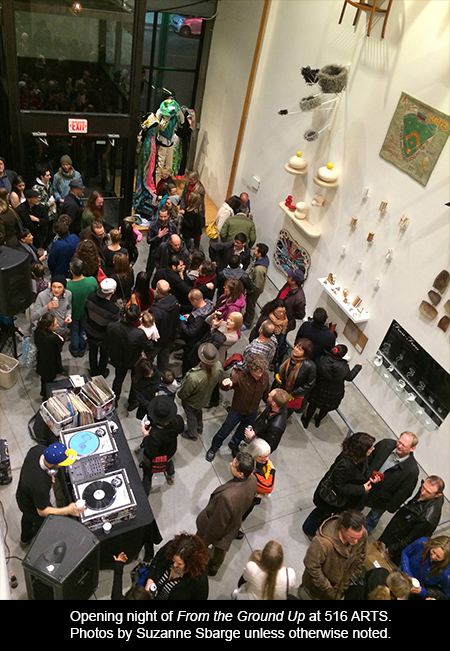 Instead of presenting a conclusive evaluation, On the Map offers an expansive and multifaceted view of art in Albuquerque. By unfolding rather than defining local artistic practice, it embraces eclecticism and encourages discovery. The map is an apt metaphor for this kind of approach. It provides a guiding framework but allows us to explore and to formulate our own interpretations. The project also underscores certain characteristics integral to Albuquerque that make for a dynamic arts community: expressive freedom, a collaborative spirit, and organizations that support diversity and inclusiveness.
The initial idea for a multi-site collaboration struck Andrew Connors, Curator of Art at the Albuquerque Museum, after he curated a show of local contemporary artists and realized that Albuquerque had not been seriously examined as a center of art making. Once other local organizations became interested in the idea, the project began to take shape.
"[We] initially responded to the open call for partners from the Albuquerque Museum," says Suzanne Sbarge, director of 516 ARTS. "I was looking forward to being a partner without leading the project, since leading collaborations has often been my role. But I soon joined the Organizing Committee and got very invested in making the project a success. … What appeals to me about On the Map is its expansiveness, inclusivity, and the wonderful boost it is giving to the Albuquerque art scene."
In the end, over twenty arts organizations jumped on board, including the Harwood Art Center, the South Broadway Cultural Center, and OFFCenter Community Arts Project. "One of the great things about having so many diverse organizations collaborating together is to wind up with a multivalent perspective," says Connors. "The curator from the Indian Pueblo Cultural Center, Deborah Jojola, looked at art making in Albuquerque from a very different perspective than Tey Marianna Nunn at the National Hispanic Cultural Center did, than several professors at the UNM Art Museum did, than Joe Traugott, [curator of Visualizing Albuquerque] did. … I think that having those multiple voices is the best way to represent Albuquerque because Albuquerque has always had multiple voices."
This multiplicity has also shaped our creative community. Albuquerque has never been celebrated as a city rooted in tradition, notes Connors—an observation also made by Traugott and by William Peterson in his discussion of local art on occasion of On the Map—so artists (and arts venues) have had the freedom to do what they want to do rather than conforming to stylistic or conceptual expectations. At the same time, because of this openness, Albuquerque never developed a cohesive, neatly definable art scene—and thus is not generally recognized as an art center proper. "One of the frustrating things about Albuquerque is that I know there are so many good [artists] here, but the rest of the world doesn't," laments painter and textile artist Maude Andrade. "And we're all also kind of hidden in our little corners and we [stay within] certain circles."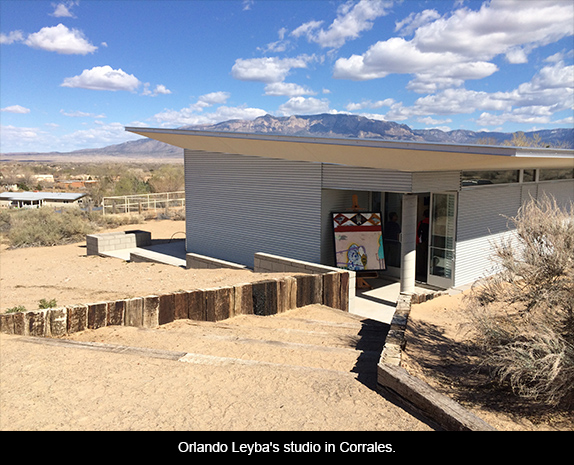 Through a rich series of events that have sustained the excitement of opening weekend and encouraged participants to connect, On the Map is helping to change this. "I love the slow unfolding of all of the events," continues Andrade. "There's just been this evolving reinforcing of everything and all of these amazing exhibits going on. So the city has been very alive. … There's this tremendous amount of overlap in the community right now."
"The focus on Albuquerque artists by so many organizations at once created a critical mass, and things just opened up," observes Sbarge. "The Public Selects Open Studios were especially successful at making artists and the community feel connected. Artists invited the public into their private studios, and gave people an inside look into the wide variety of talented and eclectic artists who live and work in all corners our city. It was invigorating to visit the studios, and I also really enjoyed opening my own studio and getting to just be an artist for a day, without my administrator hat."
At the conclusion of the open studio events, which took place throughout March, studio visitors were invited to vote for their favorite artists to be included in an exhibition that will open at the Albuquerque Museum this summer. While New Mexicans enjoy a wealth of open studio events throughout the year, Public Selects Open Studios felt different to many of the participating artists and their visitors.
"It was more of an exploratory, educational opportunity – an eye-opening opportunity, [as opposed to a sales opportunity]," suggests Connors. "As I went from studio to studio, I had no idea what I was going to be exposed to. Because it wasn't based on sales, it was based on who these individuals are and what their spaces are like. It opened a door to the unseen side of the Albuquerque art scene."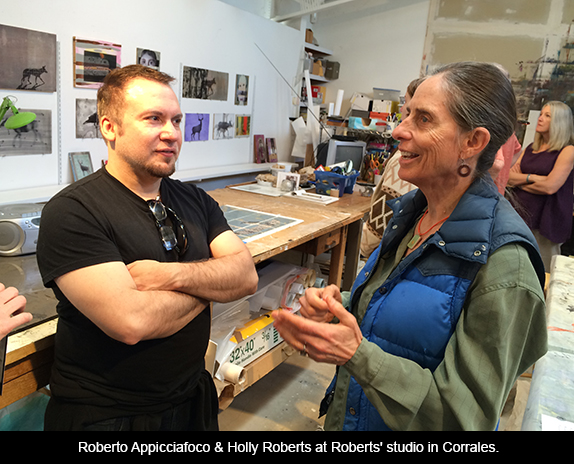 Recalling her experience at the Public Selects event at the Harwood Art Center, Jennifer Pretzeus, an encaustic artist and Jobs Program Supervisor at Best Buddies, describes arriving early to a quiet Harwood and heading down to the basement studios. About a half an hour later, she reemerged into a hallway bursting with life and activity. "The energy was almost shocking," she says. "It was just a great sense of community, and I ended up staying much longer than I expected."
"It was probably the all-time best open studio event I've ever had," confirms Andrade, who opened her Harwood studio to visitors that night. "My room was mobbed—I couldn't move in it."
On the Map is positively impacting Albuquerque in a number of ways, from inspiring local artists and bringing people together to enabling us to develop a richer view of our own community. "I would say [the open studio event] just got me more excited about [Albuquerque] overall. It was a nice example of the passion in this community … and I think it got me thinking about my potential as an artist," says Pretzeus. "It got me dreaming about possibilities for myself, and recognizing that you can be an artist in Albuquerque."
According to Connors, "A lot of people have said, 'I had no idea that my own town had this going on. I had no idea that the city that I live in has so many voices speaking in such beautiful languages.' And that to me is the whole point of doing this sort of thing. To get us to see our community differently."
"It has certainly opened my eyes to new people, and I am always grateful for that," reflects Andrade.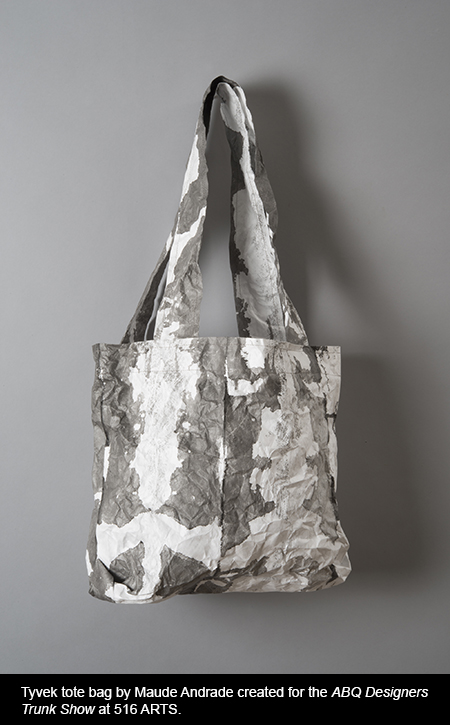 Participants and organizing partners alike are already thinking about ways to perpetuate the momentum. Andrade, for instance, suggests a retail store focused on the impressive local design that she has discovered through On the Map. In keeping with his commitment to supporting multiple voices, Connors would like to see another interpretation of the Albuquerque art experience. And Sbarge is working on her next project: "I think continuing to find new ways to join forces will be key to keeping that energy it going. I am trying to do this by organizing the next collaboration, called PhotoSummer, which 516 ARTS is producing with UNM Art Museum and a smaller group of partners in both Albuquerque and Santa Fe. Keeping Albuquerque connected locally, nationally and internationally is essential to keeping it from being insular and isolated, and to nurturing its growth."
Even just halfway through, On the Map has opened up dialogue, boosted enthusiasm for Albuquerque arts, and laid the groundwork for future projects. Its full effects will also, in time, unfold.