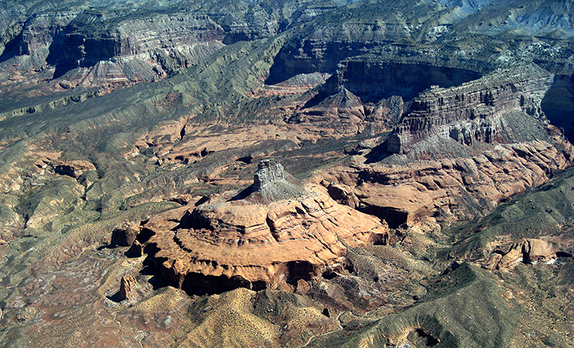 For a vast, remote and harsh expanse of southwestern desert, the Kaiparowits Plateau has seen a lot of life, from prehistoric Indians to migrating Mormons to adventurers that, during the Memorial Day weekend, included my son and I. Just as this seemingly inhospitable area helped save earlier travelers, so it redeemed our own trip that otherwise could have gone off the tracks. Sometimes, it would seem, you have to leave the world behind in order to find it.
My son and I have had an up and down relationship. A year ago tension reached such physical and psychic levels that we both agreed it would be best if he moved out of our house. At 21, he shares the problems of many his age. At 73, I share the problems of many my age. Put the two generations of problems together and you can, and do, get almost anything.
Of late, things have been on the mend, but we still get along best when everything is running smoothly, which they were not doing on this trip.
We had set out for four days of hiking, boating and camping starting at Lake Powell and ending up at the North Rim of the Grand Canyon. Both of these poles of the trip disappointed us.
While the North Rim campground squatting precariously on the very rim of the canyon is more spectacular than any campground has a right to be, hiking down the North Kaibab Trail, the only route to the bottom of the canyon from the developed stretch of the North Rim, turned out to be a loser (at least for us). A wide, overpopulated, overdeveloped little road more suitable to horses than hikers, it descends a side canyon that is a long hot, steep slog. After a few miles we turned back for the even hotter slog back to the top.
Lake Powell was worse. More than a decade ago, we had camped at Warm Creek, on a beautiful and deserted white sand beach bordering a gentle bay on the north side of the lake. Because of years of drought, we discovered to our chagrin that the retreating lake is now two miles from the end of the narrow, rocky 4-wheel-drive road, unapproachable on the far side of a barricade and an expanse of deep sand and rock.
"It was like heaven," I told a volunteer ranger in the nearby settlement of Big Water.
"I know," he said sadly, "I used to go there."
The only other place you can camp on the lakeshore on the north side is Lone Rock, which was our fallback. The beach there, while pockmarked with patches of treacherously deep, soft sand, is long and wide, and the eponymous rock is a unique and scenic landmark sticking straight up out of the middle of the lake. Driving along the beach, however, we found every site beside the lake already occupied, with huge campers and trailers parked nearly bumper to bumper. We drove and drove along the beach until we came within an ace of getting stuck, before finally giving up. With evening approaching, we settled for an overpriced motel room in Page.
We never did get a chance to put our little inflatable boat in the water or to do any fishing. Instead, the next morning we headed back to the ranger station in Big Water to ask the questions we had been too tired and discouraged to pursue the previous afternoon: What's a good place to explore? Where can we find some beauty and fun without the crowds?
What the ranger recommended was the Kaiparorwits Plateau.
There are a lot of horrible 4-wheel-drive tracks filled with rocks and holes and deep sand on the plateau but only one half-way-decent dirt road, the Cottonwood Canyon Road that runs some 55 miles north beginning a few miles west of Big Water and ending at Utah's Kodachrome State Park near the village of Escalante.
However, his recommendation was, shall we say, a bit qualified. "If you see any water at all on the road, stop. Don't go any further. Turn back," he warned. "If you keep going, it'll only get worse." This was about the only time during my 36 years in the Southwest that I was happy not to see water.
It was only one of numerous warnings we received. "Roads may become impassable in inclement weather," my map warned. "This is an extremely remote area. Plan ahead." The last two words sounded especially ominous.
An official website describes its "great distances, enormously difficult terrain, and a remoteness rarely equaled in the lower forty-eight states. Human endeavors have always been limited on these lands, yet their very remoteness and isolation have attracted seekers of adventure or solitude."
As a matter of fact, it had rained a few drops the previous night, but now the land was bone dry. In the absence of any water on the road, my son and I pursued our adventure across the Kaiparowits Plateau, one of the wildest and most remote regions in America: 800,000 acres in the midst of the 1.8 million acre Escalante-Grand Staircase National Monument, which in turn is at the center of Utah's magnificent red rock canyon country and is surrounded by three national parks (Bryce, Zion and Canyonlands). Kaiparorwits is a Paiute word meaning home of the people.
The monument was created in 1996 by President Bill Clinton in the face of heated, even bitter objections by Utah and coal and oil interests. Whereas Clinton and environmentalists saw the plateau as a resource for those seeking out wilderness, mining interests saw a different kind of trove.
In 1965 Southern California Edison proposed a 3,000-megawatt coal-fired electric power plant using the estimated 4 billion tons of coal beneath the plateau to supply energy to Phoenix, Los Angeles and San Diego. Amid mounting controversy, the plan was abandoned.
Utah and developers then wanted to open the area to tourism by building the paved Trans-Escalante Highway through just the area that my son and I drove on a narrow, steep dirt road that floods when it rains in the nearby mountains.
Hard feelings persist to this day. Whereas monument status prevents further exploitation, pre-1996 mining and other uses continue, despite the monument proclamation's statement that "remoteness, limited travel corridors and low visitation have all helped to preserve intact the monument's important ecological values."
The plateau is so diverse that it is difficult to describe. It contains two major drainage systems, Cottonwood and Paria, both shaded by bosques perforated with handsome groves of cottonwoods and willows that beckon a picnicker or camper. Running into the rivers are creeks that have created slot canyons tailor-made for adventurous hiking and rock scrambling although there are no marked trails. Here and there, petroglyphs and relics of Indian settlements and Mormon migrations tell tales of adventurers who have preceded us. There are several natural arches, including a remarkable double one. The steep red rock cliffs contrast with the green ribbons of the canyons and the blue mountains towering on the horizon. Wading through shallow streams and clambering over boulders barring the mouths of slot canyons, we explored a fabulous land far from any city.
In 1931, Clyde Kluckhorn, among the first to explore and describe the mesa, wrote, "As to when I shall return to civilization, it will not be soon….I enjoy its beauty and the vagrant life I lead….I prefer…the obscure and difficult trail leading into the unknown to any paved highways….Do you blame me for staying here where I belong and am one with the world around me?"
At the end of our trip my son told me he was anxious to do another camping trip together. But where can we go that would match the Kaiparowits Plateau? I guess we'll have to return.
(Photo by brewbooks)