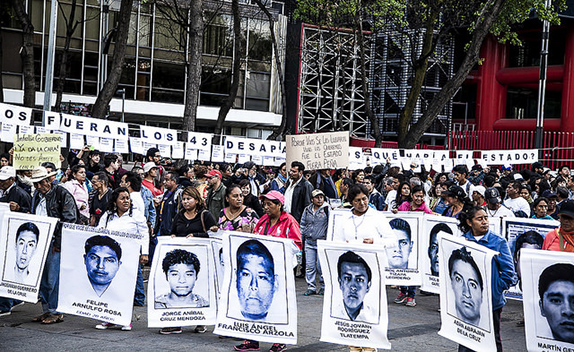 Mexico's President, Enrique Peña Nieto has just completed his lightning fast January 5 visit to Washington to meet with President Obama, a report has been issued, citing their areas of discussion and the meeting could, in normal times, be considered a success. The press coverage was so minimal, however, that Mexico is obviously not a priority issue in the United States. Besides, the real "Mexico issues" are back home in Mexico and they are not favorable to Peña Nieto. This is bad news for us as well.
First, take Iguala where 43 students were kidnapped and later killed last September. I wrote about it in mid-October and, at the time, it appeared that this was a situation where local police and the cartel or cartels that essentially run that region collaborated to kidnap the students, kill them and burn their bodies. About ninety people have now been arrested, including the Mayor and his wife who are assumed to be the ringleaders, and some tiny amounts of forensic evidence have been found and sent to a world class lab in Innsbruck, Austria for analysis. In short, this act of extraordinary brutality and cruelty looked initially like a local issue – local officials and local narcos joined together in what you could call a "narco-government."
Now that conclusion has been challenged. Researchers are disputing the theory that the bodies of the students were destroyed by fire in a garbage dump. They claim that there simply wouldn't be enough heat and contend that it must have been done in a crematorium where the heat is much more intense. Further, this would point to an Army crematorium but, to date, Mexican officials have denied access to information about military crematoria, raising further suspicions that this gruesome crime wasn't just the action of local officials but of national ones as well – the federal police and the military which, ultimately, are under the command of Peña Nieto. If true, it means that the level of corruption that led to these acts of unspeakable brutality is much deeper and more widespread than originally believed. If the federal police and the military are involved, then to whom can Peña Nieto turn to combat this corruption?
Peña Nieto compounded his credibility problems by waiting two months before visiting the site of the crimes.
The second issue is the housing scandal that initially involved the President's wife but now has reached out to Luis Videgaray, the 46 year old Secretary of Finance and Public Credit for the President. With a Ph.D in economics from the Massachusetts Institute of Technology and having coordinated Pena Nieto's 2012 campaign, Videgaray has had enormous credibility and is considered to be the brains behind the important reforms in education, telecommunications and energy. However, like the President's wife, he bought a house on credit from a real estate company owned by Juan Armando Hinojosa, a man whose companies have been involved in very lucrative government contracts including, most recently, a $3.7 billion plan for a high speed train. Videgaray says he has done nothing illegal and I'm sure that he is correct. But that's not the issue; this is an issue of perceptions, not legalities and he clearly should have known that the perception of dealing on a private level with someone who has benefited from so many public deals would be devastating to his reputation. What hurts most is that he has been seen widely as the major pillar of stability in the Peña Nieto administration.
Last is an issue totally beyond Pena Nieto's control – the drop in oil prices. This will further limit both his budget options and the increased revenues he hopes to generate by opening up the national oil company, Pemex to foreign investment. With this collapse of oil prices, who is going to want to invest in Pemex and how is he going to show that his initiative in opening up Pemex is good for the country?
There are ways that the United States could now help. I believe in the kinds of police training programs that – and the Colombians – have offered Mexico as well as the training of prosecutors that is being carried out by Attorneys General in our western states, including New Mexico. As for immigration, Congress could enact a guest worker program to make it easier for Mexicans to come here, do the kind of work Americans won't do (agriculture and construction), then return to their homes in Mexico, having earned enough money to survive without being tempted to get into the drug business.
Here in New Mexico, with oil prices way down (Oil revenue accounts for about one third of our state budget as Wally Gordon indicated in a recent article.) and federal spending flat, the expansion of the border crossing at Santa Teresa west of El Paso is one of the few bright spots ahead for our economy. Its success, however, depends on Mexico. As a result, once again what happens in Mexico matters far more to New Mexico than to most other states.
(Photo by Somos El Media / CC)