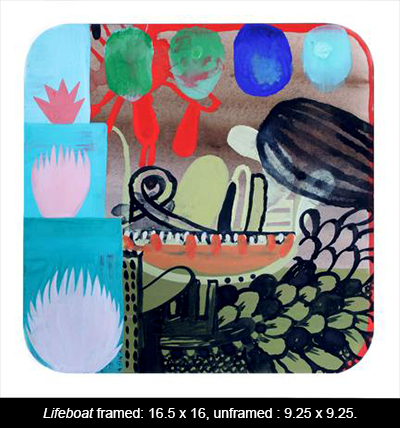 Local artist Heidi Pollard has seventeen new gouaches at The Outpost Performance Space, 210 Yale Blvd. SE. The show opened February 6th and will be up through the end of March. The small but alive and evocative images shouldn't be missed; viewers are welcome from 2 to 5:30 p.m. Monday through Friday or during the Outpost's regularly scheduled performances.
In contrast with most spaces that are not designed specifically as galleries, The Outpost is a good place to see art. It shows this work off to its best advantage, the pristine gray walls really popping the luminous colors.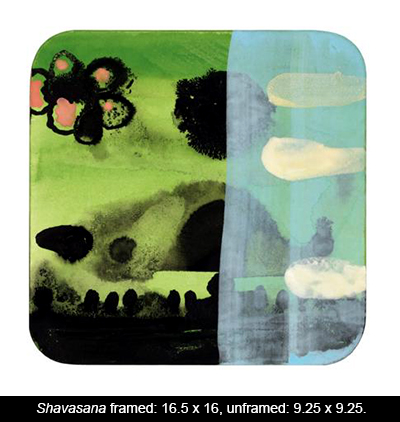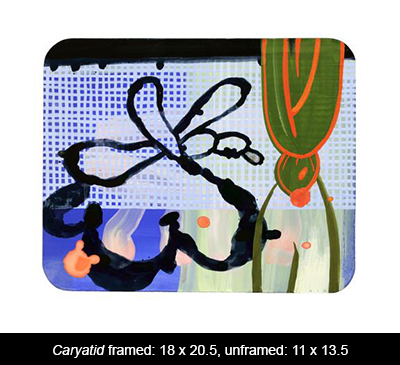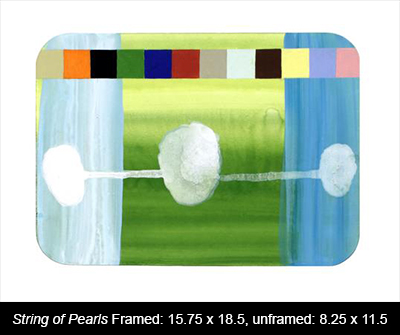 I met Pollard one afternoon when nothing else was going on at the Outpost, I could spend some time with the show, and we could talk. The pictures immediately grabbed my attention and held me in their aura. They are whimsical, sometimes bordering on the cartoonish (a good thing), and always sophisticated. Their titles—Phases of Bunny Moon, Lil Beater, O Sag Paneer, Lure, Out of Time, Chocolate Snowgal, String of Pearls, Butter Wheel, among others—give some idea of Pollard's poetic playfulness.
These pieces are all painted on cotton rag board out-cuts, obtained from a framer who might have discarded them when he or she was producing mats. Each is framed with archival materials and glazed with UV-filtering Plexiglas. All were done in 2015. They range in price from $550 to $800, but a third of the show has already sold, and someone was coming to make a choice just as I was leaving.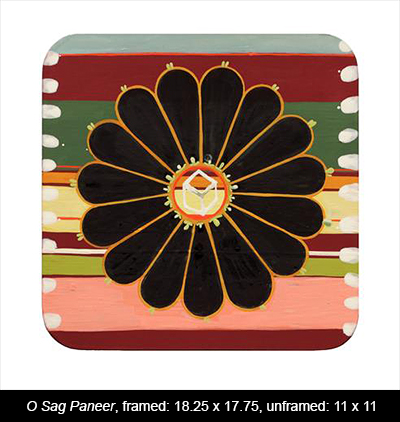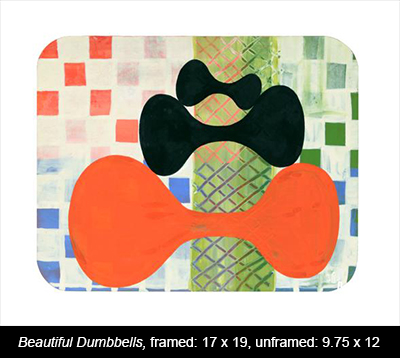 I'd seen Pollard's work before, in group shows around town as well as on her web page. She has two other shows in the near future. One, in July, is a two-woman exhibition here in Albuquerque, with Valerie Roybal at the SCA Contemporary Gallery on Haines between 5th and 6th. The other is in New York in April. She says this latter is a group show, and she's particularly excited about exhibiting with Carol Bruns who makes paper mâché sculptures. The Outpost show, though, presents a particularly satisfying range of her images.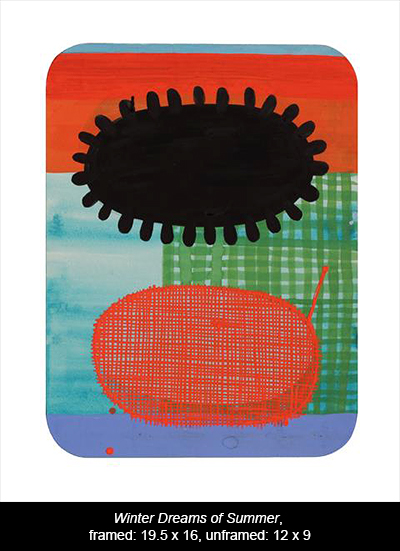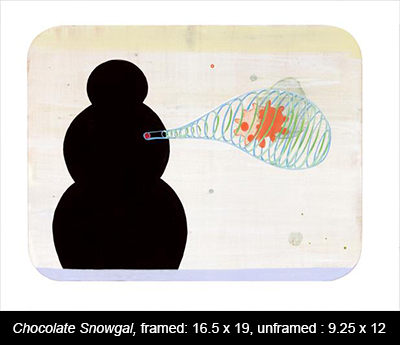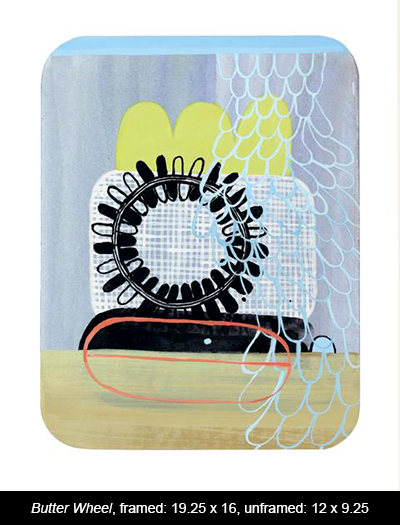 I asked Pollard how these particular pieces came to be. She told me she works fast; more goes on before she actually puts brush to paper than during the painting process.
"I've got a lot brewing all the time," she said, "a very wide-ranging mind. And I work in different imagery. I've also got a big pile of drawings I never show; they come out of my continuing practice of improvisation. I can see them from just about any part of my studio. So I might look at these and notice two separate images I suddenly realize belong together and go from there. As I've gotten older, I trust myself more. There's that internal editor working with you all the time."
Pollard told me that she gets a lot of inspiration while driving in her car: "I can always see my work in progress."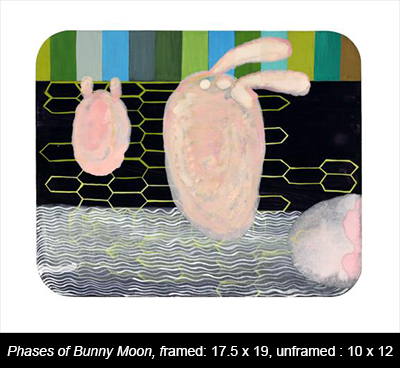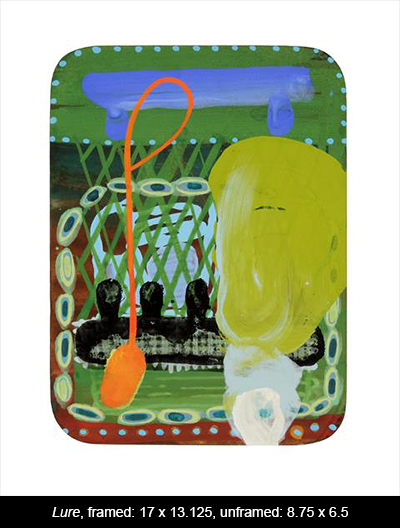 I wanted to know something about Pollard's history in art. She told me she didn't know she would be an artist until halfway through college: "I studied art history, and absolutely loved it. But there came a time when I realized what I was studying wasn't just dead people, and that it would be more fun to do it than write about it. That's when I quit school and started seriously making art.
"Later I talked my way back into school. I actually started in sculpture but realized my impulses are more painterly—although I've gone back and forth."
Heidi Pollard grew up in Michigan but came to New Mexico and, as happens with so many, immediately sensed this "felt more like home than where I was born." She says she's had that feeling in New York as well, where she spent a period of ten years. "But it's hard to make a living there."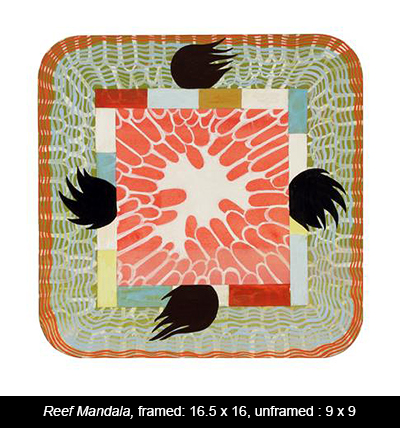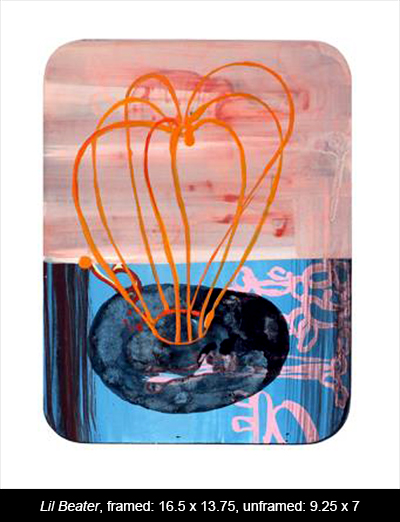 A 2010-2011 Roswell Artist in Residence Program brought her from New York back to New Mexico.
Pollard uses the rich pigmentation of gouache to perfection. At first glance, the viewer is attracted by organization, design, and color. Are we looking at decoration? Decidedly not. Beneath and beyond alluring hues and interesting design, there is a deeply painterly hand at work. Some of these pieces, such as Out of Time and Milk City are frankly transgressive. The former brings a person of my generation back to early television, when the end of the broadcasting day was signaled by a rainbow swash of broad vertical stripes across the bottom of the screen. Viewers of the new technology were, quite literally, out of time. One looks at Milk City and a smile of recognition begins to hover on one's lips. Could it be that these suggestive forms are really what we think?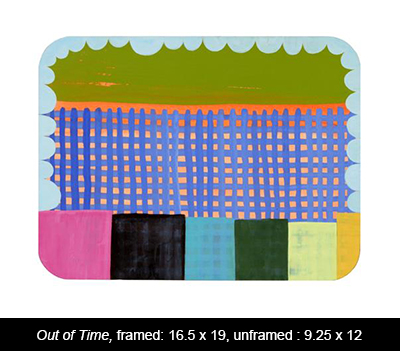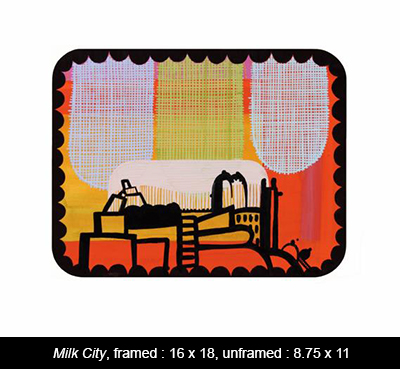 Each of Pollard's new works demands such attention. They may look deceptively simple, but don't be fooled. Layers await decipherment. These paintings are still lifes. No. They are landscapes. No. They defy description. They are richly and evocatively themselves. These images catch you by surprise, and the longer you look the more you see.
Each piece might be a memory, a dream, or a story.