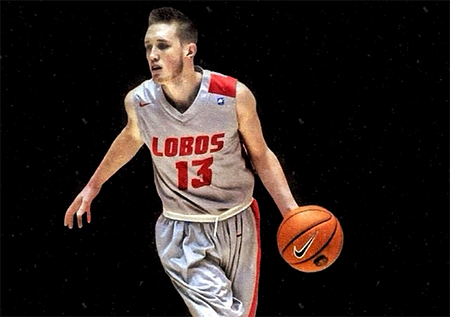 This season Cullen Neal has caused you anxiety. You've held your breath when he started to drive. You've cringed when he shot. You've put your face in your hands when he turned it over. You've wondered to yourself if he belongs. You've heard that he receives special treatment because his dad's the coach. Some have whispered profanities about his play and the situation. Others have shouted them.
I can't remember an individual in Lobo history who has been such a polarizing figure as Cullen in just his first season. The Cullen controversy pervades Lobo Nation. He even made it to the front page of the Journal--for blowing a kiss.
When the NMSU student section chanted "Daddy's Boy" targeting Cullen, I thought the Aggie fans sounded a lot like Lobo fans I had heard recently. And, during halftime of the UNLV game, my concerns solidified when a fan stood in front of the Lobo student section holding up two big-head cardboard cutouts: one of Cullen and the other of Brick Tamland, the weatherperson from the movie Anchorman. When the fan pointed to Brick, the students cheered. When he pointed to Cullen, the students were silent with a smattering of boos carrying across the court to Section K.
No matter what your reaction is to his tendencies as a player, the answer is simple: Cullen must play. The Lobos need him to win this season.
While the Lobos start two elite ball handlers this year in Kendall Williams and Hugh Greenwood, they can't play from start to finish. Off the dribble, Williams can beat the press, hit the pull-up jumper, and thread the needle on a pass, but, if he handles the ball for long stretches, his offensive production will be curbed. Ball handling takes energy. With a rare turnover, Hugh Greenwood brings the ball up the floor effortlessly dictating the pace of the game and confidently initiating the offense, but he can't play forty minutes every night. Both starters pick up demanding defensive assignments, and they need support. So who do the Lobos go to?
While the team offers many potential contributors, Cullen is clearly the next best ball handler. He brings the ball up the court with speed and control that is unmatched on the Lobo bench.
I understand that Cullen is demonstrative expressing his highs, his frustrations and his complaints, but why does this upset you? Last year many Lobo fans complained that Tony Snell never expressed any emotion; these guys can't all fit your perfect mold of a player. Cullen also takes ill-advised shots and seems out of control at times, but, last year again, we cheered on Jamal Fenton's high-energy play that verged on recklessness. And I understand Cullen radiates more than a pinch of arrogance, but Williams carries himself with a similar air, and no one censures his disposition. Yes, I see Cullen make lackluster passes and his defense cannot contain the Mountain West's best guards--yet--but these exposed deficiencies are part of growing.
I understand why you hold your breath as Cullen dribbles into the paint. I do too. But Cullen must play. He must develop because he will need to play effective minutes in big games. If one of our starting guards gets in foul trouble or worse, hurt--I am not seeing into the future here--Cullen will step into a crucial role determining the Lobos' success.
Many Lobo fans peg Cullen as an arrogant turnover-waiting-to-happen who is only playing because his dad is coach. He turns the ball over 2.3 times a game, a tenth higher than Williams who plays an average of 15 minutes more a game than Cullen. With all his perceived drawbacks, Cullen has made considerable contributions to the Lobos' season. Averaging 7.8 points per game, Cullen's scoring comes when he's hot. He scored 17 at Fresno State to put a conference road win on ice. And in his best performance of the season, Cullen pitched in 24 to lead the Lobos, without Greenwood, to a victory over a physical Marquette team. Anyone who puts up top-notch performances in Vegas will be needed later in the season.
All of these achievements come after two serious medical issues in the last six months: an emergency appendectomy in August, during which Cullen spent 11 days in an Australian hospital and lost 15 pounds; then in October, Cullen was diagnosed with mononucleosis. If I were an opposing coach, I'd worry that he has not played to his full strength. And, as a fan, I am thankful for Cullen's contributions to this point in the season.
I often wonder how fans would treat Cullen if he wasn't the coach's son. People would be frustrated with his unforced turnovers, but the sense of him not being entitled to his playing time would not exist. He'd be our third-best ball handler. Cullen would be the freshman who overcame serious preseason setbacks to contribute to big Lobo wins. He'd be the unpolished talent from Albuquerque who is maturing.
Maybe we should have a critical eye towards Cullen. I mean, he wouldn't be a Lobo if his dad wasn't the coach...would he? Well, we can't forget that Cullen was projected to be the starting point guard for the 16-5 St. Mary's Gaels before being released from his National Letter of Intent. Last year if Alford doesn't recruit his own son, Cullen is clearly the best high school player in the state, and UNM tries to sign him.
There are too many what-ifs here, but citing his dad as the reason for his playing time takes a lot away from the young man.
Here's two last thoughts. Cullen is a product of Albuquerque. The reason he talks to refs--sometimes technical-worthy complaining--is because that's what he did through his whole high school career. Why does he play subpar defense and take ill-advised shots? The same reason: he got away with it his whole high school career. He even won a state championship doing it. Now we are stuck with what the New Mexico basketball scene created, and it's not all bad. I encourage you to start cheering for Cullen through better and worse. He will have enough people yelling antagonizing obscenities at him that he doesn't need to be chided in The Pit. NMSU wasn't even the beginning. The Show's Twitter account, run by SDSU students, wished death on Cullen when he had his appendix removed long before the season began. There is plenty more of that to come, and, as Lobo fans, we must let Cullen learn, mature and grow because he is going to be a key figure in Lobo success for years to come.
Go Lobos!
Yours in Section K
P.S. Nepotism occurs in our society, and we must be critical of people promoting kin. In the case of Lobo basketball, fans must try to be objective. Cullen deserves to be where he is, and we should be proud he represents Albuquerque. What we often miss as a society is cronyism. It is much more difficult to identify. Whether it is Manny Aragon and construction contractors, US Senators and lobbyists, the Vice President and defense contractors, the critical lens Lobo fans see the relationship of Cullen and his dad through deserves to be on many others who are stealing billions of public funds.