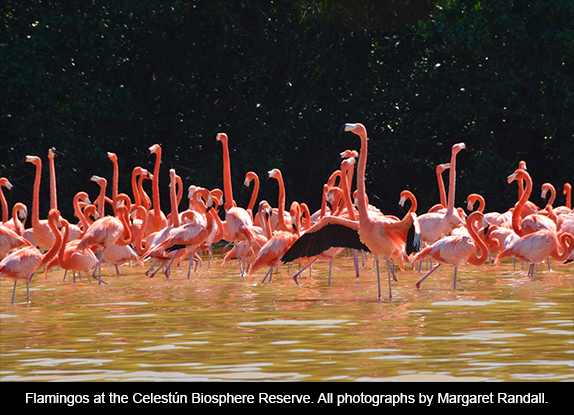 Over the past couple of decades, Mexico has invested heavily in preserving the country's ecology. An hour and a half from Yucatán's capital city of Mérida, through fields and villages with thatch-roofed houses and large churches, we drove west to the Gulf Coast. The town of Celestún, almost exclusively given over to tourism, is the place to rent a boat and set out to explore the Celestún Biosphere Reserve, which straddles the states of Yucatán and Campeche as well as the Esperanza River and the Gulf.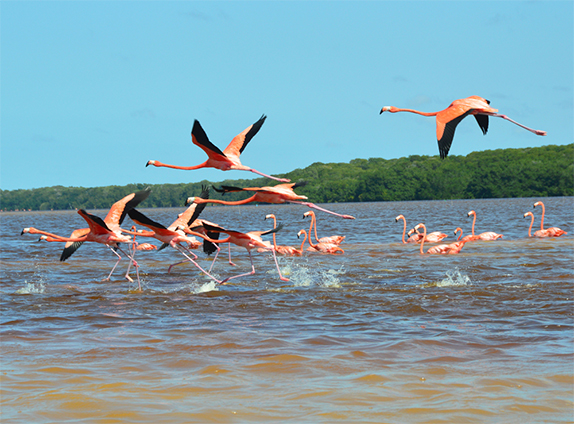 The 146,000 square miles of protected habitat is probably best known for its large number of flamingos, but it is also home to over 300 other species of birds, including the endemic Yucatán Wren, Mexican Sheartail, and Black-throated Bobwhite. In addition to birds, Celestún hosts many species of reptiles, including two crocodiles: Morelet's and American; four types of sea turtles: Hawksbill, Green, Loggerhead, and Leatherback; iguanas, land turtles, and Boa Constrictors.
Henry was the guide we choose from among many offering their services on the beach. For a modest price he took us out for close to three hours in his canopy-covered motorboat. He told us this reserve is also home to jaguars and several varieties of monkey, but these are only seen inland.
The flamingos were the hit of the day. They congregate in huge masses, knee deep in water tinged with red (produced by the color of the shrimp larvae that feeds them). For whatever reason, although I have seen flamingos in the past, they have always been stationary. I could have watched the various maneuvers of these for hours, and observing them lifting off the water in flight was extraordinary.
The standard tour also included a short ride along a narrow estuary meandering through a mangrove forest. We saw large black termite mounds like those one sees on the ground in southern Africa, but here they are perched high in the tree branches. Black, white and red mangrove trees present a tangle of vibrant roots. We ended up at a cenote, or fresh water hole, where we were invited to swim if we wished. A very large crocodile sunned himself on the opposite shore, daring us to approach. He eventually lumbered from his spot, swam placidly toward the river, and settled himself again some hundred or so yards farther away.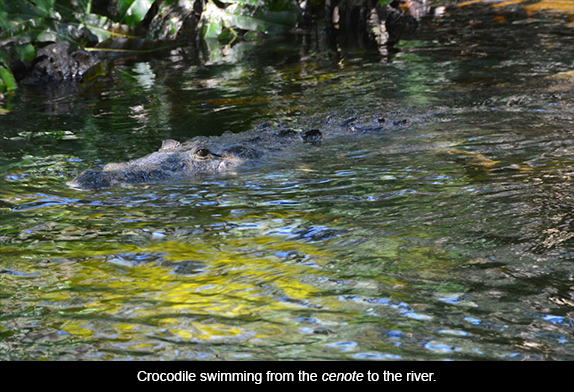 One of the highlights of our visit, though, came when we returned to Celestún for lunch at a family-style restaurant situated right on the beach. A local man came up to our table. He was selling handmade hammocks. "Ninety-five percent of everyone in Yucatán sleeps in a hammock," he insisted. "The other five-percent are foreigners and Mexicans(!)" Miguel was the man's name, and the sales pitch for hammocks soon turned into a dramatic personal narrative: long, extremely detailed, and told with a combination of sincerity and dramatic effect worthy of a Shakespearian actor.
Miguel, who looked to be in his late forties, said he comes from a small village where each May a yearly festival takes place. The villagers build three stories of bleachers around a temporary bullring, each family constructing the part where its members will sit to watch the pageant. As he had been doing for years, in 2009 he had helped build his family's section. When it came time to dismantle the ring, he was on the job again. But a neighbor had placed a long and extremely heavy metal pole without securing it properly to the ground (the structure had already passed official inspections and such), and in a moment the pole came crashing down on Miguel's head.
That was all he knew for the next 21 days.
Miguel told us how those who witnessed the accident thought he was dead, how someone found a faint pulse, how after much arguing they took him to the local medical station, how there was no one there who could help him, and how they finally sent him on to a hospital in Mérida. There the doctors told the family Miguel wouldn't survive. They believed he would expire within minutes and instructed his wife to begin making plans for a funeral. But Miguel's still active pulse induced one doctor to prepare to shock his heart. As no shocking paddles were available, they simply left him in a room and waited for him to die. When minutes and then hours passed, and he didn't, they intubated him and hooked him up to machines. And there he remained for the next 21 days.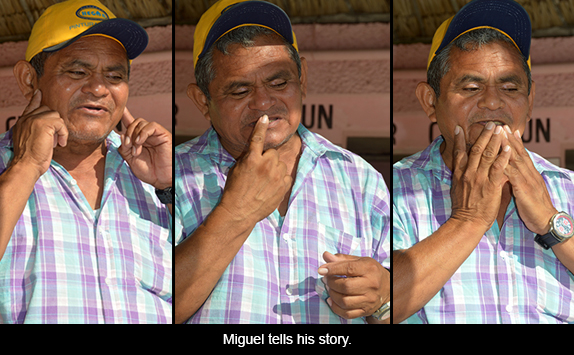 During that time, Miguel told us, he saw a great gate, which he described in exuberant detail. He was standing before it. Very slowly it swung open, and he entered a place of great silence and peace. Groups of people stood around, their mouths moving, but he could hear nothing of what they were saying, only the overwhelming quiet. All this was told lavishly, with numerous repetitions, dramatic gestures and no few tears.
At one point a very old man left the group and walked toward Miguel, who recognized him as a neighbor from a few blocks away from his home, a man who had been dead for many years. The old man embraced him—the warmest embrace he had ever experienced—and told him he was surprised to see him there. "We live here," the old man said, "but you don't." Soon the old man's wife also approached. Miguel referred to her as the man's "little mestiza wife." She too hugged him long and hard. Miguel wondered why her husband wasn't upset at his wife's exuberant show of affection for another man, but both old neighbors seemed to be in peaceful harmony.
The narration continued, once broken by the restaurant owner calling Miguel over to show his hammocks to another customer who was interested in seeing them. When he returned to our table he picked up exactly where he'd left off. It was clear he had told this story hundreds of times before, and had every gesture down. Throughout much of his telling he sobbed. It was not an act. The story ended with Miguel finally emerging from his coma, back home and telling his wife about his meeting with their long dead neighbors. The man had given him 100 pesos, Miguel insisted, and he wanted to know where his 100 pesos were. His wife kept telling him he possessed no such 100-peso note.
Miguel's story, perhaps part allegory part truth, was clearly meant to prove the existence of God. It's telling and retelling seemed a sort of personal prédica, penance for having been given another chance at life, proselytization and a way of spreading the Word. Yet it was not tedious or disrespectful in any way. Throughout his recitation Miguel made it clear that this was his experience, one he felt the need to repeat to anyone willing to listen. He said others were free to believe what they wished, but that he need to tell his story. Miguel's obvious sincerity made it a kind of gift. His speech was also beautiful. Yucatecans have a way of expressing themselves that is both delightful and somehow reminiscent of the Mayan glyphs of their ancestors: gentle, creative, three-dimensional, palpably sweet.