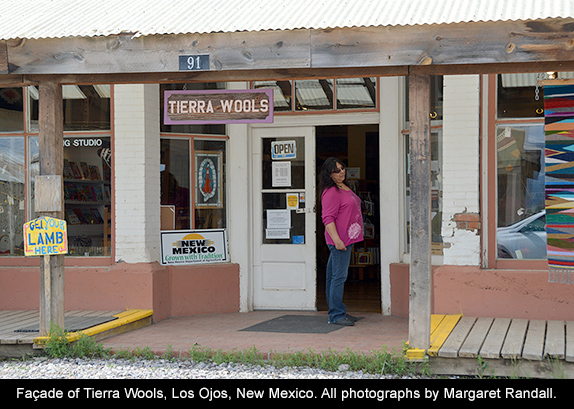 Los Ojos is just about as far north you can get in New Mexico before crossing over into Colorado. The tiny community is nestled in the mountains and meadows along Highway 85, almost directly across from its famous (or infamous) neighbor, Tierra Amarilla. The latter is where the courthouse raid of June 5, 1967 took place, when Reies and Anselmo Tijerina and their Alianza Federal de Mercedes (Federal Alliance of Land Grants) attempted to regain traditional land from Anglo developers and the US government. The raid was a last resort, following unsuccessful peaceful protests.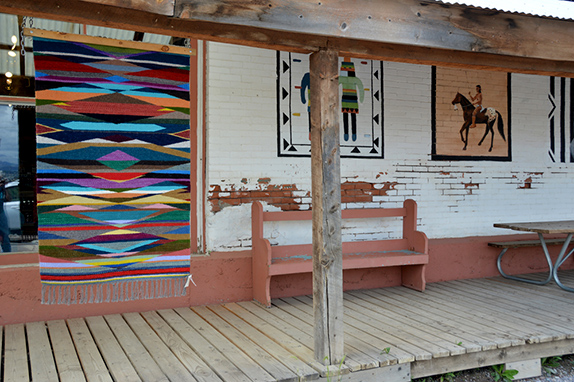 The Alianza's claims and tactics are still debated today. Rhetoric was high, hostages were taken, and government violence was extreme. Shooting broke out. Trials followed, and the resolution those struggling sought wasn't possible—leaving folk heroes rather than social change. This was a uniquely New Mexican chapter within the context of national reclamation at the time: the Civil Rights Movement was at its height in the South, and Women's, Black, and Native American movements would rise within the decade. Were the Hispanic peoples of New Mexico the real owners of those lands, or did local Indian tribes have a prior claim? Driving north from Española, small road signs indicate you are leaving one land grant and entering another.
As surely as each of these struggles contributed—and continue to contribute—to the ongoing search for justice for us all, Los Ojos has its own history: a less obviously dramatic but no less important struggle to preserve cultural traditions and provide sustainability. To the outside eye, its most visible example is Tierra Wools, the inviting cooperative and showroom where visitors can admire and buy exquisite hand-woven rugs, bed blankets (sized from baby to king), picture tapestries, and smaller accessories such as jackets, vests, bags, hats, and shawls.
According to its brochure: "Tierra Wools offers a glimpse of a time when the Hispanic weaving tradition maintained village artisans through long cold winters. Then, Rio Grande weavers quenched a deep thirst for color harmony and spirituality by weaving for family, church and community." I've visited Tierra Wools over the years, and always come away delighted by its offerings.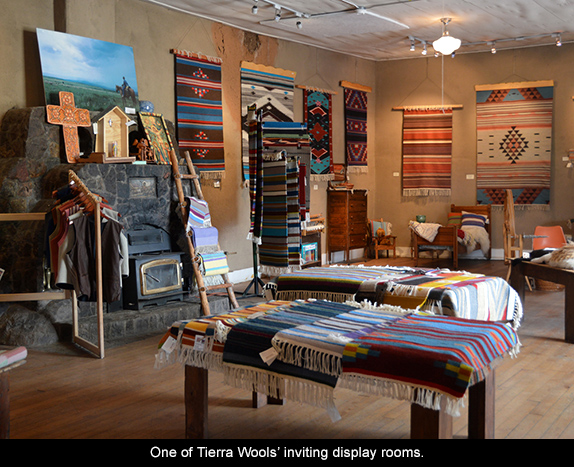 Like all endeavors that have managed to weather good times and bad, the enterprise has had its ups and downs. There was a time when the back room, filled with large looms, hummed with the sounds of battens, stick shuttles, beaters, combs and heddles. Half a dozen women might be spinning and weaving, each creating her unique design rooted in the Rio Grande tradition. The cooperative's breeding program saved the old Spanish Churro sheep line from extinction.
In late September, 2014, the loom room was empty. But the stock of items for sale was just as beautiful as I remembered.
"Since the recession hit," the woman behind the old wooden counter told me, "our weavers have mostly worked on consignment. We were having to call them up late each season and sending them home early. Now they'll come in when they have an order to fill."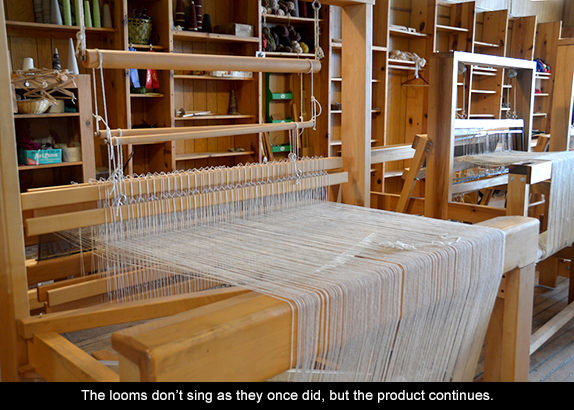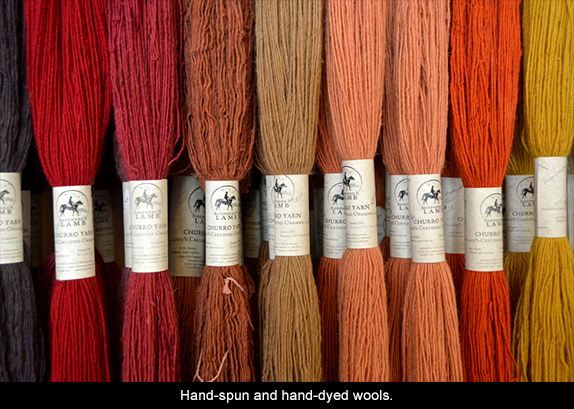 Tierra Wools is housed in a century-old mercantile building. In addition to the finished items, the place sells hand-dyed yarns in a rainbow of colors. The dye pots are also on the premises, and hundreds of colorfast shades and hues are achieved. Tierra Wools makes these yarns available to other weavers and knitters, either at the shop in Los Ojos or by mail order at www.handweavers.com. Weaving classes are also offered. And there is a guesthouse with three units, complete with kitchenettes, available for rental by the day, week or longer. One could benefit from escaping the contemporary rat race and spending some quiet time in this peaceful and physically beautiful environment. Call 575-588-7231 for class schedules and guesthouse reservations.
María Varela, one of New Mexico's most truly illustrious citizens, has her own history with Tierra Wool's parent company, Ganados del Valle (Livestock Growers of the Valley). Varela, who lived in the area for many years, was one of three founders of the organization in the mid-eighties. The sheep ranchers pooled their flocks and hired a sheepherder to save on overhead. Ganados grew to involve more than 50 local families in a network of small enterprises, including a wool-washing business, Pastores Lamb (which sells organically grown meats to groceries and gourmet restaurants in Santa Fe and Taos), and the weaving cooperative. In recent years, other small businesses have spun off from the original project.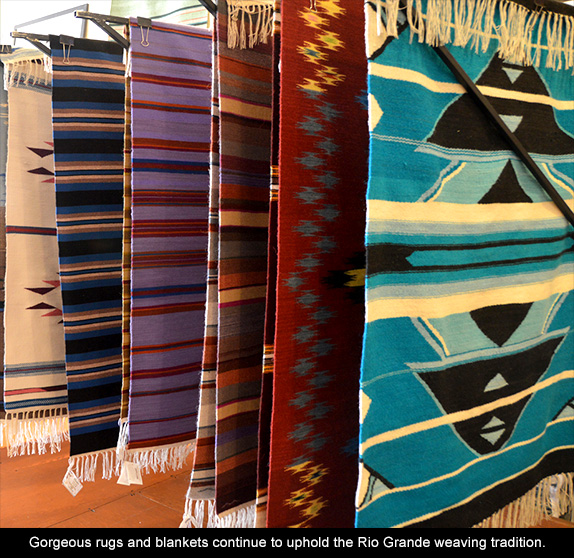 Tierra Wools resurrected a 300-year-old Rio Grande weaving tradition to produce its hand-dyed, hand-spun, and hand-woven rugs and other apparel. The cooperative started in 1983, with two spinning wheels, four looms, and an $18,000 loan from Ganados. By the end of its first decade it was grossing $250,000 a year, selling original pieces for up to $3,000 each (most pieces are much less expensive), and employing 23 women, eight of whom became part owners. Today Tierra Wools rugs are known throughout the world.
Varela had long been a community activist when she engaged with the sheep growers of northern New Mexico and became key to the vision that helped coalesce their talents and dreams. "What I did was to unlock people's hopes and abilities," she has said. "I am a product of the sixties. I saw the question asked in the Civil Rights movement of whether people can determine their own lives. Then the focus shifted away from the people to Washington, and the question never got answered. It seemed to me that this was a place where we could see the drama played out—the drama of what happens when a community decides it's going to do something." This question has not lost its relevance today.
Before organizing Ganados, Varela had gone to Alabama and Mississippi to join the struggle for voting rights for African-Americans. She relocated in New Mexico in 1967. Her first projects here included helping local activists establish a health clinic and birthing clinic—projects still vital to community wellbeing everywhere.
The Chama Valley is one of the poorest rural regions in the nation (unemployment runs up to twenty percent), and a success such as Tierra Wools spells economic relief. But it's also about sustaining community and preserving traditional art, pushing the latter forward with an eye to its quality and originality. "This community is very family-oriented," Varela has said. "People don't want their kids to leave, but they don't want them to feel like failures if they stay. The fact that their kids can stay here and learn skills they can use here, that's been real important."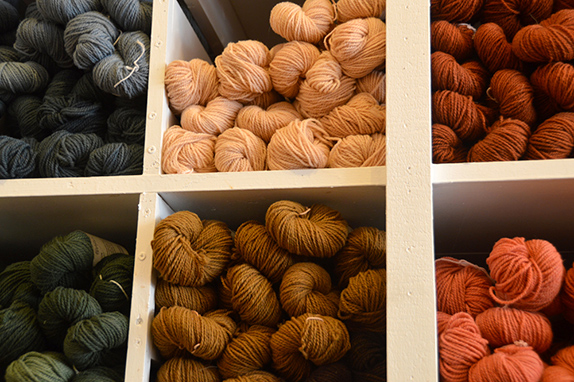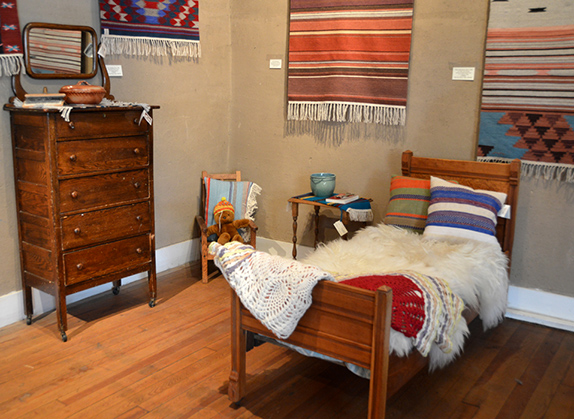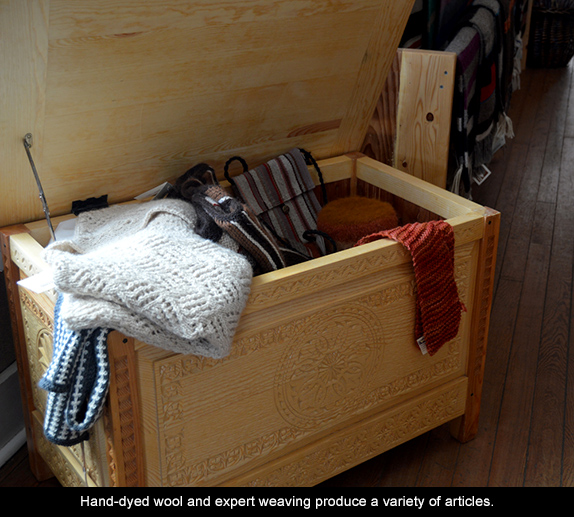 In 1990, Varela was honored with a prestigious MacArthur Foundation fellowship—the so-called genius award with a $305,000 no-strings-attached stipend—that she said left her "flustered and, no use denying it, thrilled. I was stunned that they chose a community organizer, because community work is not often recognized." Since then, Varela has moved on to other projects, and Ganados has made its own way. With, as I learned, its ups and downs, influenced by the larger economy. It is a testament to its solid foundations, the perseverance of its members, and high quality of its product that it continues to function in a world less and less kind to the non-assembly line consumer trend.
Tierra Wools also sells the work of another great New Mexican. The artist Rini Templeton was born in Australia, lived in Mexico and revolutionary Cuba, but spent many years in northern New Mexico—reaping its magic and leaving her imprint on its history of struggle. Her unique art can still be found on notecards on sale at Tierra Wools. Templeton died much too young in Mexico City in 1986.
On the vast plateau at the northern edge of the Chama Valley, Los Ojos remains a village with the charm of rural life and creativity of generations of artisans. Along with Tierra Wools, a few other small enterprises manage to stay in business from year to year. A small general store sells coffee and snacks. Sometimes an art gallery opens, or another folds. Visitors to the area enjoy an hour or so, before exploring the history of Tierra Amarilla, taking spectacular Highway #64 east to Taos (often closed during the winter due to weather), or driving south to explore Echo Canyon, Ghost Ranch, or Abiquiu.
For those wanting to know the essence of New Mexico, a visit to Tierra Wools is imperative.