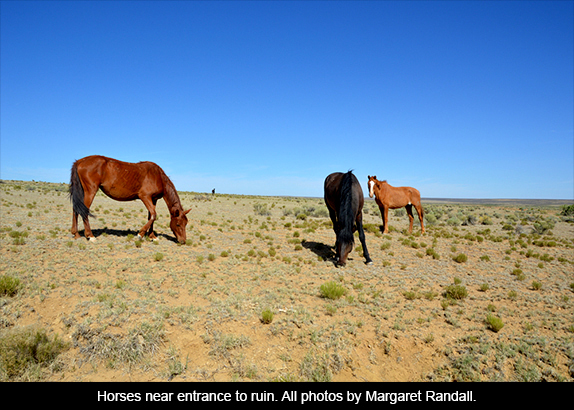 We've probably been to Chaco Culture National Historic Park dozens of times through the years. In all seasons. Alone or with friends, children, grandchildren. We've explored most of the Great Houses, hiked to the more remote areas of the park, hoisted ourselves up through the crack on the rock face behind Pueblo Bonito and looked down upon the massive site from above. I've read about Chaco, written about Chaco, dreamed about Chaco.
When I was a child we used to brave the road from the south, traveling west on I-40 (it wasn't called I-40 then, but Route #66) and then hoped for the best as my father slowly steered our old station wagon north over the deeply rutted route. Once we got stuck. I remember a kindly Navajo man coming to our rescue with his team of strong horses. It was winter.
As an adult we've preferred to drive north from Bernalillo, some 50 miles past Cuba, and turn west for 21 miles to approach the park via this easier entrance. The first six miles or so are paved. The rest is graded dirt, but unless it's been raining hard even most low slung vehicles can make the trip. Each time we turn right onto the final stretch to the park, we've been aware that if we'd kept going straight we'd eventually come to Pueblo Pintado, one of the Chaco outliers. Each time we didn't go straight, we'd tell each other: "Maybe next time." Pueblo Pintado became one of those elusive destinations we were always somehow too busy to visit.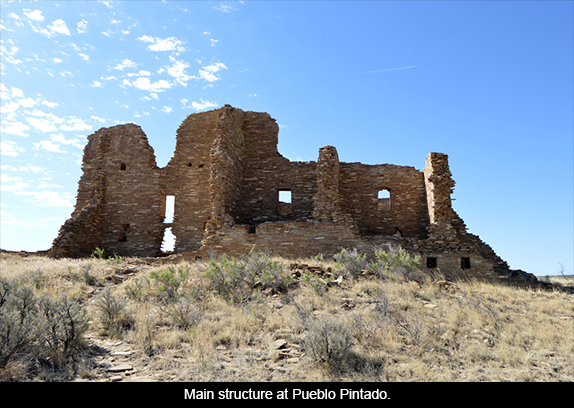 This would be the week. We knew Pueblo Pintado was near the small inhabited community of the same name, but that no services are available. We made sure to travel in on a full tank of gas and brought sandwiches. An online reference told us 247 people live in this place. One Internet site says some of the young people in the community don't like the park, nor are they fond of visitors. "Don't go alone, lock your car and keep an eye on it at all times," another site warns. "Vandalism is common."
Our first problem was simply finding the ruin. We stopped at the community clinic. I asked for directions, and the woman seemed forthcoming. We were the ones who didn't understand her instructions, and found ourselves taking one road, realizing it wasn't getting us where we wanted to go, turning around and trying another. We were heading past the community now, the opposite way from how we'd arrived. Just about the time we caught sight of Pueblo Pintado's proud silhouette on the horizon to our right, we noticed we were being flagged down by two women in a van. One was the woman who had issued the directions we'd been unable to follow. She motioned for us to pull over. "Turn around," she told us. At the top of the hill, between the two water towers. Follow the graded road to the left." We thanked her and were on our way.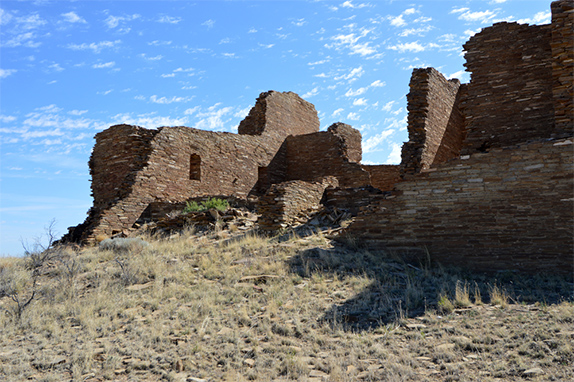 From then on it was easy. It wasn't far, and the outlier grew larger as we approached. Very soon three thin horses greeted us by the dilapidated sign announcing the site. Pueblo Pintado is part of Chaco, but even at the Chaco Visitors Center we found no information about it. Nor was I able to find anything in the many books about the Chaco culture that we own. No ranger is at the site, only a written plea not to climb the walls or take any of the broken pottery that literally carpets the ground. Perhaps the fact that no money is available to pay someone to care for Pueblo Pintado keeps Park officials from encouraging visits. Nevertheless, we were finally here. With help from someone in the community.
We parked our car and slipped through a narrow hiker's maze to the other side of the fence surrounding the ruin. Inside a metal box, there is a visitor's log and pen. One Internet site mentions this log is filled with profanity and angry rants from locals. We saw nothing of that. Just a dozen or so names attesting to visits over several weeks. We added ours.
Pueblo Pintado is said to be the first of the Chacoan Great Houses spotted by Anglos. It was sighted by Lt. James Simpson's 1849 military expedition against the Navajo. No wonder native peoples living nearby today have mixed feelings about outsiders; from the very beginning their arrival did not bode well. And we have yet to redeem ourselves in any meaningful way. This same expedition soon spotted the main Chaco site as well, 18 miles down the wash.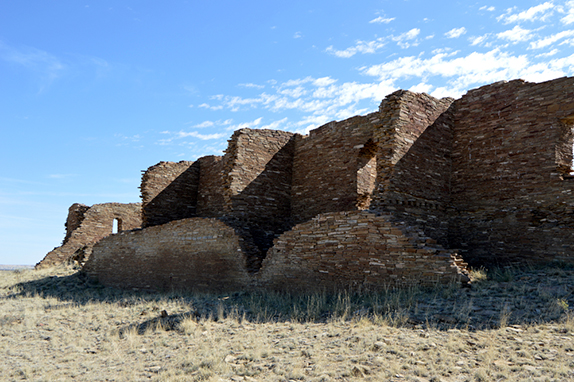 When these ruins were occupied by their builders and original inhabitants, one of the famous arrow-straight Chacoan roads led from Pueblo Pintado to the main cluster. It is called the Chaco-Pintado, or East, Road. It begins north of Pueblo Alto, and ends at Pueblo Pintado's west wall. This is one of the best-documented ancient roads within the San Juan Basin. There is a sign here pointing to its imprint, but we could not discern it. Probably only from the air, and only knowing what you're looking for, is it possible to glimpse this road, or any of the others leading to and from these sites: image and memory faded by centuries of wind erosion.
Some tree-ring data tells us Pueblo Pintado was begun in the late 1060s. By the end of that century it had at least 135 rooms, some up to three stories along the back wall. A few very tall sections of wall remain. One looked like it might have sustained four rather than three floors. All this stone, timber, and the pottery used here came from many miles away. No pack animals. No wheel. Pure ingenuity and effort. At the far side of the ruin from its entrance access, you find yourself standing in the crook of an L. Four kivas exist in this semi-circular space, and it is said that another 14 remain buried.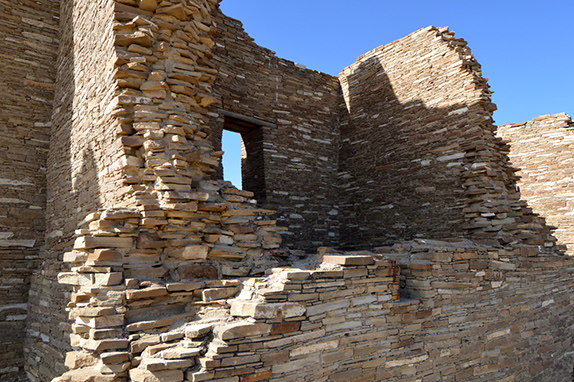 I had a very different feeling at Pueblo Pintado than I've had at Chaco proper. Chaco is magical. No matter how often you visit, you always see something new—or gain a deeper understanding of what you've seen a hundred times. But there is something "other" about Pueblo Pintado's intricate stonework, room joints, layers of masonry and pristine window openings. Some have questioned whether this outlier was built by Chacoan masons or by others mimicking their work. I couldn't put my finger on what made the place feel different. I'll be looking for documents, articles, books that may give me clues. It's not really an anthropologist's knowledge I yearn for, but something simpler: maybe some bit of information that tugs at my poet's consciousness.
It was definitely an extraordinary gift to find ourselves alone at the ruin, able to walk its circumference in silence, grateful that we live in a state where experiences such as this are still possible.