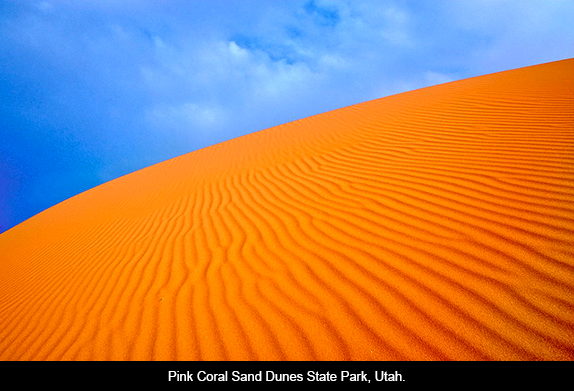 Almost ignored among Utah's extraordinary National Parks and that state's other places of dramatic natural beauty, is tiny Coral Pink Sand Dunes State Park. This little visited destination is situated between Mount Carmel Junction and Kenab in the southwest corner of the state. It is barely 3,370 acres.
Hundreds of thousands travel each year to beautiful Bryce Canyon, imposing Zion, and even rugged Capitol Reef sitting atop imposing Waterpocket Fold. On the eastern side of the state the elegant spires and windows of Arches lure the traveler. Nearby Canyonlands, with its vast fields of varicolored rock formations is also a draw. Farther north, the environs of the Great Salt Lake include majestic mountain areas. Ancestral Puebloan ruins such as Hovenweep, and powerful rivers such as the Green, the Salmon and the Snake, attract kayaking and rafting devotees.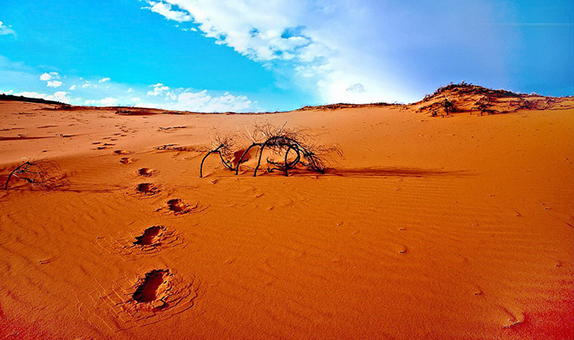 Amidst such beauty a tiny place like Coral Pink Sand Dunes is easily ignored. It shouldn't be. Travelers heading for one of the better known destinations, who have a little extra time to spare and find themselves close enough to this small park to include it in their itinerary, will be glad they did. Even an hour or two is worth the detour.
These dunes are formed from the erosion of the pink-orange Navajo Sandstone that surrounds the park. Centuries of high winds, passing through the notch between the Moquith and Moccasin Mountains, have picked up loose sand particles and deposited them on the dunes, creating an ever-changing landscape of movement. This is called the Venturi effect. Giovanni Battista Venuri (1746-1822) was an Italian physicist who posited that a reduction in pressure results when a force (wind, water) flows through a constricted space.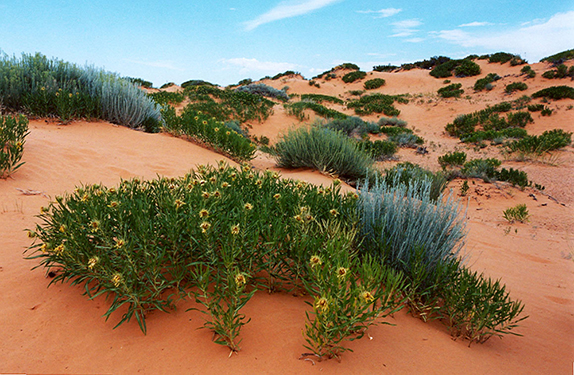 The Park is open during daylight hours seven days a week, and is not even closed on holidays. A fee of $6 per vehicle is charged, and this is cut in half for Utah seniors. There is a campground, where overnight sites are available for $16. It accommodates vehicles of up to 40 feet, but there are no hookups. There are showers. A group campsite is also available.
Located just southeast of Zion National Park, views of the Zion area can be had from the dunes. These dunes are estimated to be between 10,000 and 15,000 years old. Rather than occupying a large area, like the great deserts of northern Africa or southern California—the Sahara or Mohave—the bright sands here are intimate in scale.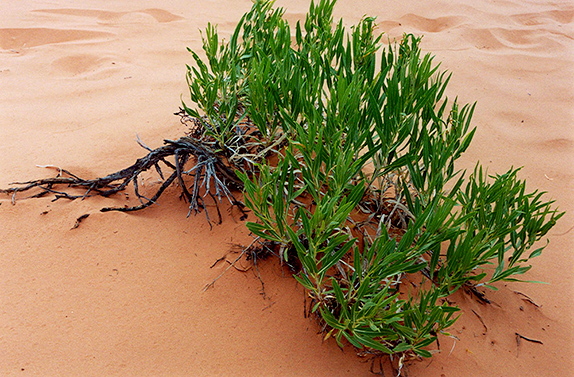 Years ago, when my partner and I stopped with a granddaughter, emptiness was an attraction. It was a late afternoon in June, and we were the only ones there. For more than an hour we trekked and climbed the sand, slipping and sliding and laughing as we did. Lone desert plants were startling in their beauty.
Today the park allows camping, hiking, and off-road vehicles. These latter have made for a very different experience. There are those, of course, who delight in roaming the dunes in the conveyances. Others feel their presence detracts from the silent grandeur. I'm told that if you manage to arrive before nine in the morning or late in the afternoon you may be able to explore without the dune buggies' disruptive presence. Those times, in any case, are the best for photography—with indirect light and dramatic shadows.
Coral Pink Sand Dunes is home to some unique creatures as well. The Coral Pink Sand Dunes tiger beetle (Cicindela albissima) is endemic to the place and found nowhere else on earth. This park also contains most of the remaining individuals of a rare plant called Welsh's milkweed (Asclepias welshii), which is a federally listed threatened species.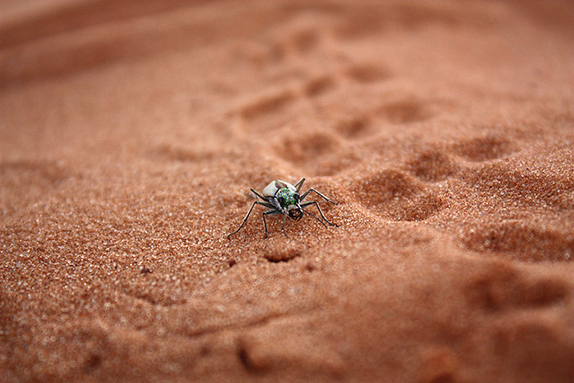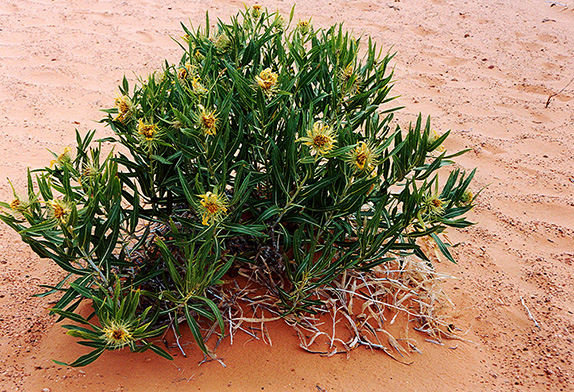 Coral Pink Sand Dunes is the only major sand dune field on the Colorado Plateau, but Great Sand Dunes National Park and Preserve, a United States National Park, is located in the San Luis Valley in southern Colorado. This park, which contains 44,246 acres, has the tallest sand dunes in North America, rising 750 feet from the valley floor. Researchers say these dunes are older than the ones in Utah, having begun to form around 440,000 years ago.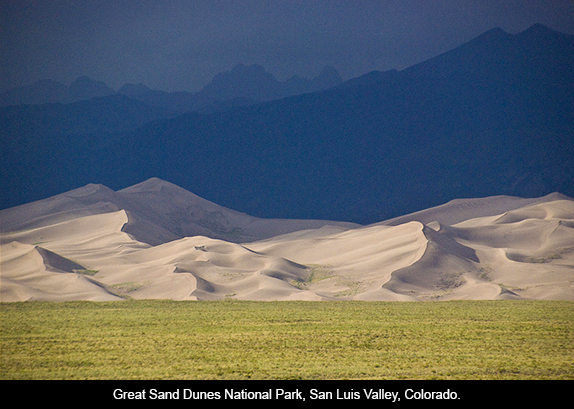 At Great Sand, the dunes were formed form sand and soil deposits from the Rio Grande and its tributaries as they flowed through the San Luis Valley. Through time, westerly winds picked up sand particles from the flood plain and, as the wind lost power before crossing the Sangre de Cristo Range, the sand was deposited on the eastern edge of the valley. This process continues, and the dunes are slowly growing. Their shapes are continually changing.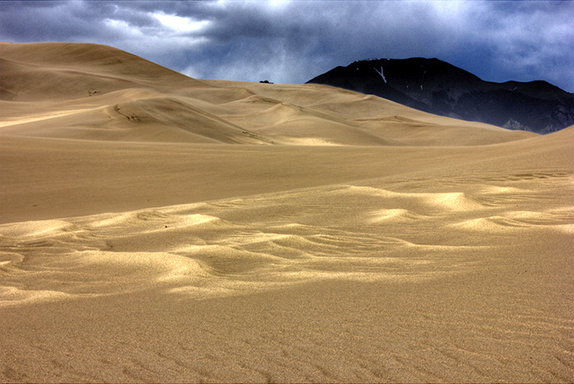 A particularity of sand dunes large or small is that, unlike more stable earth surfaces, they are in constant flux. Sitting quietly on the shifting ground, observing even a few instants of moving sands, gives one a sense of how the earth in its larger configuration is changing as well. Geologic time is rarely something we can experience in our human-scale lives. It is something we read or hear about and it tends to make us feel insignificant.
Watching the earth change around us is like standing on the shore or the deck of a ship and watching the ever-moving ocean. We inhabit the paradox of feeling tiny and yet at the center of all things, at one and the same time.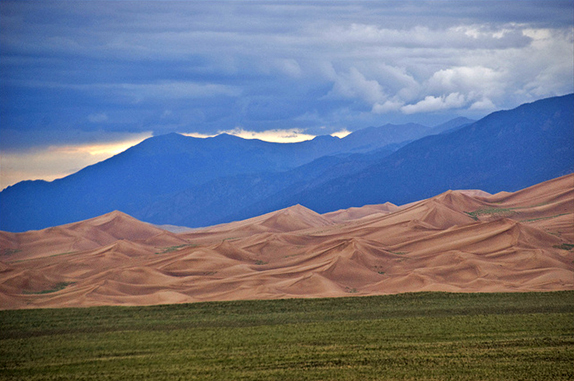 (Photo credits in order of appearance: Coral Pink Sand Dune waves by Moyan Bren; Footsteps in Coral Pink Sand Dunes by Moyan Bren; 3 vegetation images at Coral Pink Sand Dunes National Park by Margaret Randall; Coral Pink Sand Dunes Tiger Beetle by USFWS Mountain-Prairie; Welsh's Milkweed by Margaret Randall; Great Sand Dunes National Park by Ron Cogswell; HDR photo of Great Sand Dunes National Park by Mark Byzewski; Storm over Great Sand Dunes National Park by Ron Cogswell)