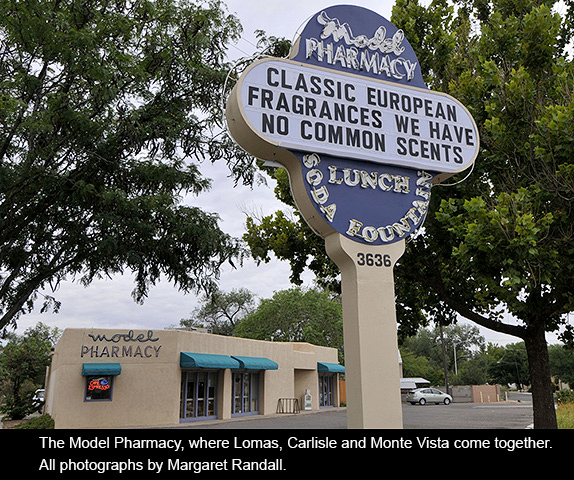 My family and I came to Albuquerque from the East when I was ten years old. Back then those who came to Albuquerque from somewhere else vastly outnumbered the natives. We settled in what was then called the Northeast Heights (the city barely extended past Highland High School). I walked to Monte Vista Grade School and then Jefferson Junior High. On weekends my friends and I could be found playing in Bataan Memorial Park (the trees were still slender saplings), or downing milkshakes at The Model Pharmacy.
At that time the Model occupied the northwest corner of Lomas and Carlisle. Today it has been replaced by a Walgreen's. Neighborhood people protested the appearance of the chain at first, but it has since become an appreciated area feature. But The Model didn't disappear; it simply moved across the street, to the triangle-shaped wedge where Monte Vista, Lomas and Carlisle meet.
People who remember talk about how all traffic was stopped at that intersection for several hours, while the old place's fixtures were hand-carried across to their new home. Especially the fabulous old soda fountain, with its stainless steel counter and multicolored tiles. I remember sitting at that counter as a young girl. I remember the egg creams (The Model is one of the few places in Albuquerque where you can still get that all-American drink). I'm glad I can still sit at that counter and still indulge in something decadent, albeit in a different location.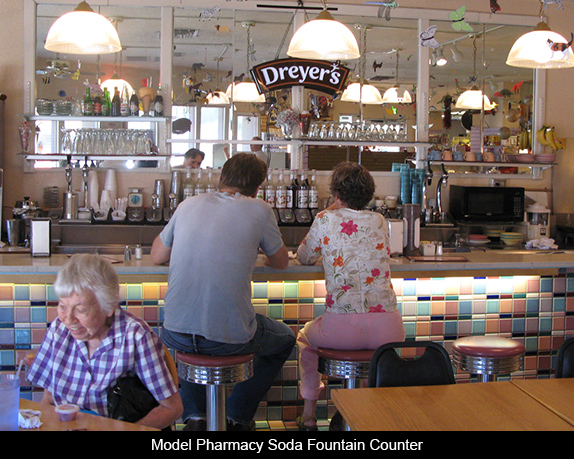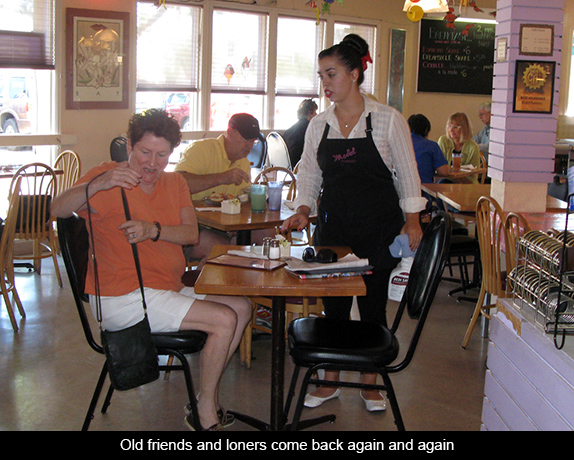 Jack Lerner has owned and operated The Model for the past 28 years. His employees unanimously describe him as a caring boss. When I tell him how good it is to watch an independent family-run business survive, he says he no longer depends on prescriptions alone, although he did when he first started out. The Model has many unique features.
It is one of those places where groups of friends come to have lunch again and again. Neighborhood people, university professors and students, friends who meet once a week for lunch year after year, loners who are warmed by the eatery's servers welcoming them by name, and people from other parts of the city who simply want a delicious meal: several standard dishes prepared with the freshest ingredients. The Model's menu hasn't changed since I can remember. It still features an exceptionally good hot brisket sandwich, a sampler plate of egg salad, tuna, and chicken walnut salads, its own special green chile stew, and a variety of daily soups. Along with a choice of a delicious side, a signature addition is a tiny cup of homemade applesauce.
The deserts are scrumptious. There are always a couple of cakes, cobblers, and rich Dreyer's ice cream. But the counter specialties are over the top. The Model is one of the few places you can get a malt, and there may only be one or two other places in town where anyone even knows what an egg cream is.
The Model Pharmacy is open for lunch Monday through Friday from 9:30 to 5:00. A single breakfast is served from 9:30 to 11:30: two eggs, hash brown potatoes, bacon and your choice of toast. The kitchen closes at 4:00, but sweets and counter drinks may be ordered for another hour and a half. Saturday hours are from 10:00 to 5:00.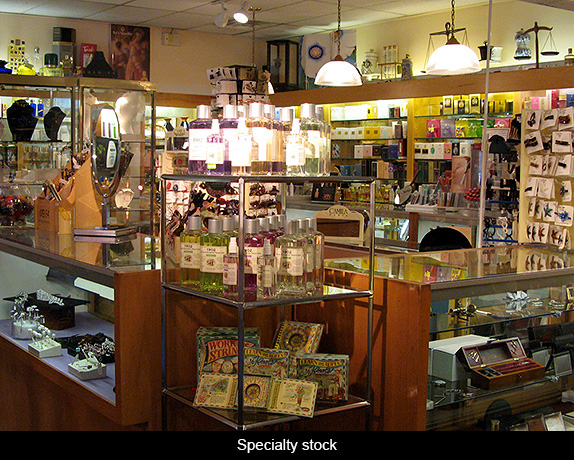 As its name implies, The Model is not only a restaurant but also a real old-time pharmacy. You can fill a prescription, but you can also browse elegant toiletries, greeting cards, and fragrances. The large outside sign famously advertises "Classic European Fragrances. We have no Common Scents." A vast array of mobiles hang from the dining room ceiling: cranes, horses, piglets, toy airplanes, cows and other items. This is surely the largest selection of mobiles anywhere in town.
If you want a wholesome and delicious lunch in an unusual atmosphere surrounded by people who obviously enjoy eating there, The Model Pharmacy is an excellent choice.