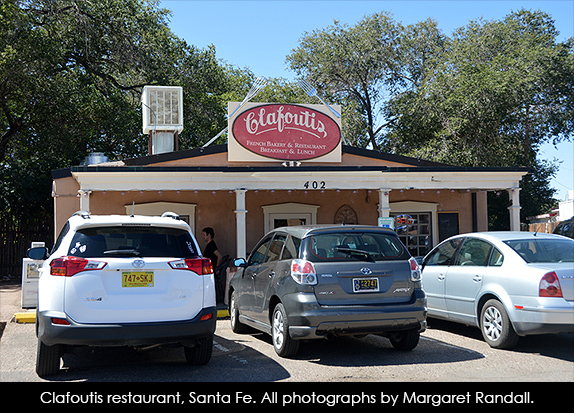 At 402 Guadalupe Street, in Santa Fe, the modest front of an inconspicuous eatery hides one of the city's truly great gourmet experiences. Clafoutis offers excellently prepared and elegantly presented French dishes to those who have discovered its virtues. There are many who have; the small restaurant is always full. Alongside the City Different's more famous restaurants, this is a gem.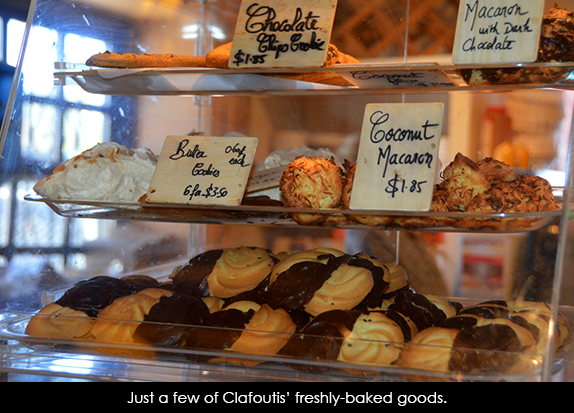 Philippe, Anne-Laure, and their daughter Charlotte Ligier came from France's northern countryside in 2000. Eight years later, they opened Clafoutis. Anne-Laure may be seen at the cash register. Charlotte and a few others wait tables (she attended to us, and was gracious and forthcoming when I asked her about the business). Philippe is the baker, producing a vast variety of homemade baked goods fresh each day.
Clafoutis serves breakfast and lunch from 7 a.m. to 4 p.m. Monday through Saturday. Its breakfast menu, available from 7 to 11:30 a.m., is spectacular. Specialties include egg croissants, unique French plates, crepes, and 3-egg omelets, as well as Clafoutis' own versions of French toast, waffles and granola.
But it is lunch that most impressively carries the culinary imprint of this unique restaurant. The crepes morph into more savory versions (although the sweet breakfast varieties continue to be available). A range of quiches, in ample portions and accompanied by very fresh salads are among the most delicate and delicious I have eaten. Salads are masterpieces. And my mouth waters as I remember the cup of French onion soup my partner and I shared; I've never enjoyed its equal, even on visits to Paris.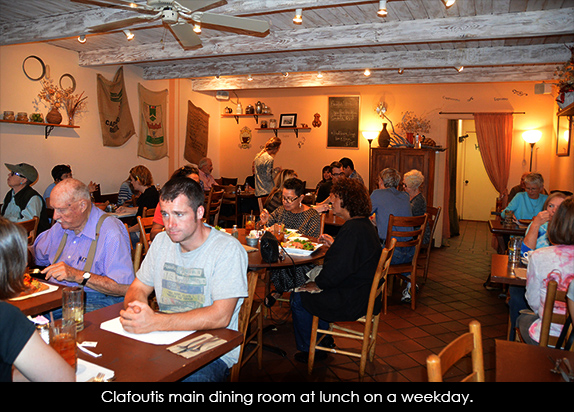 My partner couldn't stop raving about the bottled French Lemonade. And we can both attest to an excellent cup of coffee finishing off a perfect lunch. Espresso, Cappucino, Latte and Café Mocha were on the menu (and the wall), but we chose to delight in an ordinary cup: dark, rich, and pungent. Other drinks include fresh-squeezed orange juice, hot chocolate, iced tea, and the usual Coke and Diet Coke.
Having mentioned some of the items on Clafoutis' varied menu, I must say that the highlight remains its homemade baked goods: authentic French sweets, perfect croissants (impressively light and not at all oily), and of course the standard baguettes attractively upright behind the checkout counter.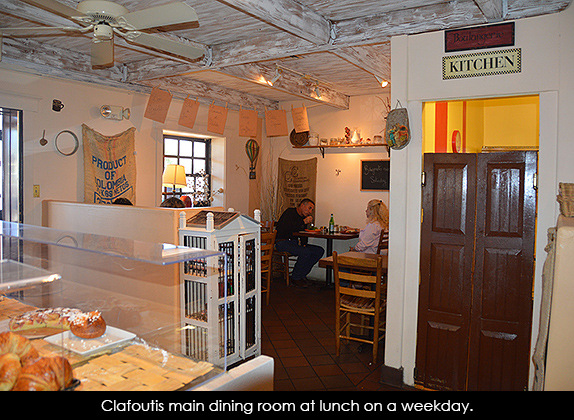 I wished I had room for more.
Clafoutis' prices are as modest as its appearance. Two of us ate (and brought half of what we'd ordered home for dinner!) for $38 including a 20% tip.
This family enterprise speaks for many in our state, run by people from other latitudes who have found home here.