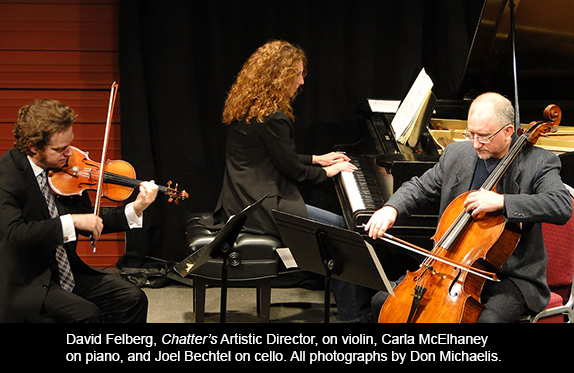 Every Sunday morning, at Kosmos (1715 Fifth Street NW), the large parking area begins to fill with cars around 9:30 a.m. Chatter Sunday won't begin for an hour, but regulars know the welcoming performance space fills up fast. Tickets, when available, can be purchased online ($15 for adults, $9 for those under 30, and $5 for those under 13). Occasionally, before turning into the parking lot, you will be stopped by a sign proclaiming that morning's event is sold out.
If you have secured your spot online, or tickets are still available, you will be ushered to a space by one of several cheerful volunteer parking attendants. Entering the fully accessible loft-like premises, people will already be milling about. Old timers will be greeting one another; newcomers will immediately feel at home. Free gourmet coffee is made fresh one cup at a time, and an assortment of homemade sweets is on hand. Imperceptibly, the place fills until there isn't an empty seat. Whether you know what's in store or are there for the very first time, the hour of music and poetry won't disappoint.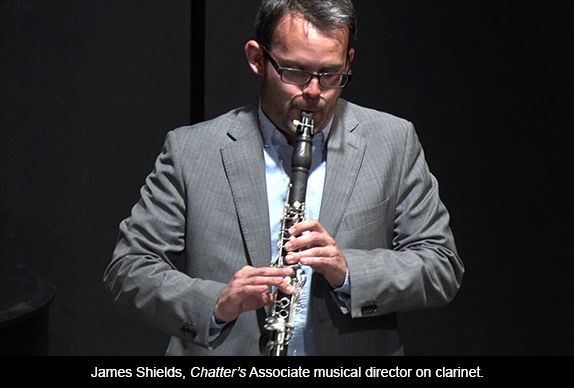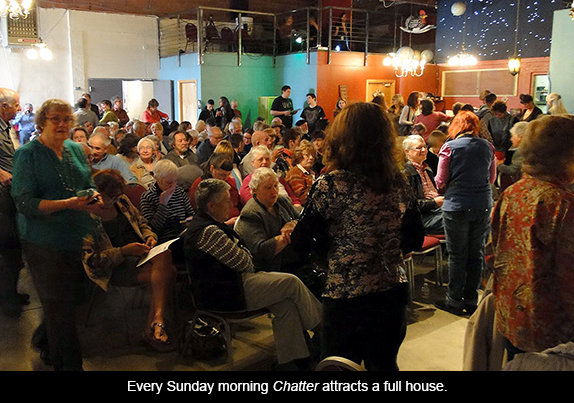 Some context: musically, Albuquerque is something of an anomaly. For a city its size and in the opinion of many connoisseurs, the quality of its local classical music has deteriorated over the past decade or so. We do have fine individual performers, but the loss of the New Mexico Symphony Orchestra is deeply felt. Groups such as Albuquerque Chamber Soloists bring superb talent to town, but that talent comes for a single concert or recital. The Outpost Performance Space does a marvelous job of combining local with outside musicians, but it features jazz, not a classical repertoire. Globalquerque and a few other venues also bring in top performers periodically, but again, these are popular, folk, or ethnic, rather than of the classical canon.
Chatter Sunday—in fact all three of Chatter's incarnations—are a brilliant exception to this rule. They combine the best of the classical music repertoire with favorites from other countries and cultures (klezmer, bossa nova, tango, jazz, folk, etc.) as well as exciting new music and occasional commissioned pieces. In this article I won't attempt to analyze the various reasons for our city's inability to support stable classical musical venues. I will talk about Chatter Sunday, explore its origins and development, and try to give a sense of its unique contribution to our community.
To get some background, I went to Pamela Michaelis who, with her husband Don, have been key to promoting, fund-raising, and community outreach. Pamela is one of those people always in motion, but an energetic, elegant and knowledgeable motion with a well thought-out purpose. She works closely with Chatter's musical directors, and can be seen every Sunday morning, attending to last-minute details and making sure people feel at home. Don is the mastermind behind the organization's beautiful web site, and also does the still photography at every performance. All the images accompanying this piece are by him. I also consulted with Chatter's Artistic Director, David Felberg, a superb violinist as well as a man with great organizational skills and the Beethoven look-alike active in many of the city's performance venues.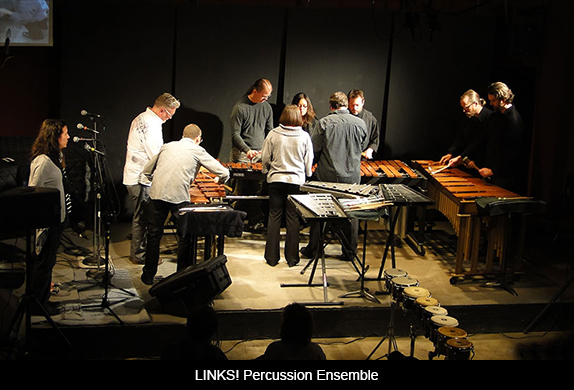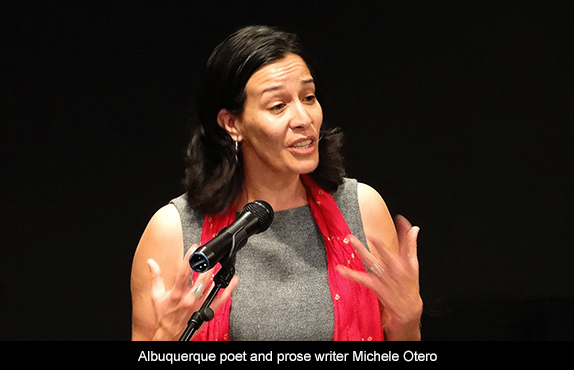 I started out asking Pamela to tell me something about Chatter's history: "Chatter, A Chamber Ensemble was chartered back in 2002 by violinist David Felberg and his friend, composer and cellist Eric Walters. Its purpose was to play classical music for the 20th and 21st centuries that was rarely or never heard in New Mexico. They performed one or two concerts a year. Their inaugural performance—of Adams, Schoenberg, and Walters—was on August 28, 2003.
"On February 8, 2008, the cellist Felix Wurman founded Church of Beethoven, and Felberg joined that project. The idea was to present classical music interspersed with other types of sound, and including a poet who would recite for ten minutes. A two-minute celebration of silence also became part of the program at that time."
David Felberg remembers: "Wurman told me he came to the idea while playing a gig at a local church. He felt that the music had an uplifting, spiritual effect, just like the sermon. He thought, why not have a 'service' where the music was the sermon?' Combining his love of making artisan espresso drinks, fine music, and a knack for funky, accessible venues, the Church of Beethoven was born. Tony Hunt was the first to suggest poetry/spoken word, and it has greatly enhanced the program. The original venue was the Filling Station, a converted gas station/theater in the Barelas neighborhood, and moved to the Kosmos a year and a half later."
Following Wurman's tragic death in 2009, David Felberg became Church of Beethoven's Artistic Director. Soon clarinetist James Shields joined him in the position of Associate Artistic Director. As Pamela said, "For the hundreds of city residents who love good music and don't attend a Sunday morning religious service, Church of Beethoven quickly became the place to be: great music in the heart of a neighborhood.
"Church of Beethoven (later renamed Chatter Sunday) and Club Beethoven (now Chatter Cabaret) were founded and at least partly consolidated in response to the demise of the New Mexico Symphony Orchestra. Chatter Cabaret is bi-monthly, fun and virtuosic. It offers classical music in an evening club atmosphere in downtown Albuquerque's Casablanca Room at the Hotel Andaluz. Drinks and tapas add to the informal and sociable ambience."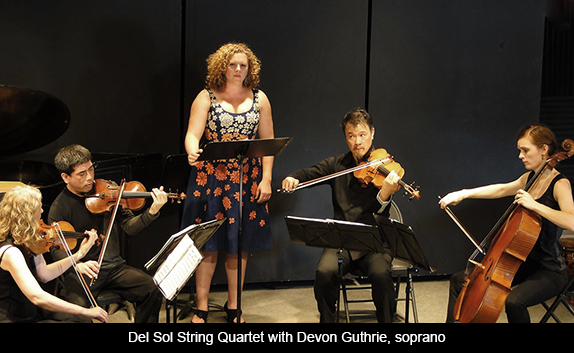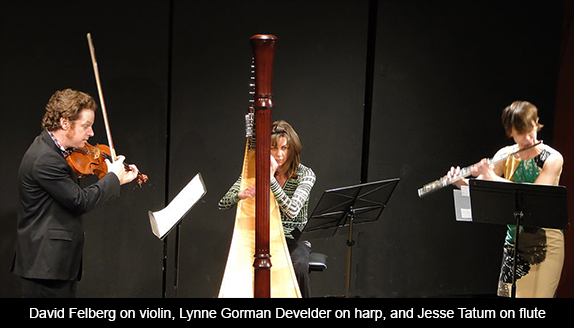 Pamela emphasized that, whether at Chatter Cabaret or Chatter Sunday, "performer/audience relationships are forged in an atmosphere where the audience is genuinely considered part of the process." Chatter Sunday's format combines traditional music and contemporary composers in the classical idiom, ten minutes of poetry or another spoken word art, a two-minute celebration of silence, espresso and baked goods in what has become a solid recipe for ongoing success.
In 2011 Church of Beethoven was obliged to change its name. Pamela says that "to make the names of the three series more cohesive, we chose to make adjustments to them all, linking them to the original entity, Chatter: Chatter Sunday, Chatter Cabaret, Chatter 20-21. It's a mouthful, but we and our audiences have settled into the names remarkably quickly and comfortably."
As a frequent attendee, and as a poet who has performed in the Sunday morning venue, I wanted to know more about the core musicians. All I really knew was the virtuoso quality of their playing. They are consummate artists, frequently rising to world-class heights. David emphasized that "We are locavores. We harvest the fine musicians that exist here in the state, and give them a chance to shine through chamber music and solo performances. Then we get the occasional out-of-town guest, for variety."
I know that choice of repertoire, directorship and other organizational duties, must also play a part. Pamela said: "As Artistic Director, David Felberg is the primary person in charge of deciding the content of our 60-plus yearly performances (Chatter Sunday offers programs 50 weeks of the year). James Shields works closely with David. They are sounding boards for each other's ideas and partners in choosing music and performers. James is only here half time, though, because his day job is Principal Clarinet of the Canadian Opera Company. David is brilliant. He is able to know what music is right for what venues and, most important, how to pair contemporary classical pieces with traditional works from the canon. His musical instincts are uncanny."
David added: "James and I do the programming. Our weekly one-hour format, with spoken word, gives us a chance to have great variety, and the number of shows gives us a chance to experiment. We contrast a lot of older music with newer music. I like our one-hour format, as opposed to the one and a half to two hour 'concert' that is traditional. Sometimes a piece such as a Beethoven quartet feels like a full meal."
Having heard guest artists from around the country and even from around the world perform at Chatter Sunday, I wondered if David and James seek them out or if they gravitate toward the group because of its stunning reputation. "Musicians do seek Chatter out," Pamela said, "because it has become a phenomenon in the national musical community. As you heard John Kennedy say the other morning (referring to the September 21, 2014 world premiere of a commissioned piece of great complexity and beauty), this happens nowhere else in the country. However, David and James are very particular and choosy. Not all seekers are given the stage."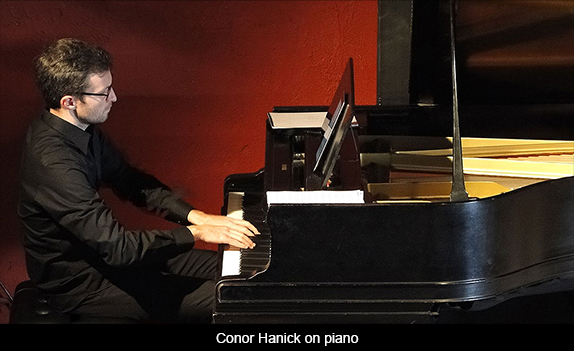 Pamela continued: "The musical community is, in many ways, very small, especially among the younger artists. James graduated from the Julliard School in New York City. His friends and colleagues from that time are frequent Chatter guest performers. In fact some of them, like pianist Conor Hanick, become part of the Chatter family and want to continue to come—even at our pay scale, and even as their careers are flourishing! Then these brilliant creatives bring their friends and colleagues into the fold."
Something every Chatter attendee notices is the youth of most of the soloists. They represent a younger generation of fine musicians, who are interested in mastering the classics, exploring other musical genres, and experimenting with unusual repertory combinations. Not only do we know this music is in talented hands, we expect it to be for a very long time to come. And Chatter brings the next generation of musicians along in supportive mentorship. It hosts something it calls Chatter Varsity, through which outstanding very young musicians (10 to 17 years of age) are invited to perform two or three times a year.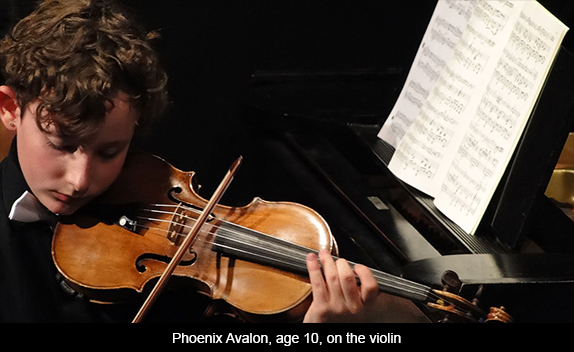 Something else we cannot help but notice is Sunday after Sunday's full house. I asked Pamela if there were any plans to move to a larger venue: "We constantly think about larger spaces," she said. "However, part of Chatter's magic and attraction is the intimacy of the performance. Closeness of audience and performers is key; the audience feels part of the process and the musicians feel that the audience members really listen." As a poet who has performed at Chatter Sunday, I can echo this as well. Rarely have I read my work to a more attentive or engaged public. Several audience members invariably come up at the end of the program to comment on one poem or another.
I had a difficult question, but one that could be asked of any classical music audience in the city and beyond. I wanted to know if Chatter thinks at all about the race and/or class composition of its audience, which seems quite homogeneous (white, largely middle-aged, not poor). Pamela was forthright: "We think about diversity a lot, as we also did at the New Mexico Symphony Orchestra. We do our best to get the word out to all quarters of the community. It is extremely important to me that we help folks come who otherwise couldn't. We have regular tickets available for people from Endorphin Power Company, ArtStreet, NACA, Albuquerque Youth Symphony, Working Classroom, and so forth. And they do come, but not in great numbers.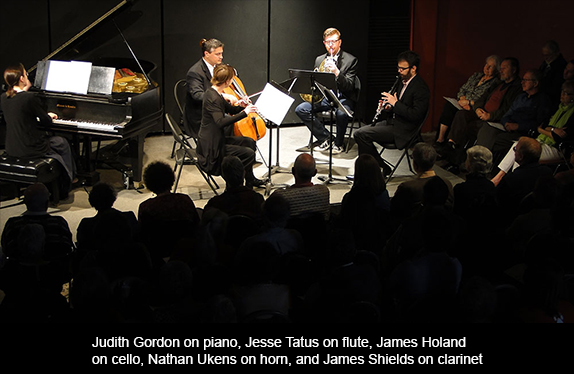 "In terms of age, though, Chatter is truly building a future young classical music audience. Young people (13 to 29) are choosing to come to Chatter and spend their own money on their own time. In 2013, the youth audience at Chatter increased by 16.6%. In the first quarter of 2014, young people made up 12.9% of the audience. This is remarkable."
Contemplating all the thought and organization that goes into this sort of endeavor, I asked Pamela to tell me something about how they achieve such a seemingly effortless and spontaneous feeling. "That feeling," she said, "is accomplished through a great deal of behind-the-scenes organization, planning, and fund-raising. We have an extraordinarily devoted cadre of volunteers, many of them young teens or people in their twenties. They put in approximately 5,400 hours a year. At this point I am the primary fund-raiser. I write grants, prepare the annual "Letter to Ourselves" fund drive letter, and approach funders from the business and foundations worlds, as well as individual donors. Back when Felix was passing the basket at performances, it was a precarious time. For many years, though, it hasn't been scary. Each year we establish a budget and stick to it. I have an intimate and wonderful partnership with David and James. We have worked to build the budget so we can be locally competitive, encourage adequate rehearsal, make Chatter the most meaningful gig the artist takes that month, and encourage musicians in continued pursuit of their craft. What we ask of our audience is that they come, be involved audience members, and give if they are able."
Soloists, whether resident or from elsewhere, also say playing at Chatter is special. Well known cellist Joanna de Keyser told me: "People come who would not necessarily go to other musical venues. When I perform there I feel the communication with the audience, and I like being able to speak about the music."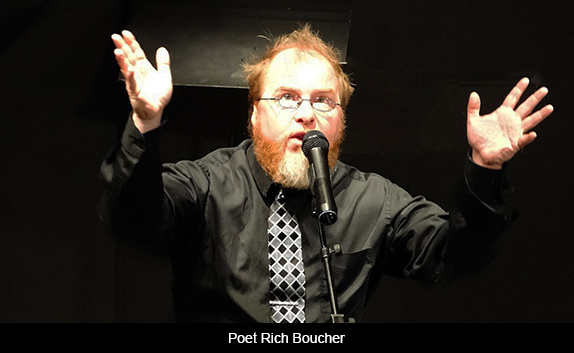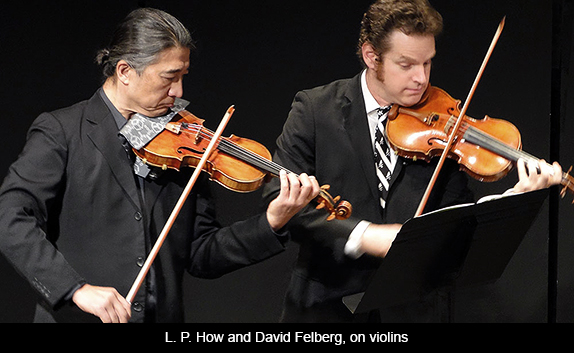 When I wondered if there is any specific feedback about the poetic contributions, Pamela said "We hear, resoundingly, things such as: 'I really thought I hated/didn't like/didn't know anything about poetry—but I've learned to really like/love/dig it.' The poetry and occasional prose artists are prized and important to audiences and musicians alike."
In response to my asking about any particularly significant moments he can remember, David said: "It's hard for me to pinpoint individual anecdotes because every Sunday is such a unique experience. I do remember one afternoon. Felix Wurman and I were exhausted. We talked on the phone and decided to close it down for good. Got off the phone, and two hours later we called again and said no, we have to keep it open. Thank goodness!"
Sadly, the past two decades in this country have been about a reduction in cultural opportunity: a tendency to eliminate alternative art space. Cutbacks to public education robbed our schools of librarians, music teachers, and art programs. Albuquerque lost most of its independent bookstores. The city went from several experimental cinemas to one. It lost its symphony. Although small minds almost always see these as extras, it is well documented that such creative outlets make for smarter, more resilient, versatile and compassionate human beings, whose contributions to society are important at all levels. Without art, we will become a nation inhabited by people who can do little more than take standardized tests.
We are immensely fortunate to have Chatter here in Albuquerque, and to be able to say that we sustain it with our love, gratitude, and financial support. But perhaps Chatter is also fortunate to have us: an appreciative and enthusiastic public that knows it has something that exists nowhere else.