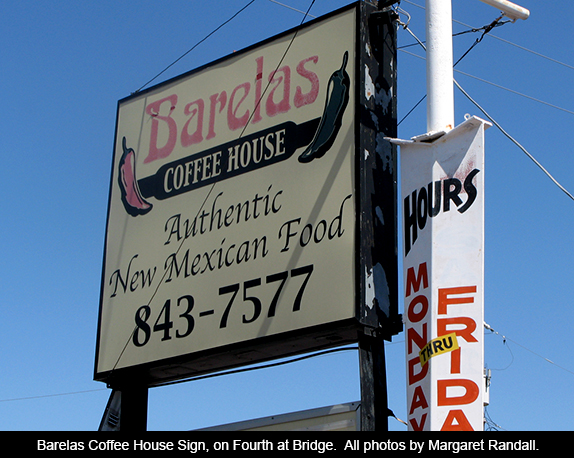 Like most cities, Albuquerque is a patchwork of neighborhoods: Old Town, Duranes, Barelas, Nob Hill, Four Hills, Country Club, South Valley, Northeast Heights, Taylor Ranch, Huning Castle, Ranchitos, among others. And outliers with their own distinct personalities, such as Corrales and Placitas. Some claim that Old Town—San Felipe de Neri Church, the Plaza and adjacent streets of eighteenth century adobes—is the oldest continuous settlement in the United States. Others say this distinction belongs to Barelas.
Barelas is defined by the triangular area bordered on the north by Coal Avenue, on the east by the railroad tracks, and on the west by the Río Grande River. It was established as a settlement in 1662, a good 44 years before Old Town. For many years it remained a separate village, until it was absorbed into the larger city during the heyday of rail travel in the 1880s.
The area we now know as Barelas was originally the site of an important river crossing on El Camino Real de Tierra Adentro (The Royal Inland Highway), which was the main trade route through the New Mexico territory. The crossing was described by Zebulon Pike in 1807 as being "400 yards wide, but not more than three feet deep and excellent fording." Colonial governor Diego de Peñalosa established the settlement by the name of Barelas in 1662, although it may have been on paper only. It is believed to have remained largely unpopulated until the 19th century.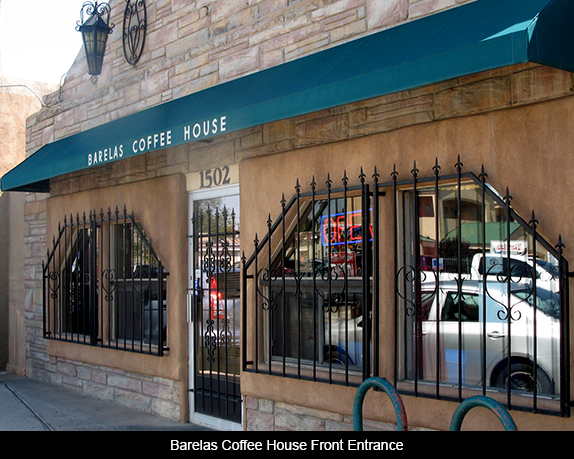 In the late 1800s Barelas was a quiet agricultural community. Three hundred nine residents were listed in the 1870 census, and 350 in 1880. During the Civil War the community saw minor action; in April of 1862 Union troops in the village exchanged long-range artillery fire with a Confederate position east of Albuquerque. The battle lasted for several hours but there were no casualties.
The boom years came in with the Atchison, Topeka and Santa Fe Railway in 1880. But in order to keep the route as straight as possible, the railroad planners built the Albuquerque depot about a mile and a half east of Barelas, creating a separate New Town north of the original community. Santa Fe Railway Shops became the city's largest employer, and Barelas went from a quiet farming village to a busy blue-collar neighborhood. By the turn of the century it was home to 1,200 residents, many of whom worked for the railroad. In 1891 Barelas was incorporated into the greater city of Albuquerque.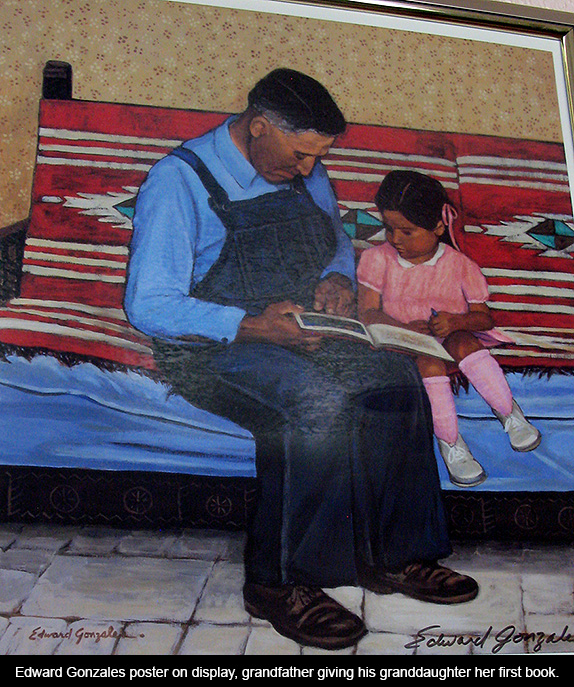 Several factors led to economic setbacks around mid-twentieth century. The realignment of old Route 66 took place in1937, and rerouting the major thoroughfare from Fourth Street to Central Avenue bypassed Barelas. Fourth Street traffic declined even more when Interstate 25 replaced US 85 as Albuquerque's main north-south highway. Then, when the railroad shops closed in 1970, 1,500 Barelas inhabitants lost their jobs. Four years later, a downtown section of Fourth Street was closed to build Civic Plaza, finally severing the neighborhood's main artery. Isolated from the rest of the city and with its economic base in ruins, Barelas descended into poverty.
But its spirit would rise again.
Although Barelas has traditionally been one of Albuquerque's poorest neighborhoods, with small houses, Mom & Pop businesses (some barely hanging on), and the general economic distress suffered by Hispanic families for generations, those who call the area home weren't ready to give up. When the National Hispanic Cultural Center opened in 2000, with its $50 million dollar injection of capital, it brought new life and activity into the area. The South Broadway Cultural Center had actually appeared on the scene six years earlier, providing its own vital boost. The Albuquerque Hispanic Chamber of Commerce and Barelas Job Opportunity Center opened their doors in 2001. All these institutions have played a role in restoring health to the neighborhood; they absorb local creativity and bring visitors to the area.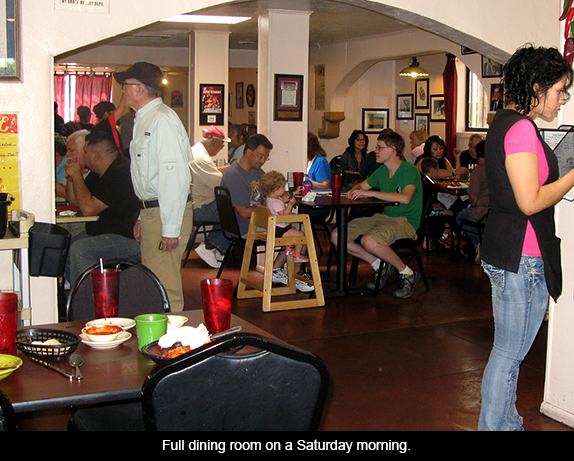 As these sites developed their presence in Barelas, the neighborhoods main thoroughfares of Broadway and Fourth Streets also came back to life. Small parks, bus stops enhanced with original tile work, and other popular establishments became landmarks. A yearly Barelas highlight is the Day of the Dead parade, attracting thousands of participants and bystanders at the beginning of November. Elaborate altars express the profound respect for life and death the inhabitants of Barelas bring to broader city life.
Today Barelas has close to 4,000 inhabitants, roughly two-thirds of whom are Hispanic. Beloved author Rudolfo Anaya comes from the neighborhood, as did Senator Dennis Chávez. Nearby attractions—aside from those already mentioned that are within the neighborhood's parameters—include the Río Grande Zoo and the Santa Fe Railway Shops, currently being renovated with a weekly farmer's market as well as concerts and exhibitions.
Among all these institutions and sites, some of Barelas' most cherished destinations date back before the key spots appeared on anyone's drawing board. They have weathered it all. The Barelas Coffee House is one such place. On Fourth Street near the corner of Bridge (just north of the National Hispanic Cultural Center), its rather plain façade belies a large and always bustling interior. Brothers James and Michael Gonzáles opened the establishment's doors for the first time on Valentine's Day, 1978. They were soon joined by their sister, Benita Villanueva. Four generations of their family have called Barelas home.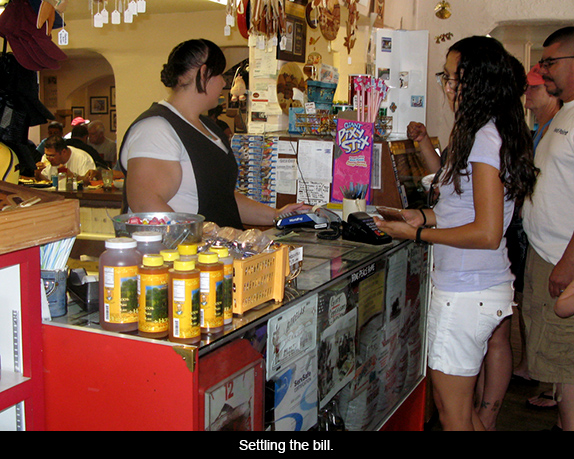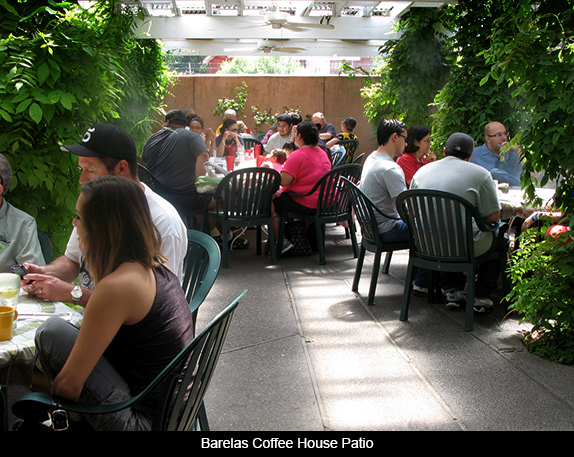 And Barelas calls The Barelas Coffee House home. Although its fame has spread nationally and beyond, most of those who patronize the eatery look as if they belong. One senses a deep comfort. It is frequent to see a waitress lean down to embrace a patron, welcoming him or her by name. From 7:30 in the morning to 3 in the afternoon Monday through Friday (2:30 p.m. on Saturdays), real New Mexican breakfasts and lunches are served. The place is always packed. A long line snakes from the front door through a narrow passage to the dining room, where patrons are seated as soon as a table is free. An equally long line squeezes past it in the opposite direction, as satisfied customers settle their bills before leaving.
Several rooms are filled with tables. A pleasant patio offers service. And old timers and others sit at the counter facing the kitchen. Service is friendly and capable. To the left of the entrance is an ample shop, where food specialties are sold alongside mugs and other items.
Offerings are freshly prepared from the finest New Mexican products: locally grown chile, rice, beans, and hand fashioned tortillas. Barelas Coffee House is famous for its red chile; many say it is the best in the state. Fountain coke is served in large coke bottle shaped glasses. Huevos rancheros, carne adobada, and chile rellenos are specialties, as is New Mexico posole. Despite its being completely full from the moment it opens to closing time, despite the patient line of customers waiting their turn, despite the eager coming and orderly going, the restaurant has an aura of calm. People eat happily and leave planning to return.
There's no question that Barelas is an interesting part of Albuquerque, with rich traditions and palpable pride. And in Barelas, there's no question that the Barelas Coffee House is the place to eat when you want great New Mexican food or are taking a guest to experience what's unique about our cuisine.