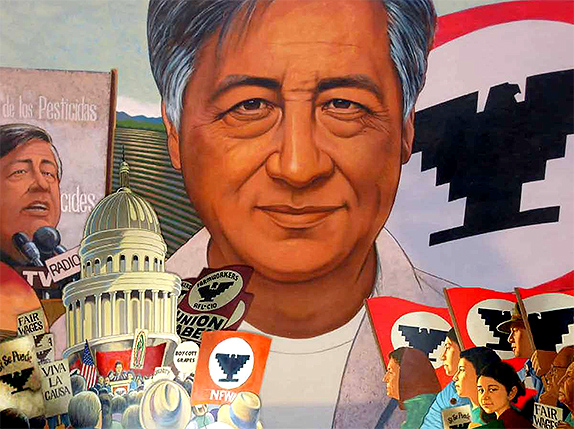 As the life of Cesar Chavez hit the big screen in recent days, the media rediscovered the man who has become a symbol for the Chicano movement, non-violence and labor rights. And while the complexities of Chavez's celebrated life were revisited by the pundits, the annual Cesar Chavez day events began unfolding across the land.
At a well-attended March 29 gathering in Albuquerque, New Mexico, another legendary farm labor leader and former colleague of Chavez had a message:
"Don't put that cause in the museum. It doesn't belong there. It belongs on the streets."
Such were the words of Baldemar Velasquez, founder and president of the Ohio-based Farm Labor Organizing Committee AFL-CIO (FLOC).
Velasquez joined other speakers in addressing a host of social and economic issues following a march to the National Hispanic Cultural Center, which appropriately enough, is located on a street named after Cesar Chavez. A large crowd also heard music, took in the words of poets and mingled among the tables of community groups ranging from El Encuentro immigrant project to the Sierra Club.
The big turnout and breadth of activism on display, as well as on the streets of Albuquerque in recent days, hinted at a New Mexico Spring. Two big issues commanding the public's interest on Cesar Chavez Day 2014 were police shootings and immigration reform.
The ANSWER Coalition passed out flyers publicizing an April 2 candlelight vigil in Albuquerque for James Boyd, the homeless camper whose shooting death by Albuquerque police last month has sparked mass protests that are beginning to go statewide.
In Las Cruces, the left activist organization Aggie Solidarity is planning an April 2 march and rally at New Mexico State University in protest of Boyd's shooting, statewide police abuses and militarization and the prison system, according to media reports. Back in the Duke City, meanwhile, activists plan another protest at the Albuquerque City Council meeting on April 7.
In Albuquerque, signs and t-shirts widely visible at the Cesar Chavez Day event proclaimed "Hunger (for) Reform," in reference to the still-stalled immigration reform in Washington.
Rachel Lazar, executive director of the Albuquerque-based immigrant advocacy organization El Centro de Igualdad y Derechos, told FNS that like-minded groups statewide were planning to participate in an April 5 national day of action against deportations. El Centro, Lazar said, was also gearing up for the now-annual May Day march and rally for immigrant rights and legislative reform.
On a ceremonial note, the organizers of Albuquerque's Recuerda a Cesar Chavez Committee presented two longtime community activists with lifetime service awards.
Awarded the Cesar E. Chavez Si Se Puede recognition, Center of Southwest Culture founder Arturo Sandoval told how he made sure to hand down to his children their family's history of activism dating back to the times of Las Gorras Blancas, the 19th century land rights resistance organization of northern New Mexico.
Sophia Martinez, president of the Concerned Citizens of Wagon Mound and Mora County and co-founder of Los Jardines Institute in Albuquerque, was handed the Dolores Huerta Si Se Puede award.
Telling the crowd that there could be no peace without justice, Martinez urged the audience to keep up the struggle, whether the issue is the environment or the police department.
"We can't even have vegetables without justice," Martinez declared, to the delight of the crowd.
Several elected officials or their representatives also were on hand to celebrate Cesar Chavez's legacy.
Congresswoman Michelle Grisham-Lujan of New Mexico's First Congressional District spoke about her recent introduction of the Health Equity and Access Law under the Law for Immigrant Women and Families Act of 2014 (HEAL Act).
Grisham-Lujan's bill would grant legal immigrants access to Medicaid, the Children's Health Insurance Program and tax credits available through the Affordable Care Act, or Obamacare.
According to the New Mexico representative's office, more than 600,000 permanent residents are currently blocked from accessing federal healthcare benefits, leading to costly emergency room visits.
"My bill would remove that bar," Grisham-Lujan told FNS. "It would save the health system money. It's one of the most important pieces of legislation I've introduced."
On another hot issue, the first-term congresswoman said she was "very, very concerned" about the issues surrounding the March 16 Albuquerque police shooting of James Boyd, and would monitor the situation to insure there was "accountability."
Grisham-Lujan said she had been contacted by many "confused and concerned" constituents who want to know if there is an objective, independent justice process. "I do, too," she said.
In a bilingual Spanish-English keynote speech, FLOC's Baldemar Velasquez recounted how he worked the fields as the 5-year-old child of parents who migrated from Texas' Rio Grande Valley to the Midwest. Velasquez then recalled life-long experiences with Cesar Chavez, which lasted until the United Farm Workers union leader's death in 1993. Finally, Velasquez touched on campaigns to improve the conditions of today's farmworkers in different parts of the United States.
Over the decades, FLOC has led very innovative labor organizing campaigns; for instance, the union waged a successful corporate campaign in the late 1970s and 1980s to negotiate contracts with food processing companies that contracted with tomato and cucumber farmers. In this set-up, farmworkers' wages were ultimately dependent on what the food processing companies paid growers, FLOC determined.
"We took on Campbell's and beat them. We took on Heinz and beat them," Velasquez said.
More recently, FLOC has negotiated contracts for 7,000 Mexican H2A guestworkers and launched a campaign to organize 20,000 undocumented workers in the tobacco fields of Tennessee, Kentucky and the Carolinas, according to the union's longtime leader.
Velasquez said some people call FLOC crazy to take on big companies like Phillip Morris, but the longtime union leader added that something Cesar Chavez once told him comes to bear in the tobacco workers' campaign: "The rich have money. We have time."
The release of the Cesar Chavez movie, Velasquez contended, is an opportunity to reaffirm a movement for justice that is stirring among the youth of the nation. A new generation of leaders, he said, was waiting in the wings.
"Somebody will be a new Cesar Chavez," Velasquez predicted. "It's up to us to raise them up."
Albuquerque's 21st Annual Cesar Chavez Day was co-sponsored by the City of Albuquerque, the County of Bernalillo, National Hispanic Cultural Center, Center of Southwest Culture, and the McCune Charitable Foundation.