There are few countries where public art is more vibrant than in Mexico. In any part of that country it often seems that every ancient ruin, plaza or green space, building, wall, or simple dish of food was made to delight the senses. From ceramics to silver and hand-woven fabric, there is something for every taste. The great mid-twentieth century muralists—Diego Rivera, José Clemente Orozco, and Rufino Tamayo, to name only the best known—and other art from pre-Hispanic times to the present offer history as well as profound aesthetic value. High quality crafts are promoted and controlled by a government agency. Mexico is good to its artists.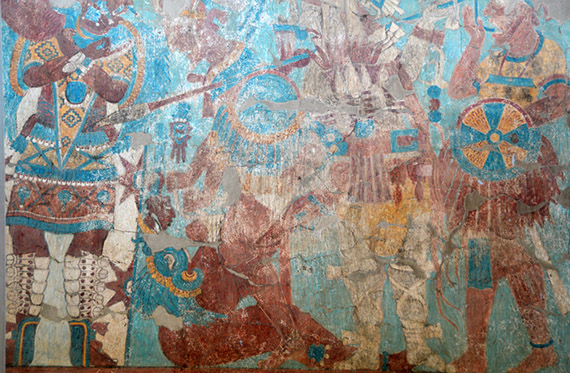 I recently visited Cacaxtla, an archaeological site situated in the southern state of Tlaxcala. A large open-sided structure with an overhanging roof protects the vibrantly colored murals painted in unmistakable Mayan style. Looters first drew attention to the ruin in 1974, and archaeologists began working to study and protect it that same year. It is believed that the largely ceremonial complex was inhabited from 650 to 900 AD, and that some 10,000 people lived there at its peak. The city probably controlled an important trade route through the region, attracting Maya people from further south. These Maya or their artistic influences were responsible for the murals.
Was this public art, in our concept of the term? Hard to say. As with our own rock art, we know so little about who painted these murals. Were they men, women, perhaps even young people? Did artists apprentice to masters or evolve on their own? What drew someone to make art? Were they considered special in their society? And were these manifestations even considered art as we think of that category today? Art historians cannot trace the hand of an individual painter or determine provenance as they can when studying European art. A single man or woman or a select group may have been responsible for the murals at Cacaxtla.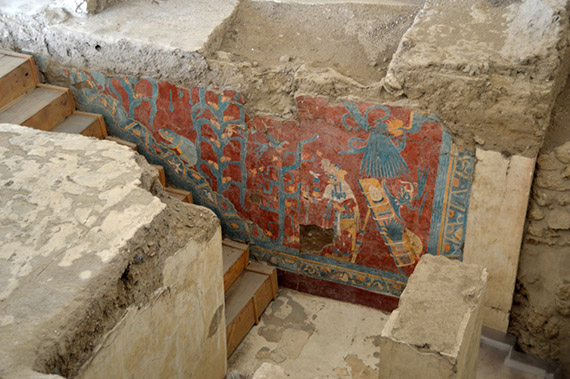 At Cacaxtla, long walls on either side of what was once a central staircase display a battle scene in predominant blues and dark reds. In another part of the structure, flanking a doorway, another set of murals has been uncovered. These are thought to be portraits, perhaps of important figures. They employ different weights of line—thick and thin—and present a dimensionality and emotional intensity not often seen in pre-Hispanic art, either in Mexico or farther south. Art historian Donald Robertson has written that, "Cacaxtla allows us to introduce the man as artist into the process of history." I think we have been able to do that in many other places and in many other examples of ancient art. But Cacaxtla prods us to ask interesting questions.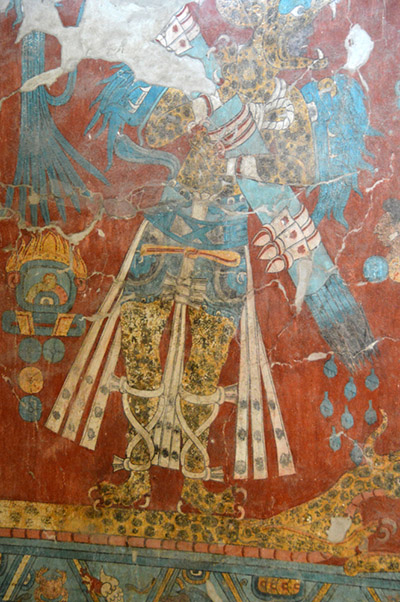 Whether for the privileged few who made up Cacaxtla's royal families or for the great masses of people who served them, to be able to view these marvelous murals before climactic and human destruction set in must have been a powerful experience. Many of the Aztec, Maya and other sites, throughout what we now call Mesoamerica (Mexico, Guatemala, Honduras, El Salvador and Belize), were stuccoed and covered in brightly-colored images. It was how they presented their homes, religious and political centers. In this sense, we may call it public art. The Mexican muralists of the last century continued this tradition in their own way. A great many public buildings continue to display their murals with pride.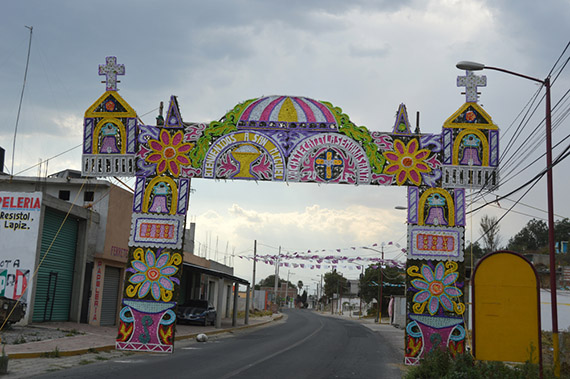 Other examples of Mexico's love of color and design can be seen throughout the country. Any holiday, religious or secular, is the occasion to create an archway of paper flowers or dress a church that in and of itself is a work of art. The entrance to the small town in the above photo dressed up for Easter. Below, the bell tower of the San Francisco Acatepec Church, in Cholula, is entirely covered with Talavera tile; the pink and white flags streaming in the wind are but a temporal addition to a building of permanent beauty.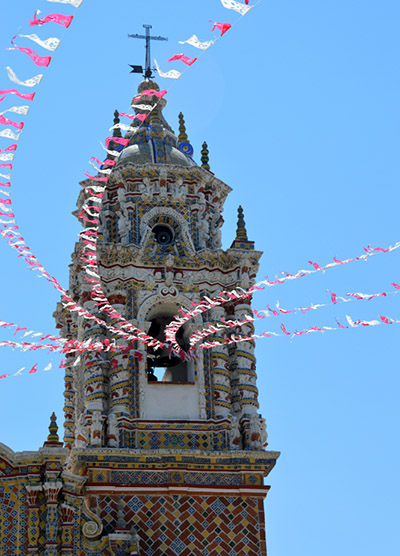 Albuquerque, like many US American cities, designates 1% of its city construction funds to commission works of art. In this respect it is on a par with much larger US cities such as New York and San Francisco. Most of us know the quirky tile car by Barbara Grygutis, popularly known as "Chevy on a Stick," perched on its tall pedestal at the corner of Gibson and San Mateo. Our downtown murals have become a part of the cityscape. Public sculptures include La Jornada (controversial bronze figures of conquest) in front of the Art Museum; the lifelike bear with her cub by Reynaldo Rivera, nestled just west of Tramway Boulevard at Bear Canyon; Luis Jiménez Jr.'s exuberant larger than life-size fiberglass figures on the campus of the University of New Mexico and in Martíneztown; Barelas' bright tilework; Susan Linnell's "River of Life" mosaic on the city's west side; Gordon Huether's giant stainless steel maguey that graces the eastern gateway to the city along Route 66; and Joan Weissman's bus stop benches and low walls, or her neon arches marking the entrance to Nob Hill. One of the area's loveliest monuments is the Elena Gallegos "Five Stones" memorial by Billie Walters. And there is so much more.
All this public art gives character to our city. Few may know the names of the artists who produced each piece, but most would be sorry to see any of those pieces go. Despite the fact that the United States is one of the developed countries that designates the least amount of funding to public art, and our culture generally privileges commercialism over the fine arts, despite the fact that even art in the schools is now considered an "extra" or a luxury, we need this sustenance for our imagination in ways we may not suspect. It settles in our senses and nurtures our spirits. It counteracts our obscene conviviality with the mundane, the culturally impoverished, the degenerate and the just plain ugly.
If our civilization beats the odds, and traces of it can still be seen hundreds or thousands of years from now, will viewers be startled into ecstasy by what they find? Will they wonder who painted or sculpted the artistic vestiges, what they meant to the people who created or lived with them, and how they were valued in their time? Will someone look at them, as we look today at the murals of Cacaxtla, and try to imagine our lives and values as reflected in them?