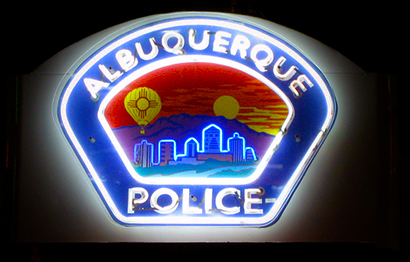 A task force working on police accountability in Albuquerque is on track to wrap up its mission by the end of the year. Although the city council-appointed Police Oversight Task Force (POTF) held this month the last of three forums designed to gather community input, public comments are still being accepted for a final report.
Andrew Lipman, POTF chair, told FNS that his group should have recommendations for possible changes to the official police oversight commission ready for city councilors to consider by the end of December. "We need to keep on moving," Lipman said.
The task force Lipman chairs grew out of public concerns arising from 28 officer-involved shootings -- 17 of them fatal -- between 2010 and 2012, as well as criticisms that the existing Police Oversight Commission (POC) wasn't doing its job to hold officers accountable.
On a separate track, the United States Department of Justice is investigating the Albuquerque Police Department (APD) for possible civil rights violations. Most of the individuals killed in the incidents that sparked the probe were Latino males.
Currently, the APD is commanded by an interim chief, veteran officer Allen Banks, who took over after Ray Schultz retired during the summer.
At the final public forum convened by the task force in southeast Albuquerque on October 17, several citizens complained about a lack of transparency in the disciplining of abusive officers, alleged problems with the person in charge of processing citizen complaints for the POC, police confiscations of identification cards and other property belonging to homeless persons, and a general lack of community trust of the APD.
Duke City educator Jeanne Pahls appealed for broad changes. "I think what you really need to do is restore confidence in the police department," Pahls said. "Just hearing comments of students in the classroom, it gives me a chill on how low confidence is." Pahls proposed that the POC have the power to discipline and fire officers.
For truth's sake, Jesse Tucker said more needed to be done to insure that officers use the small video cameras which have been required since May 2012. "It's critical for the police and the public to have cooperation," Tucker said. "I think [camera use] needs to be much more mandatory than it seems to be."
Long-time Albuquerque resident Charlie Arasim called for the firing of POC Independent Review Officer (IRO) Robin Hammer, the official responsible for handling citizen complaints against officers.
In a prepared statement, Arasim charged that Hammer didn't make the grade in the fields of independent oversight, community outreach, civil rights training and transparency.
According to Arasim, Hammer has also failed to investigate alleged violations of federal law in the police detention of witnesses, as well as address the "rampant philandering inside APD that no doubt contributed to the death of Tera Chavez, numerous APD officer Domestic Violence cases, and most likely a number of APD officer suicides."
Chavez was a 26-year-old Los Lunas resident who was found dead in her home with a single gunshot wound in 2007. Chavez's husband, former APD officer Levi Chavez, was eventually indicted for murder but acquitted by a Bernalillo jury this past summer. Levi Chavez contended that his wife committed suicide. The ex-cop faces a wrongful death civil lawsuit next year, according to media reports.
The Chavez trial exposed marital cheating and so-called "wife swapping" among APD officers.
Hammer did not return a message from FNS seeking comment. Her office said she was out on a training this week. Hammer assumed the IRO position last year. She previously worked as a deputy district attorney in the Bernalillo, Santa Fe and Farmington areas and served on a judicial standards commission. Hammer's office publishes reports and statistics on both citizen complaints and commendations of the police department.
Information posted on the IRO's website shows a generally steady level of complaints during the last three years, revealing that APD officers were the subject of 273 such complaints in 2010, 255 in 2011 and 260 in 2012. The most frequent complaint concerned an officer's individual conduct.
The IRO reported that 8 officers were suspended in 2012, while 31 others were given counseling, training referral, letters of reprimand or verbal warnings.
In the first quarter of 2013, the most recent time period covered on the website, the IRO handled 59 complaints, 40 of which were "inactivated" or closed.
A majority of the complaints since 2010 were inactivated, with only 62 of 260 initial complaints making it through the full process last year. Grounds for inactivation include failure to file the complaint within the required 90 days, lack of information such as the name of the officer or a successful mediation.
Peter Simonson, American Civil Liberties Union of New Mexico executive director and POTF member, spoke to last week's meeting about structural factors influencing the POC. Simonson said the commission operates under some constraints dictated by the collective bargaining agreement between the police union and the city, adding that he detected a "tension" between the POC's job of judging individual complaints and tackling broader policy matters.
In the aftermath of shootings, multi-million dollar civil lawsuits and oversight controversies, the issue of whether officers have enough skills to deal with emotionally disturbed individuals or persons suffering Post-Traumatic Stress Disorder has become grist for public debate.
At the October 17 public forum, a civilian psychologist contracted with APD challenged assertions that APD officers receive less than four hours training in interacting with disturbed persons.
"This is patently false," said Dr. Nicole Duranceaux. According to Duranceaux, relevant training is given during a 56-hour block, while another 40-hour course in crisis intervention is available, also with the goal of working "toward a peaceful and satisfactory resolution to an incident." Duranceaux said the New Mexico Police Academy's decision to lower overall training requirements to 600 hours does not apply to APD, which will continue to require 800 hours from new recruits.
Viewed comparatively, APD is always "at the forefront of more with national departments," she insisted.
Another long-standing issue drawing oversight attention is APD's interactions with marginalized groups, including the vast homeless population and street sex workers.
In a separate interview, an advocate for Albuquerque's estimated 500 street hookers said she's heard complaints about officers raping or shaking women down for money.
Christine Barber, executive director of Safe Sex Work, said complaints are passed along to police commanders, who are willing to investigate, but usually run into a dead end when the complaining parties refrain from pursuing a formal case due to fear of retaliation or being arrested on an outstanding warrant.
Another issue, Barber said, is officers confiscating syringes legally being exchanged for public health reasons. "We can't get them to stop," she said.
Until now, the POC has fallen short in reprimanding officers, she said. According to Barber, the POC has historically favored the police over the citizenry. "They need to be there for both. They need to be a neutral party," Barber said, urging that the complaint process be brought out of the shadows and into the sunlight.
The POTF will hold a series of regular meetings, all open to the public, through the end of the year. The next scheduled meeting is set for Thursday, October 24, at 5:30 pm on the 9th floor of Albuquerque City Hall.
A "virtual" town hall aimed at gathering more public input before the POTF submits its final recommendations to the Albuquerque City Council is also in the works.
For more information on both the POTF and POC, readers can consult the following websites:
http://www.cabq.gov/iro/" target="_blank">http://www.cabq.gov/council/projects/current-projects/police-oversight-task-force
http://www.cabq.gov/iro/
(Photo: APD sign by C Jill Reed)