This is a story of three young women in Juárez, Mexico. The first is the beautiful Rubí shown in the photo here with her baby, Brayan. The problem is that she is only fourteen years old and her "husband" who's nicknamed "El Pollito" or the "little chicken" is twenty years old and pretty much a loser.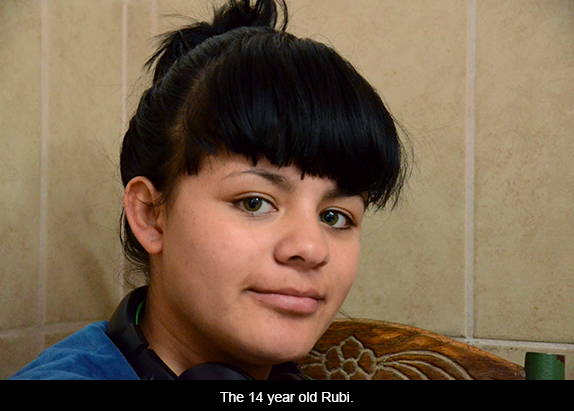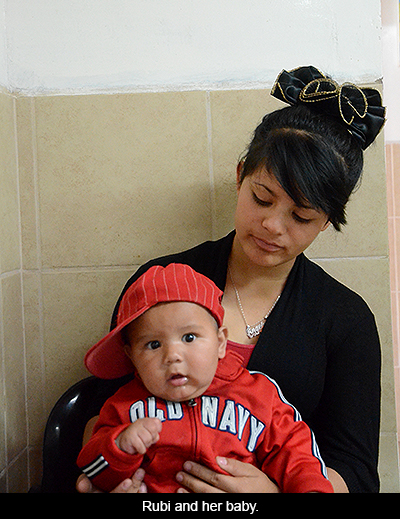 The second is 16 year old Yeira Rubi Beltrán who graduated from the "secundaria" or "middle school" on July 3 and will be starting her three years of high school in August. She lives with her grandmother, Elvira Romero on the west edge of Juárez. Her parents are alive; her mother is an addict and lives in Sonoyta, a border town many hours by bus to the west and her father lives in Juárez but provides no support. In fact, he recently told her to meet him at a traffic intersection a few miles from her home so that he could give her some financial support. She went three times but he never appeared.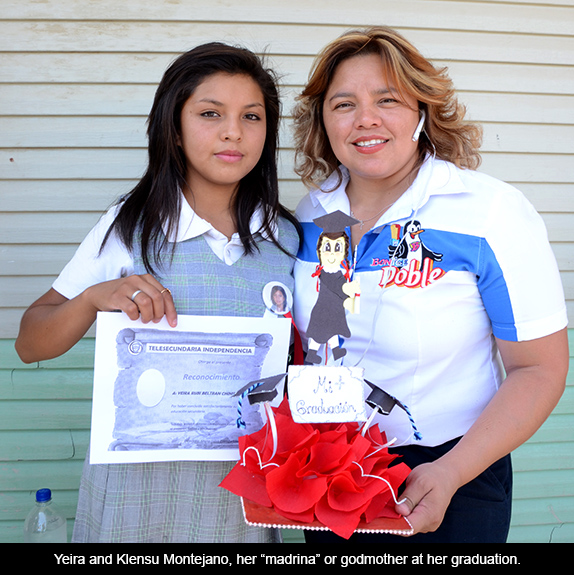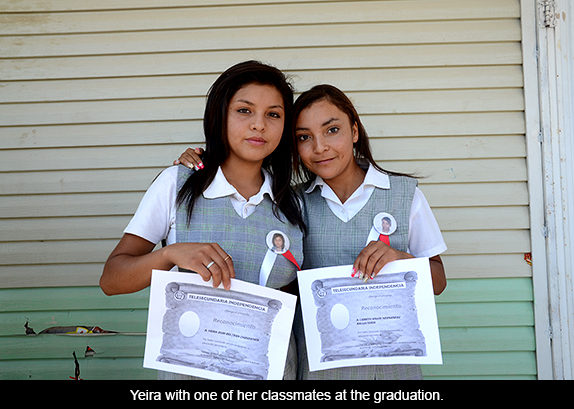 The third woman is the 28 year old Cinthia who, in some ways, has the most talent of the three. Born in Juárez, she grew up in El Paso and Ponca City, Oklahoma, speaks excellent English as well as Spanish and knows how to get along in both countries. Her problem is that she is bi-polar as well as an addict and has now been committed to Vision in Action, the mental asylum near Yeira's home where Yeira's grandmother used to work. She is currently being kept in a cell because her mood swings cause her to lash out at others.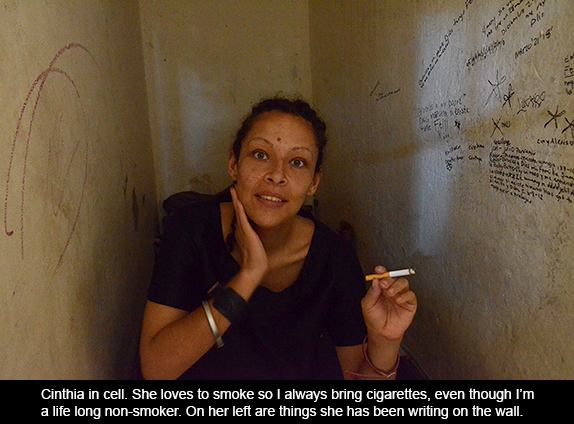 These three stories are intertwined by virtue of the asylum and the leadership of its founder, Pastor josé Antonio Galván.
Rubí's mother and father in law, Lupe and Beto work at the asylum so there is employment in the family and a home where she can live. In addition, several of us have put together a small educational fund so she will be able to continue her schooling. Where that will lead is hard to tell but at least she has some financial and family support.
This fund will also help Yeira continue her education at least through high school. Although her parents are of no help, she does have her grandmother and her older brother, Hector who is 16 and now works at the asylum.
Cinthia has family in both Juárez and Oklahoma. I've spoken to them by phone but they either can't or won't help. Perhaps it's a money problem. More likely, they recognize that she is unmanageable.
What brings them all together is the way in which Pastor Galván has created a family atmosphere where not only the patients but the members of the larger "family" provide an enormous amount of support for each other. Rubí is perfectly comfortable there with her baby. Yeira began going there on the weekends many years ago with her grandmother, Elvira because Elvira was the cook and felt that Yeira and Hector were safer with the mental patients than at home in a very dangerous neighborhood.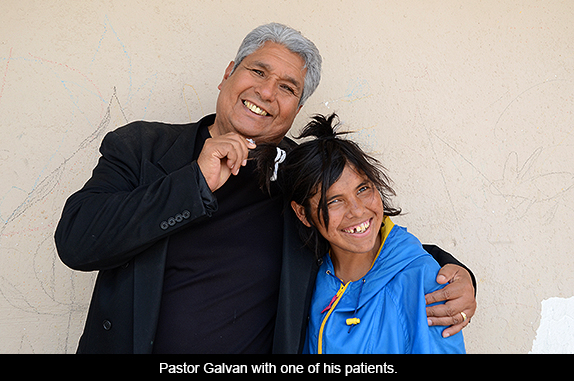 Cinthia, despite her talk about getting married and wearing a white dress, seems to know that she won't be able to leave the asylum soon and that she has little control over these bi-polar moods swings or her drinking. Despite being the most "damaged" of the three, she is also the most self-aware.
So Rubí has family support as well as money for school and Cinthia, who may be too troubled to ever make a comeback, at least has a safe place to live. Where does that leave Yeira who also has money for school but has been abandoned by her parents and is living a precarious financial life with her grandmother who has all sorts of health problems? What does she do next after the glow of graduating from the" secundaria" wears off?
I think that I saw a hint of her future after the graduation ceremony on July 3. Pastor Galván invited Yeira and Elvira to the asylum for lunch. This may sound like an odd invitation – lunch at a mental asylum - but they probably had little if any food at home and the food at the asylum is quite good. When we got there, however, Yeira disappeared. I finally found her in a dark corner of the little cell block area where Cinthia is detained. Yeira was outside her cell and Cinthia was talking away. It seemed like a moment of happiness for both of them but it astonished me, a fifteen year old girl seeking out an older and very disturbed mental patient in order to console her. Yet this is the bizarre world that young women live in in Mexico. If Yeira can reach out to someone as troubled as Cinthia, maybe she has the personal strength to survive in a world that is harsh beyond our imagination. That gesture to Cinthia said much more about her character and her future than stepping up on the stage a few hours earlier to receive her degree.