By Margaret Randall - International Raconteur
It started with a brief article by Jon Knudsen in The New Mexico Marketplace. As part of Knudsen's Touring New Mexico series, he reported on an extraordinary art exhibit at the Farmington Museum. I didn't know Farmington had an art museum and decided to check it out. In fact, the city of 46,000 in the northwestern corner of our state does not have a museum dedicated exclusively to fine art. But its city museum just finished giving a three-month run to one of the best collections of painting, sculpture, photography, prints and relevant ephemera I have seen in New Mexico—or anywhere else. "An Adventure in the Arts," a 73-piece collection of 20th Century masterworks on loan from the Guild Hall Museum in East Hampton, New York, opened on July 20th and closed on September 21st.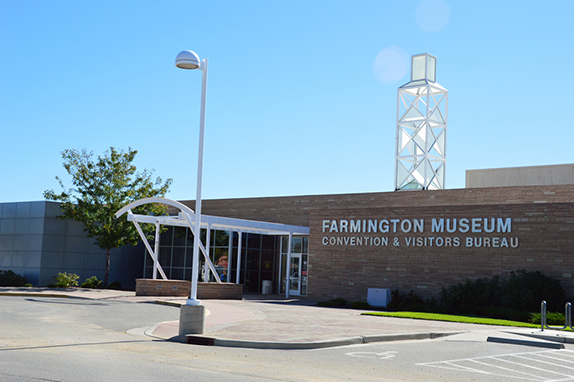 Because New Mexico Mercury readers won't have a chance to see this magnificent show, I'm tempted not to dwell on it and simply talk about the museum itself. But because having such a show in New Mexico is a rare occurrence—even in Albuquerque or Santa Fe where older and more heavily endowed institutions are exclusively dedicated to exhibiting fine art—I'll mention some of its highlights.
Willem and Elaine de Kooning, Jackson Pollack, Robert Motherwell, Jane Freilicher, Larry Rivers, Jane Wilson, Miriam Shapiro, Fairfield Porter, Chuck Close, Jasper Johns, Andy Warhol, Roy Lichtenstein, and Conrad Marca-Relli are just a few of the painters represented. Important artists from the last years of the 19th century, such as Howard Russell Butler and Thomas Moran, followed by Abraham Rattner and George Grosz of the next generation, provide an introduction to how art was beginning to change from one century to the next. The Abstract Expressionists, who dominated the New York art scene by mid-20th century, give the exhibit its major focus. And the examples of pop suggest what was to come.
This is an exhibit of context. Many of the most important artists are represented by several pieces each, often a couple of paintings and a drawing or print. Warhol's "Marilyn Monroe" surprises the viewer who may have seen it often in reproduction. So does Motherwell's striking simplicity and the explosive energy in Elaine de Kooning's "Bacchus." Evocative portraits of some of the artists, by photographers of the caliber of Henri Cartier-Bresson, Hans Namuth and Rudy Burckhardt, add an intimate dimension to the collection. Hedda Stern's very large drawing of art critic Harold Rosenberg provides another. The wide range of genres is notable. As are some wonderful pieces by such important sculptors as Ibram Lassaw (an elegant 1969 bronze), Max Ernst (the small 1948 "Face"), and William King (a whimsical wooden piece called "The Swimmer").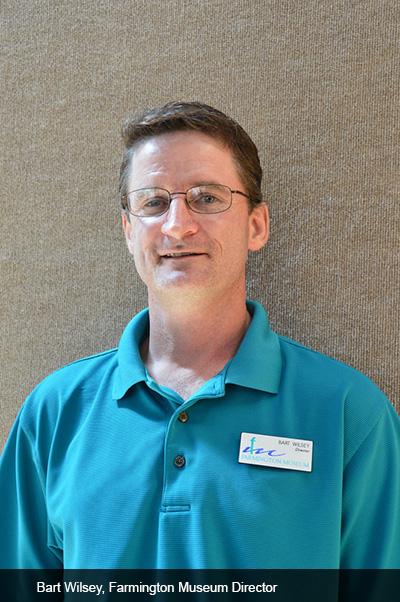 If I cannot resist the temptation to go into some detail about an exhibit that will be gone by the time this article is posted, it is to say something about the brilliance and innovation of Bart Wilsey, the Farmington Museum's director. I sat down with Wilsey and asked him about the museum's history and his own involvement with it. The first thing I wanted to know was how such a small city could support such an exciting institution.
Wilsey, who came to New Mexico from Lincoln, Nebraska, says the Farmington Museum is actually part of a small museum system. It began in the old library. The city took it over in 1984, and he came to work there in 1998: as a curator for several years, and then as its director. In 2004 the institution launched "From Dinosaurs to Drill Bits," showcasing the area's prominent involvement with energy. It drew a large number of viewers. Wilsey has been successful at getting some of the city's gas and oil families to underwrite a variety of events, including a major traveling exhibition of Ansel Adams photographs. He said he'd had his eye on "An Adventure in the Arts" for several years, and when he saw that it was on display in Montana was able to make arrangements for it to come to Farmington. He wants to strike a balance between the museum's permanent—or, as he prefers to call them, long-term—exhibits and traveling shows.
After a half-hour with Wilsey, it was clear to me that he is an expert and knowledgeable art historian, curator, fundraiser, and visionary; his concept for the museum's expansion is extremely exciting. I couldn't help asking how a city the size of Farmington is able to support such an endeavor, and if the museum's exhibits are well attended. I wanted to know, for example, if Farmington has its own symphony orchestra. Wilsey said that it shares one with nearby Durango, Colorado. But it is clear that the museum is developing a clientele, both local and from around the state. "An Adventure in the Arts" drew visitors from as far away as Moriarity, who traveled just to see the collection.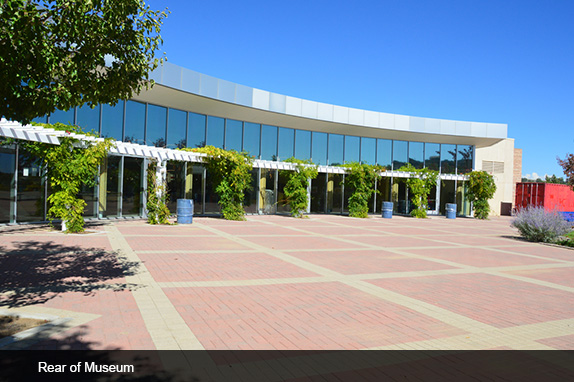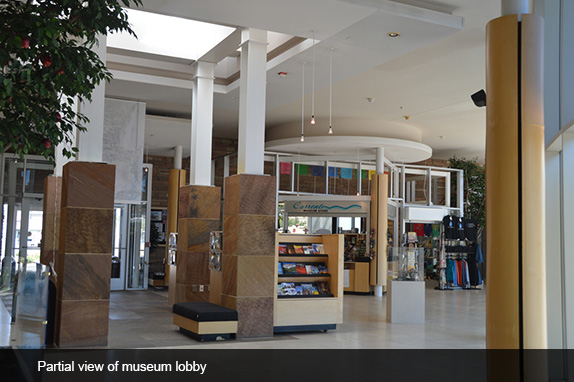 The museum has recently acquired a large local collection of gas station memorabilia—old pumps, signs, and other items. Some of these are on display. Others will become part of the ambitious new wing already under construction and due to open in January of 2014. This will provide museum attendees with an in-depth panorama of the energy industry and its impact on the region: carbon-based gas, oil, and coal, as well as sun, wind, and other more sustainable forms. The permanent interactive exhibit will show how energy is extracted from ground and air, what it's like to descend into a mine or work at a power plant, how the various types of energy are refined. With the Obama administration finally pressing ahead with tougher requirements for new coal-fired power plants and moving for the first time to impose strict limits on the pollution that causes global warming, an in-depth explanation of how different sorts of energy work is a draw for any museum.
This permanent exhibit will be the centerpiece of a 2-phase expansion plan. The museum now occupies 23,000 square feet of space. When the expansion is completed it will have 10,000 more, including 2,500 of additional storage space (at the moment many of the museum's holdings are kept in large containers). For this ambitious project Wilsey has already raised a million dollars but believes another million will be needed. He has forged productive relations with gas and oil money, something that has funded art in the Roswell area as well. He has also been working closely with Albuquerque's Natural History Museum, the BLM (Bureau of Land Management), and other agencies and institutions.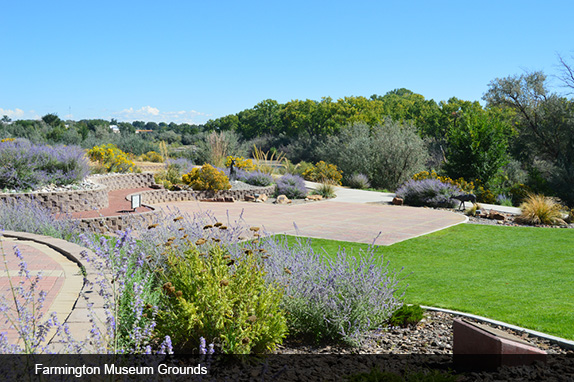 In as energy-rich a region as the Four Corners, interest in energy isn't surprising. But Farmington also lies at the edge of the vast Navajo reservation, and the city's population, although slightly more than half White, also includes Hispanics and Latinos, African Americans, Native Americans, Asians, and Pacific Islanders. The Native American population living in the adjacent rural areas is important and has its own rich cultural legacy. Farmington's environs have long been home to Ancestral Puebloan life, as evidenced in the nearby ruins at Salmon and Aztec.
I wanted to know if the museum attracts Native American visitors. Wilsey pointed to an immense poster advertising an exhibit of Navajo weavings from Red Valley, Arizona, hosted at the museum from November 2002 through April 2003. Four hundred Navajo people came to the opening, causing the mayor to call the city manager and tell him: "You have to get down here and see this." I asked if Native Americans attend other sorts of exhibits, and he said they do.
In the mid 2000's the Farmington Museum also hosted an exhibit of documentary photographs by John Colllier, Jr. These were made in the 1950s at Fruitland, Waterflow, and other mostly indigenous communities between Farmington and Shiprock. Wilsey told me he remembers a Navajo woman at the opening looking at a particular photograph and commenting: "I remember that photographer coming around, but I never knew what happened to the pictures." The photograph was of a house she once lived in. As a result of this show, the museum was able to acquire 800 negatives for its collection.
Another of the museum's highlights is its intricate close to full-sized model of a traditional trading post, complete with horse and wagon team, store counter with its assortment of goods, and sampling of fine Navajo rugs. Wilsey says that when he came to the job, the museum owned a small number of Navajo rugs, only a dozen or so in good condition. With the acquisition of the Bob Culpepper collection, he has worked at enlarging their holdings, with an eye to quality and variety of styles. Today there are several dozen rugs on display, many of which are true museum pieces. One large Two Gray Hills caught my attention, a 9 x 12-foot rug woven in 1978 by Dorothy Francis at Mexican Water. There are many others of unusual quality or significance.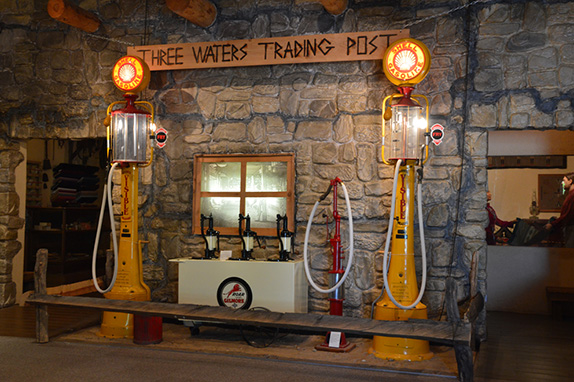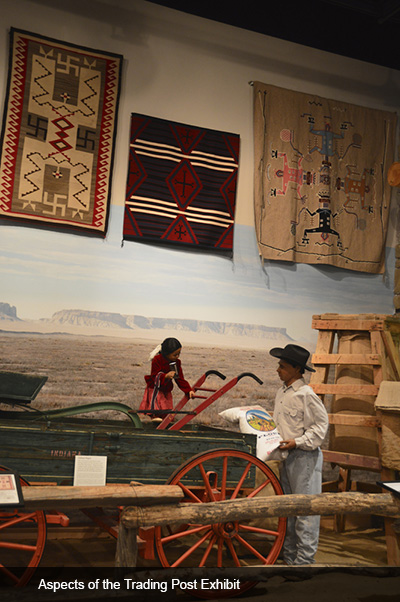 Wilsey was eager to show me the museum's beautiful gardens, right on the banks of the Animas River, which after our recent rains was flowing high. He pointed out the inviting area where concerts and other community events are regularly held. It is clear that the museum, which shares space with the city's convention center but possesses a large number of exhibition halls, is a major focal point of cultural activity in the Four Corners. After this brief visit, I would eagerly drive the three hours from Albuquerque to attend a show or other activity.
The Farmington Museum is located at 3041 East Main Street at the Gateway Complex. It is open Monday through Saturday from 8 to 5.