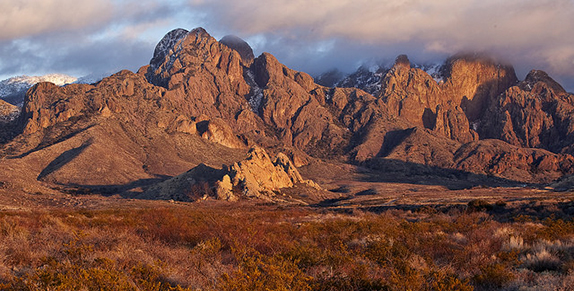 Dear New Mexico,
No one writes letters anymore. No one ever writes to states. They should. I'm writing to you because I've just driven through your land, beneath your open sky, for ten days. Now that I'm back in Colorado, my belly is too empty. I miss you.
I miss you, and I've never taken the time to tell you how I love you.
The first time I met you, in 1998, I was twenty. I'd traveled all the way to Las Cruces because I'd fallen in love with a boy who was from there. He said he wanted to show me the desert. I'd grown up in eastern Iowa, where the soil was loamy black, where the green corn grew tall above my head. The desert was a different world: exposed rock and sand and ocotillos beneath a great expanse of blue, secrets of water, hidden green. The boy I loved took me up a hot trail in the Organs to the shade of cottonwoods, a cool stream. In love, I forgot to drink water and became so dehydrated I couldn't piece my words together into sentences. But maybe that was love, too.
In the summers in college, I worked in southern Colorado, and sometimes my work sent me south, to you. I once played capture-the-flag in red mud near Cloudcroft; I stayed in the hushed cool of an adobe house in Santa Fe; I crossed the border after a week in Juarez and loved your sparse silence; I jumped off the cornice of a white sand dune near Alamogordo, shouting, my long arms in the air.
I longed to move toward you. In Las Cruces in 2000, freelance writing for the Sun News and substitute teaching, I heard people complain: there's nothing in New Mexico. Had they seen the cranes lift from the water in an early morning in the Bosque? Had they hiked knee-deep in the cold water of the Gila River to find black bears, pinon forests? Once, my friends and I drove to a small caldera south of Cruces, hiked down to the floor and found green crystals embedded in the rocks. Once, I stood on red rocks near the Organ Needle and heard the voice of God. On summer nights, we climbed onto our flat-roofed house in Cruces to watch purple lightning spiderweb across the sky.
Why didn't I stay? My heart wonders. I don't know now what my twenty-three-year-old self needed that you didn't offer. I can't remember now why I drove north to Alaska – and stayed for ten years.
What I do know: Alaska was never home. When I dipped my toes into the frigid salt water, when I hoisted my backpack to trek across the tundra, I admired Alaska, but I was never at home there. People on airplanes asked me, Where are you from? Not Iowa, though I loved growing up there. Not Alaska, though I currently lived there. I didn't know where I was from. I was homeless, and I couldn't find my way back.
Then, this spring, sixteen years after I first set eyes on you, I drove across the Colorado border and found you again. My seven-year-old daughter yelled from the back seat, "Goodbye, Colorado! Hello, New Mexico! Mommy, if you love New Mexico, why are you crying?"
Georgia O'Keefe said the desert in New Mexico had its own power. When she visited a friend in Taos, she couldn't return to New York. She couldn't bear to be away from you, once she'd been with you, once she'd known how you could fill her.
I was crying, both hands on my Honda's steering wheel as I drove south on I-25, because I'd come home. I knew it in the marrow of my bones.
I drove further south. The sun was setting behind the mountains, and as we curved along I-25 toward Las Vegas, the clouds caught fire: fuschia, orange, prickly pear flower yellow. "Oh, Mama," my daughter breathed.
For ten days, I drove, and sometimes I hiked through the desert and sat on red rock. I showed my daughter the flight of birds from mesquite to ocotillo. I stood in your vast silences.
I drove, and sometimes I cried.
A friend we visited in Cruces told me her mother finds the desert ugly. She says there's nothing there. I stoop to show my daughter fossilized dinosaur prints in the rock; I take her to a secret hot spring in the Gila; I point to the den of a ring-tailed cat in the shade of a cave. Beneath the sand is a stream; cut open the prickly pear fruit and taste the sweet purple nectar.
Home. I've been searching for it for so long, and all along, it's been you. I sit on a boulder by the Rio Frijoles near Chimayo, watching the young son of a friend jump into the cold clear water while my daughter collects flakes of mica from the rocks. Place doesn't matter. Only place matters. Red and tan cliffs frame the azure sky above us.
All along, it's been you. I wanted to drive and drive and drive, to touch every back road, to pause in every small town. Or I wanted to stop, finally, in a red-brown adobe, a ristra wreath on the blue-painted front door. I wanted to open that door and sit at the desk by the window, the one that gets the best morning light, and I wanted to uncap my pen – and begin.
But instead I returned to Colorado, where I fled when I needed to leave Alaska, where my parents live now, where I have a good job as a teacher, where my daughter has made friends. You call to me, New Mexico, but I can't answer. Not yet.
Not yet. But in my heart, like a clear curving river lined with cottonwoods, is what I know now: you are my home, and I'll return to you someday.
love,
Sarah