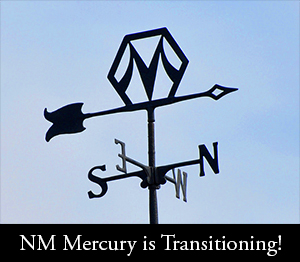 Dear Friends of the Mercury,
We are announcing a new and energizing reorganization of the Mercury's business structure. We are in the process of becoming a non-profit entity in order to offer tax deductible donation options for our supporters as well as pursue grant opportunities to further our cause. We are transforming our LLC into a non-profit corporation because the recession of 2008 still plays havoc with our local economy and our drive for honorary subscriptions, local advertising, and investors, did not pay off as we had hoped.
This spring and summer will be a time of transition for the Mercury. Our loyal readers will experience a slowdown in our editorial flow but not a suspension.
We will still offer the Mercury as you have come to know it, but not at the pace we've sustained for over two years.
The old Mercury will be folded into our non-profit product which will include an evolving video presence that will expand the Mercury's already unique and thought provoking niche in the New Mexico media market.
Please bear with us during this slow down and transition. Our job over these next months will be to find a non-profit fiscal sponsor, acquire funds for our expansion, and hone our mission to comply with the dictates of a non-profit structure. It will take up most of our time. But when we return to full production, the Mercury will rev up with many new video products and a resumption of the fine writing you've come to expect from our marvelous contributors.
Now might be a good time to go back through the Mercury's archives and enjoy some of the many hundreds of wonderful pieces from our more than 280 contributors that you might have missed over the last two years, including the brilliant work of Margaret Randall and other sterling regulars Wally Gordon, Zach Hively, Jim Burbank, Emanuele Corso, Morgan Smith, John Hunt, Mike Agar, Stevie Olson and many more. During this slow down you might also have time to revisit some of the more than 90 Insight New Mexico video interviews we've done on topics that endure beyond the hectic cycle of the news.
We'll keep you informed of our journey. And once our non-profit status has been solidified, we will be seeking your financial support as well. Our deepest thanks go to the many dozens of you who have given the Mercury financial gifts or who have become on-going honorary subscribers. You sustained our optimism and buoyed our spirits.
Until the not too distant future, with our gratitude as always,
V.B. Price and Benito Aragon