By Margaret Randall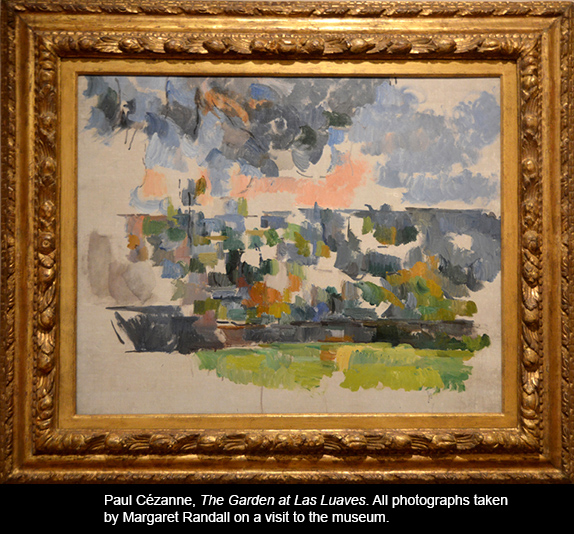 On a recent visit to Washington, DC we discovered the Phillips Collection, billed as the first museum of modern art in the United States and absolutely thrilling.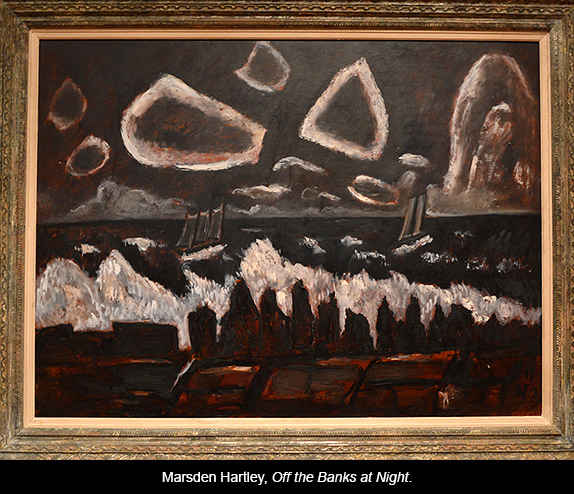 We'd started out that morning at The National Museum of Women in the Arts, another place we had somehow never managed to see. All I can really say about it was that, despite a lovely building, it is patently disappointing. The temporary exhibition was Meet Mary, and claimed numerous images of the Virgin from diverse countries and eras. It was completely Eurocentric: nothing at all from Africa, Latin America, Asia, or any indigenous culture. Every representation blond and blue-eyed. Not a Black Madonna in sight. The permanent collection on display was equally pitiful. There were mostly minor works by some major American women painters and a few from other countries. I was appalled.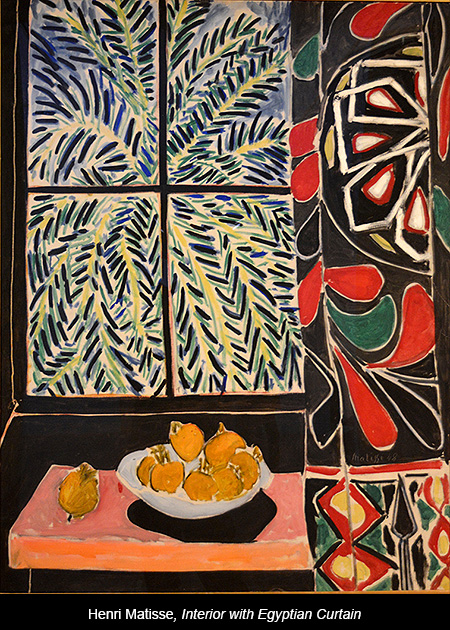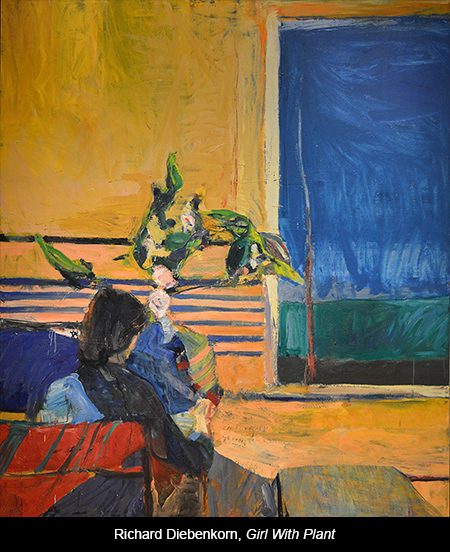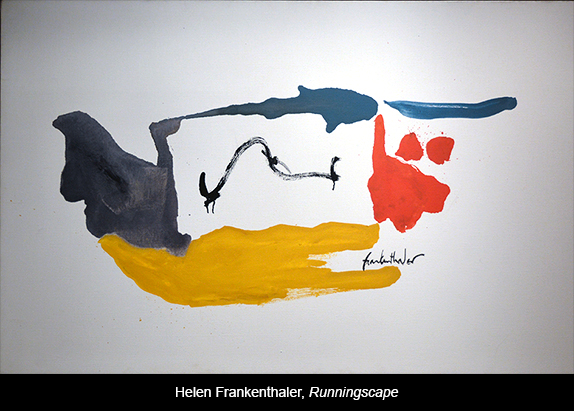 Perhaps this experience made the Phillips even more exciting. But I believe it would have been breathtaking in any circumstance.
Duncan Phillips (1886‒1966) was the younger son of Major Duncan Phillips, a Pittsburgh businessman and Civil War veteran, and Eliza Laughlin Phillips, whose father was a banker and co-founder of the Jones and Laughlin steelworks. He moved with his family to Washington in 1895. Duncan was very close to his older brother, Jim, with whom he graduated from Yale in 1908. The younger brother wrote extensively on art and published his first book, The Enchantment of Art, in 1914. He and Jim also collected works of art, obtaining an annual collecting allowance from their parents in 1916.
His father's death in 1917 and Jim's death from influenza in 1918 were stunning blows to Duncan Phillips. He and his mother responded by founding this museum, originally called the Phillips Memorial Art Gallery. "Sorrow all but overwhelmed me," he later wrote. "Then I turned to my love of painting for the will to live."
This museum is not about wealth alone. Knowledge and curatorial concept make it what it is. Duncan married the painter Marjorie Acker, and she and other friends helped him develop an eye for the best art being produced in the early-to-mid-20th century. As was the case with Gertrude Stein and Alice B. Toklas, knowing and being advised by artists made a big difference in the quality of the work they acquired.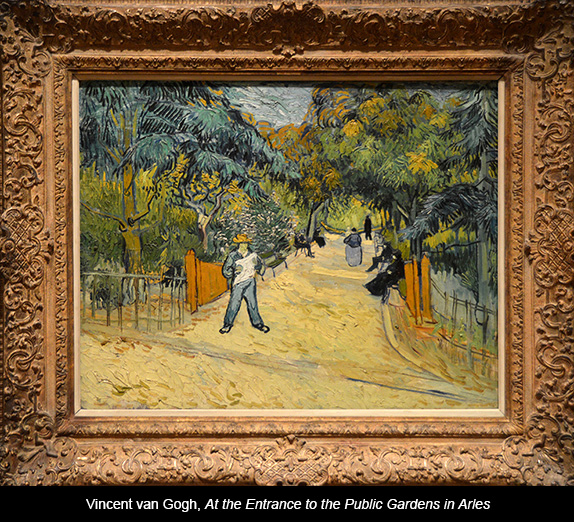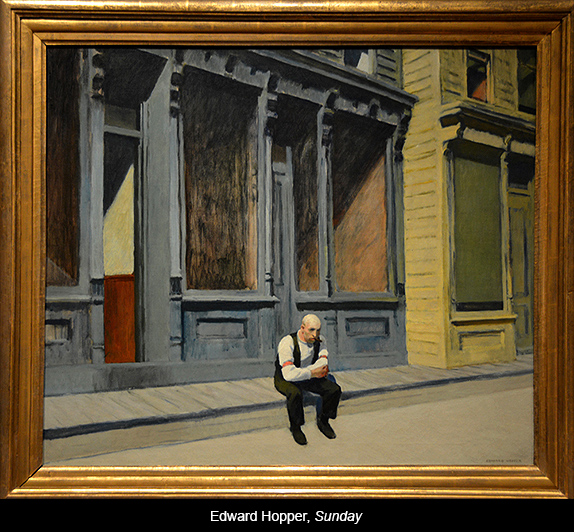 Duncan Phillips bought both American and European paintings, by such artists as Bonnard, Braque, Cézanne, Daumier, Kandinsky, Klee, Manet. Matisse, Goya, Hartley, Gris, Miró, O'Keeffe, Diebenkorn, Renoir, Soutine, Modigliani, Morisot, Seurat, Sisley, Roualt, Mondrian, Monet, Kokoshka, Willem de Kooning, Braque, Avery, Davis, Pollack, Toby, Degas, Still, Bonnard, Ryder, Francis, Noland, Guston, Homer, Frankenthaler, Gaugin, Eakins, Tamayo, Mitchell, Prendergast, Beal, Degas, Avery, Dufy, Hopper, Picasso, de Staël, Constable, and van Gogh. These artists and many others have several works on the walls here; some an even larger selection.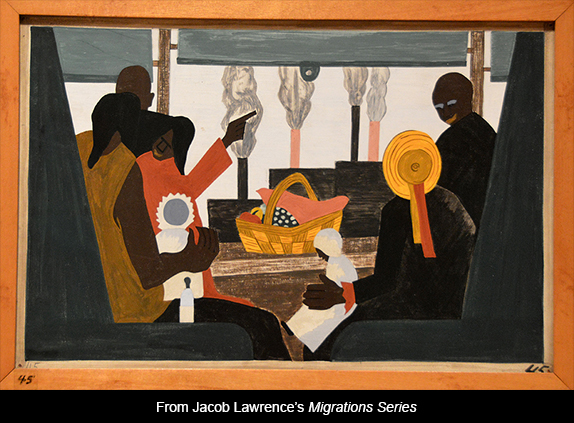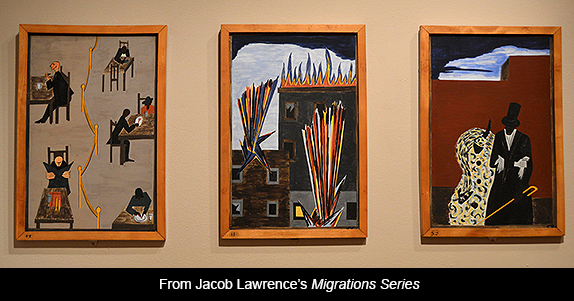 There are two rooms with paintings by Jacob Lawrence, including his poignant Migrations and Struggle series. The Phillips owns a number of important Georgia O'Keeffe paintings. Most were painted in New Mexico, and From the White Place is familiar to anyone who has visited that magical spot near Abiquiu. So often I find that major museums have minor works by O'Keefe. It was gratifying to see these that show her at her very best.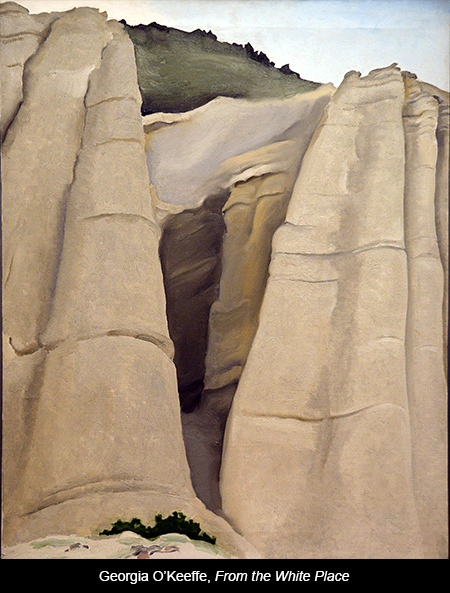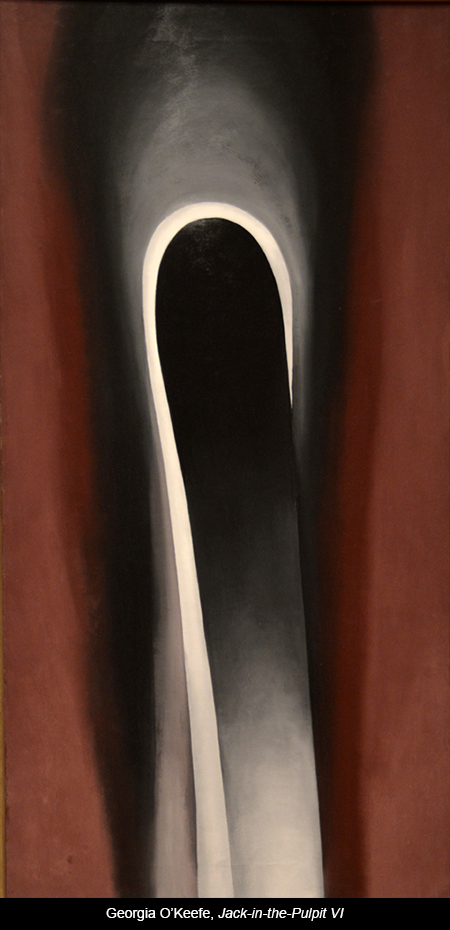 The impressionists are amply represented, and by some of their finest work. And The Phillips has the largest collection of work by Arthur Dove in the world; during the Great Depression Duncan Phillips gave Dove a monthly stipend in exchange for first choice of his yearly production.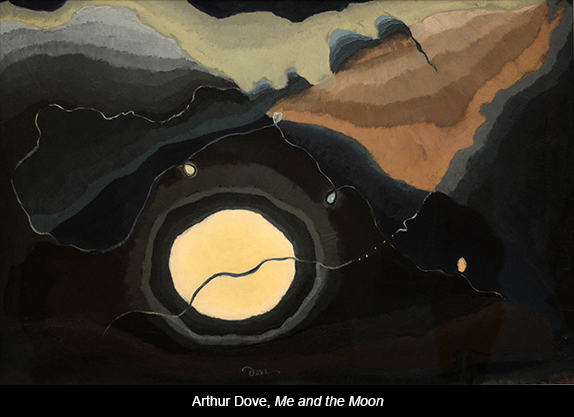 Some sculpture (Rodin) and photography (Stieglitz, Evans) is also on view, although it is clear that Phillips regarded these genres not so much on their own terms but in concert with the painting. In this museum, besides the excellence of the work itself it is really the conversation among the artists that is so interesting; Europeans and Americans speak across borders and styles. Recent acquisitions include paintings by such contemporaries as Anselm Kiefer, Whitfield Lovell, Susan Rothenberg, Leo Villareal, Sean Scully, and Valeska Soares. Although Duncan Phillips is no longer alive, it is clear that an inclusive philosophy of buying important work by important artists continues to define the museum.
One of my favorite paintings at the Phillips is the large Agustus Vincent Tack, Time and Timelessness (The Spirit of Creation). Its tones and manner of paint application evoke the Renaissance but its abstract subject matter is much more modern.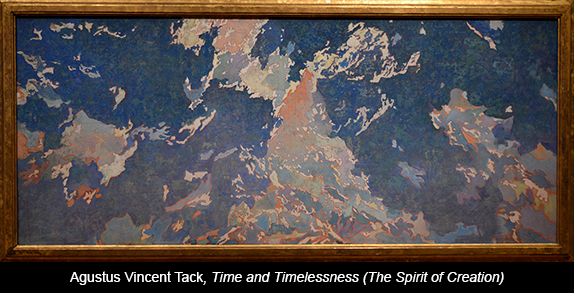 The Phillips Collection started out in the family home, a Georgian Revival at 1600 21st Street NW near Dupont Circle. In 1926 Duncan Phillips described it as an "intimate museum combined with an experiment station," and this has remained its mission statement. After the family moved out in 1930, a modernist wing was added in 1989, and in 2006 an additional space called the Sant Building. There is also a two-story Center for the Study of Modern Art, a place where classes and special programs, conversations with artists and concerts take place. Every gallery is perfectly curated, with ample space in which to view each work, plentiful benches, and helpful guards.
And the Phillips has its surprises. A small gallery containing four paintings by Mark Rothko is almost like a chapel. I read somewhere that when Rothko visited he left some notes regarding changes he wanted. The curators made those changes but eventually put things back the way they were; they considered it a more appropriate arrangement. The one change they maintained was Rothko's desire that there be a single viewing bench rather than two.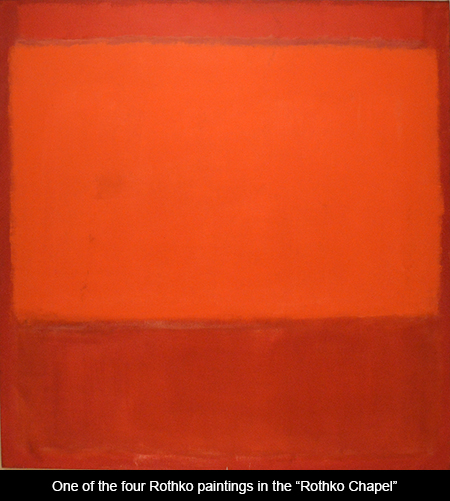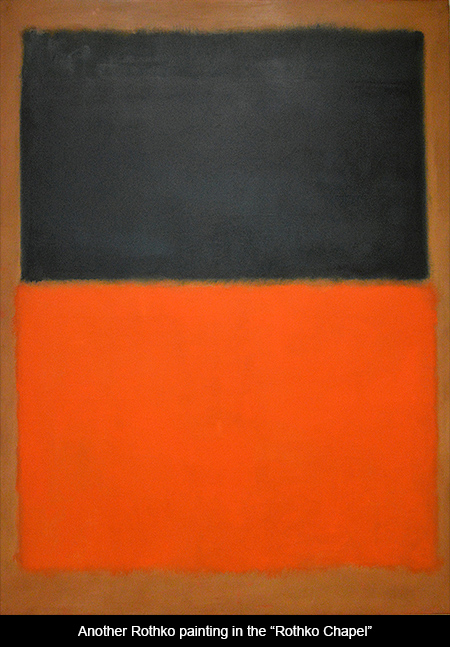 In 2013 an even smaller space was added, the first permanent wax room to be housed in a museum. It was commissioned from the German artist Wolfgang Laib, who used 440 pounds of beeswax in its construction. Only one or two people are permitted into this closet-like space, which is lit by a single light bulb hanging from the ceiling. The strong scent of the wax begs to be inhaled deeply, inducing a profound calm. Such touches bridge the fictitious divisions between art and other human experience.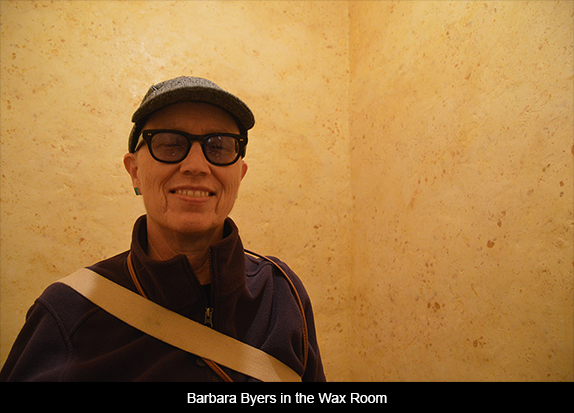 A visit to the Phillips Collection is a visit to a space where art is understood, loved, nurtured, and displayed to its very best advantage. Each work may be contemplated individually or as part of a great conversation. I will go back as often as I find myself in our nation's capital.