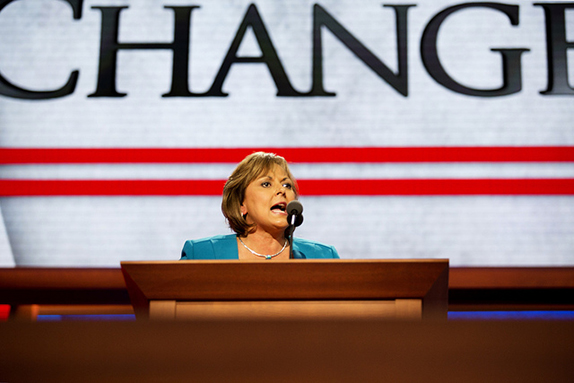 First of all, let me express my disdain for "conventional political wisdom", or these narratives that emerge among the political class (that would be me) and somehow become predominant in political conversation. My own modest political career, for example, has been a testimony against the conventional: unseating a popular 3 term Republican incumbent in a Republican-leaning swing district, voting against Governor Martinez's Draconian driver's license bill in this very same district, and most recently being fortunate enough to win a state senate seat. So, in the spirit of disclosure, I am instinctively skeptical of anything-- local or national-- presented as political truth, deemed an unassailable political reality. That Governor Martinez is a shoe-in for re-election in New Mexico, for example. Or that Democrats are going to lose the U.S. Senate in 2014. Or that Obamacare is some kind of partisan disaster for my side. Or...fill in the blank here for whatever the latest prediction is.
For the past year or so I have heard resignation from my fellow New Mexico Democrats about our prospects for winning back the Governor's Office in 2014. Governor Martinez is a national figure by now, it begins. She receives continual over-the-top positive coverage by our local newspaper and television stations. She is an historic figure, being our nation's first Latina Governor. Her approval ratings, amongst Democrats even, are off the charts. Et Cetera.
Okay, so now where do I begin with this one?
For starters, New Mexico is a blue state-- and trending even "bluer". Our state was not even competitive for the Republicans in 2012, as Romney pulled his campaign efforts here by September. Her victory in 2010 was the result of a kind of perfect storm for the Republicans in our state: a visceral anti-Richardson backlash, coupled with Diane Denish's understandable difficulty is separating herself from his shadow. Then throw in whatever the 2010 national reaction against Obama meant at the ballot box for Democrats in New Mexico. All I know is that I lost 8 of my Democratic House colleagues in that nightmarish electoral year, and that I clung to my seat by 163 votes.
So, that was 2010. It was an outlier, an anomaly, a significant deviation due to unique forces specific to that year. It is now 2014. From day one--when she could not seem to bring herself to look at our Democratic side of the chamber during her inaugural speech, and kept making not-so-veiled and repeated references to Richardson--she has not governed as one might expect a Republican to govern in a blue state. Unlike her Republican counterpart Governor Sandoval in Nevada, for example, who I understand has legitimate bi-partisan status, and not much of a challenge in the fall as a result. No, from day one, it has been "we are in charge now". Starting with her beloved "driver's license issue", and then moving on to her "social promotion" cause. And then of course her ill-conceived attempt to overhaul our public education system. All wedge issues that have little to do with effective, bi-partisan governing. She has not actually governed, really-- it has mainly been sloganeering and polling and photo ops.
She has made a tremendous political error in doing this, in actually believing that she did not have to reach across the aisle, that voters in New Mexico will be content with her positioning herself against the "obstructionist" Democratically controlled state legislature. That our citizens do no not care about concrete policy results which are conspicuously absent from her tenure so far-- that poll-tested phrases and effective wedge issues are enough to insure her re-election in 2014. Our economy still lags behind other states. She has a mutiny on her hands from hard-working education professionals (and parents) in New Mexico. She put a dozen of our state non-profit behavioral health providers out of business, without benefit of due process, and substituted instead Arizona firms. A couple of her cabinet secretaries have been an embarrassment--or at the very least have presided over agencies characterized by mismanagement, or neglect.
In the world that I operate in, "voter performance" is the currency that we elected understand. Forget about the percentage of registered Democrats to Republicans, as actual documented results from past elections is what matters. The governor's office is a 53% Democratic performance seat, or 47% Republican. Even factoring in the well-known off year diminished turnout for my party, voter performance is a huge statistic--more so than transitory approval ratings, or hypothetical matchups. It is rooted in entrenched voting patterns over decades of elections. Whoever emerges from the Democratic governor's primary will benefit from this significant electoral edge, despite her incumbency and name recognition.
As with any swing seat, the governor's race will be won or lost in the middle, among the voters who vote for the person rather than out of partisan affiliation. Governor Martinez has not understood the importance of this swing voter--or I would say that she has misread them, opting instead for the wedge issues that poll well, but ignoring this same group's need to see results. Her governing tone has been strident, partisan and unyielding....and the policy results are just not there.
Our citizens--Democrat and Republican--expect more. She is in for a battle this Fall, truly. Before she starts to work on her national ambitions, she needs to win this race first. All I am saying is "stay tuned".
(Photo by PBS NewsHour)